SITE CONTENTS
Front Page
Resource Links
The Evolution
VINTAGE 1930s+
Buster Crabbe
Vintage Collectibles
Daisy Pistols
VINTAGE 1979/81
Small Figures
Large Figures
Vehicles
Misc Collectibles
Arcade Collectibles
Media Collectibles
TV Props Pg 01
TV Props Pg 02
TV Props Pg 03
REVIEWS & INFO
TV Show Info
The Technology
Space Vampire
Thunder Fighter
Behind The Scenes
Gil Gerard
Erin Gray
Felix Silla
Thom Christopher
Pamela Hensley
Tim O'Connor
Wilfrid Hyde White
GALLERY'S
Publicity Photos
Black & White
High-Res Captures
DOWNLOAD'S
Videos
Wallpapers
Buck Rogers in the 25th Century - A Media and Collectible Resource, 1928-2005
Character Review - Wilfrid Hyde White is "Dr. Goodfellow"



Wilfrid Hyde-White was born May 12 1903 in Bourton-on-the-Water,
Gloucestershire, England. The son of a canon or clergyman he was educated
at public school and began his performing career as a magician. He studied at
Marlborough College and later at the Royal Academy of Dramatic Arts, making
his stage debut in London in 1922 and by 1925 he was a busy London actor. He
then worked steadily on the stage including a tour of South Africa in 1932, after
years on stage and in British films he was discovered by director George Cukor
while performing at the Aldrich Theater and brought to Hollywood.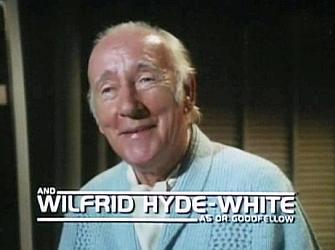 He often appeared under the name "Hyde White" in his early films and
continued to act on the stage, playing opposite Laurence Olivier and
Vivien Leigh in "Caesar and Cleopatra" and "Antony and Cleopatra", he
also appeared on Broadway and was nominated for two Tony Awards as
best actor. With his twinkling eyes, kindly face and British accent he was a
most memorable character actor and was most often cast as dubious
businessmen, military officers, aristocrats and even clergymen. His early film
credits include "Josser on the Farm", "Admirals All" , "The Scarab Murder
Case", "Murder by Rope", "Meet Mr. Penny", "Lady from Lisbon" , "The
Ghosts of Berkeley Square" and "My Brother's Keeper". He later found
success in the United States and is probably best-known there
for playing "Colonel Pickering" in the 1964 film "My Fair Lady".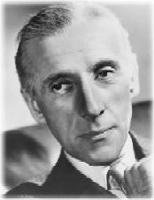 He became a fixture in British films of the 1950s and from 1962 to 1965
he also starred in the BBC radio comedy "The Men from the Ministry".
Wilfrid then appeared in countless more films such as "Ten Little Indians",
"Gaily, Gaily" , "Skullduggery", "The Cat and the Canary" ,"Tarzan, the Ape Man",
"The Toy" ,"Fanny Hill" and on television he was a regular on "Peyton Place"
and "The Associates". (1979-80)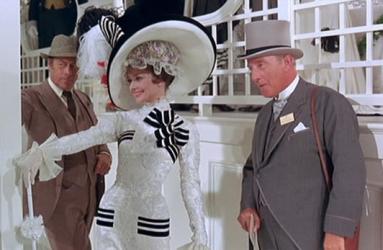 In 1981 he finally appeared as Dr. Goodfellow in season one of Buck Rogers,
but he was no stranger to sci-fi television having previously taken a role on the
hit series "Battlestar Galactica" in 1978. He later made guest appearances in
"The Letter", "Ben Casey", "Twilight Zone", "Mission: Impossible", "It Takes
a Thief" and "Laverne and Shirley."





Wilfrid was once married to actress Blanche Glynne and then later to Ethel
Drew, He has one daughter named Juliet and two sons Alex and Michael,
his son Alex Hyde-White also went on to be an actor. Wilfrid was active right
into his ninth decade and on May the 6th 1991, Wilfrid Hyde-White died, just
six days short of his 88th birthday... Cheers Wilfrid..



All "Buck Rogers" related media including images, video and
characters etc are owned by the original author's or copyright
holders. This website is neither sponsored or endorsed by the
above mentioned nor does it affiliate with any other divisions
thereof. Contact Webmaster : [email protected]

Viewed best at 1024x768 with Internet Explorer


AFFILIATE SITES