SITE CONTENTS
Front Page
Resource Links
The Evolution
VINTAGE 1930s+
Buster Crabbe
Vintage Collectibles
Daisy Pistols
VINTAGE 1979/81
Small Figures
Large Figures
Vehicles
Misc Collectibles
Arcade Collectibles
Media Collectibles
TV Props Pg 01
TV Props Pg 02
TV Props Pg 03
REVIEWS & INFO
TV Show Info
The Technology
Space Vampire
Thunder Fighter
Behind The Scenes
Gil Gerard
Erin Gray
Felix Silla
Thom Christopher
Pamela Hensley
Tim O'Connor
Wilfrid Hyde White
GALLERY'S
Publicity Photos
Black & White
High-Res Captures
DOWNLOAD'S
Videos
Wallpapers
Buck Rogers in the 25th Century - A Media and Collectible Resource, 1928-2005
Philip Francis Nowlan - The Evolution of Buck Rogers, 1928 - 1981
PART #1 - The birth of the writer and his vision - 1928

Philip Francis Nowlan, Science Fiction author and prophet, was born 1888 in
Philadelphia Pennsylvania. At the age of 39 Nowlan wrote a short novel called
"Armageddon-2419 A.D" and it was published August 1928 in the popular fiction
magazine "Amazing Stories". Nolan's creative insight predicted technologies
that were yet to be invented such as the bazooka, jet planes, walkie-talkie's,
night vision and many more inventions that are far from realizing.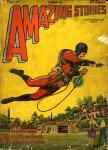 Above the August 1928 edition of Amazing Stories
and on the right, an early edition book..Click To Enlarge

But it would be a simple fictional character called "Anthony Rogers" that would
take the world by storm and on August 1928 the story caught the eye of John Flint
Dille, president of the National Newspaper Service syndicate. He commissioned
Nowlan to make the worlds first science fiction comic strip with the help of artist
Richard Calkins. So in 1929 Nowlan began developing the strip for the daily
news papers appropriately named "Buck Rogers in the Twenty Fifth Century",
from within these comic strips the characters Wilma Deering and Dr. Huer were
brought back to life with fantastic new gadgets such as jumping belts and
disintegrator guns. Below are some examples of the original comic strips..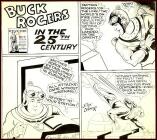 Click To Enlarge

Buck Rogers, a former Air Force officer awakens from a 5 century-long sleep
and finds himself in a devastated America overrun by Mongol invaders.
With the help of Wilma Deering, Buck defeats the Mongols and liberates
America, but new enemies are on the horizon...

The Sunday page first appeared on March 30, 1930, and although it was
signed by Calkins himself it was actually drawn by Russell Keaton up until
1933, later artists were Murphy Anderson, Rick Yager, and George Tuska.


---
PART #2 - From Cartoons to Radio - 1932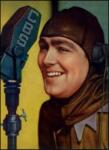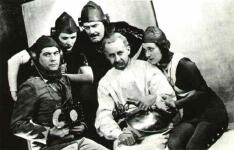 Buck Rogers Radio Cast, Click To Enlarge

Three years later on November 7th 1932 Buck Rogers aired as a radio serial
on CBS, originally titled "The World in 2432", the program was noted for its
sound effects which included a regiment of marching robots and the crash of
a rocket ship. The stories were similar to those of the comic strip and aired
daily for 15 minutes, the serial was sponsored by Kellogg in its first year and
was an immediate hit producing a flood of premiums and toys.

The radio show cast the following announcers/actors..

Matt Crowley, Curtis Arnall, Carl Frank and John Larkin : Buck Rogers
Adele Ronson: Lieutenant Wilma Deering
Edgar Stehli : Dr. Huer
Ronald Liss as Buddy
Elaine Melchior : Ardala
William Shelley, Dan Ocko and Arthur Vinton : Killer Kane
Fred Uttal, Paul Douglas and Jack Johnstone : the announcers


---
PART #3 - From Radio to Moving Pictures - 1939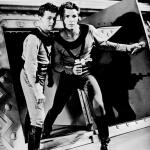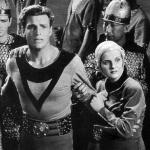 Buster Crabbe as Buck Rogers,Click To Enlarge

The renown actor Buster Crabbe was already famous for his screen role
portraying Flash Gordon when In 1939 he finally took on the film role of Buck
Rogers in a 12 episode film serial. The similarity's between the cartoon strip
and the films were apparent and with a much larger budget the series was
able to capture the energy of the original cartoon. Oddly enough in 1953 the
serial became a theatrical release called "Planet Outlaws" and aired again
for television in 1965 under the title "Destination Saturn".

The cast of the film serial included the following actors..

Larry "Buster" Crabbe : Colonel Buck Rogers
Constance Moore : Lieutenant Wilma Deering
Jackie Moran : Buddy Wade
Jack Mulhall : Captain Rankin
Anthony Warde : Killer Kane
Philson Ahn : Prince Tallen
C. Montague Shaw : Dr. Huer
Guy Usher : Aldar


---
PART #4 - From Moving Pictures to Television - 1950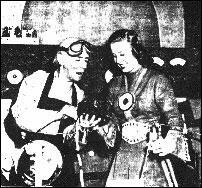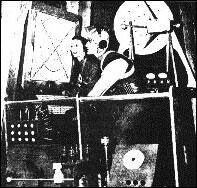 ABC TV Series 1950, Buck Rogers

In 1950, ABC began airing a Buck Rogers series produced entirely within the
confines of a small studio, with only a handful of sets the history of Buck Rogers
was recounted verbally in the first episode as an ordinary American who wakes
up in the year 2430. The photos above are from an issue of TV Forecast dated
May 20th 1950 and are perhaps the only photos in existence. The actor Kem
Dibbs who apparently played Buck with swashbuckling flair was later replaced by
Robert Pastene with the John F. Dille company marketing a number of items
during the time of the series.

Credits for the TV serial included the following..

Kem Dibbs and Robert Pastene : Buck Rogers
Lou Prentis : Lieutenant Wilma Deering
Harry Sothern : Dr. Huer
Harry Kingston : Black Barney
Sanford Bickard : Killer Kane
Directed by Babette Henry
Produced by Joe Cates and Babette Henry
Written by Gene Wyckoff


---
PART #5 - From the big screen and to our televisions - 1979/81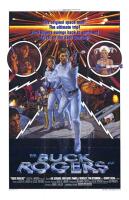 Movie Poster from 1979
Click To Enlarge

On March 30th 1979 Buck Rogers was once again reborn to the theaters
starring Gil Gerard as the intrepid hero and Erin Gray as Wilma Deering, then on
September 20th of the same year it aired on NBC as the pilot episode for the
intended television series, the outline of the story goes like this..

In 1987 NASA launches a manned probe piloted by Captain William Buck Rogers,
in a freak mishap something goes wrong and Buck's life support systems are
frozen solid. He is propelled into deep space when the spacecraft returns to
Earth in the year 2491, Buck awakens from a cryogenic sleep to find the Earth in
the aftermath of a late 20th Century nuclear holocaust. With his piloting skills
Buck becomes a valuable member of the Earth's Defense Directorate which is
headed by Dr. Elias Huer, he then becomes part of a fighter squadron headed
by Colonel Wilma Deering. Among his friends he meets Twiki, a lovable robot
who becomes his best pal and Dr. Theopolis, a genius who is part of Earth's
Computer Council.

In season two of the series Buck joins the crew of the star ship Searcher,
Commanded by Admiral Asimov the ship is on a mission to locate the lost tribes
of Earth. Aboard the Searcher are scientists Dr. Goodfellow and Crichton, a
intellectual robot built by the good doctor. The crew is later joined by Hawk, a
birdman whose people were hunted almost to extinction by a band of murderous
humans.. and he has a really cool space ship!..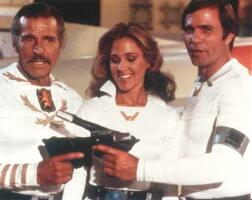 Above, Larry Buster Crabbe (Left) makes a special
appearance during an episode of season one, next to
him is Erin Gray (Center) and Gil Gerard (Right).

Gil started his television career in the soap opera The Doctors back in 1973,
with appearances on Beretta, Hawaii Five-O and Little House on the Prairie.
Then his career took off literally, landing him a role in the movie "Airport '77",
from there he has starred in numerous films up until present day.

The Cast of the Cult 1970-1981 television series as follows:

Gil Gerard : Captain William "Buck" Rogers
Erin Gray : Colonel Wilma Deering
Tim O'Connor : Dr. Elias Huer
Pamela Hensley : Princess Ardala
Felix Silla : Twiki
Mel Blanc : Voice of Twiki
Thom Christopher : Hawk
Jay Garner : Admiral Efrem Asimov
Wilfred Hyde-White : Dr. Goodfellow
Paul Carr : Lieutenant Devlin
Dennis Haysbert : Helmsman Eric Server
Jeff David : Voice of Dr. Theopolis / Crichton



---

PART #6 - So what happened to Philip Francis Nowlan?

Well unfortunately as with most things the comic strip slowly began loosing
favor with the public and competition with other stories such as Flash Gordon
caused Nowlan to finally leave the comic strip in 1939 after an amazing
10 years, then in 1940 at the age of 61 he suddenly passes away leaving a
legacy behind him that has lasted right up to present day. Who knows,
perhaps people will still be hearing about Buck Rogers in the year 2432
and Buck would have finally reached the century he was destined for..



All "Buck Rogers" related media including images, video and
characters etc are owned by the original author's or copyright
holders. This website is neither sponsored or endorsed by the
above mentioned nor does it affiliate with any other divisions
thereof. Contact Webmaster : [email protected]

Viewed best at 1024x768 with Internet Explorer


AFFILIATE SITES