SITE CONTENTS
Front Page
Resource Links
The Evolution
VINTAGE 1930s+
Buster Crabbe
Vintage Collectibles
Daisy Pistols
VINTAGE 1979/81
Small Figures
Large Figures
Vehicles
Misc Collectibles
Arcade Collectibles
Media Collectibles
TV Props Pg 01
TV Props Pg 02
TV Props Pg 03
REVIEWS & INFO
TV Show Info
The Technology
Space Vampire
Thunder Fighter
Behind The Scenes
Gil Gerard
Erin Gray
Felix Silla
Thom Christopher
Pamela Hensley
Tim O'Connor
Wilfrid Hyde White
GALLERY'S
Publicity Photos
Black & White
High-Res Captures
DOWNLOAD'S
Videos
Wallpapers
Buck Rogers in the 25th Century - A Media and Collectible Resource, 1928-2005
Character Review - Felix Silla is "Twiki"



Felix Silla was born on January 11, 1937 in a small village outside Rome, Italy.
Standing at 3 feet 11, Silla trained as a circus performer and came to the United
States as a Italian immigrant in 1955 and toured with the Ringling Bros and the
Barnum & Bailey Show. His talents as a bareback rider, trapeze artist and tumbler
gave him the opportunity to be a stunt man in Hollywood, his best known roles are
the maniacal, miniature Hitler who menaces George Segal in "The Black Bird" and
Cousin Itt on the long running TV series "The Addams Family". He often doubled
for children in such films as "The Towering Inferno", "The Hindenberg",
"Battlestar Galactica" and "Indiana Jones". Between movies he frequently
appeared in Las Vegas and Reno night clubs with his own musical combo, "The
Original Harmonica Band." Silla and wife Susan a little person like himself have
been married since 1965 and have two children, Bonnie and Michael.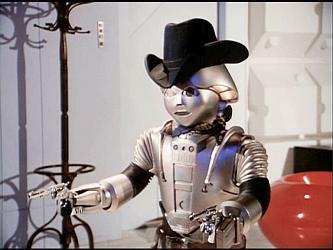 Silla was the man of 1,000 costumes and valued for his shape, size and
athleticism. During his 44 years in Hollywood he played only one significant
part without a mask and that was as the bald Nazi, "Litvak" in the movie "The
Black Bird". From a baby gorilla in "Planet of the Apes" to "Howard the Duck",
he even landed a role as an ewok in "Return of the Jedi". In the climactic fight
scene on Endor Silla was shot from an ewok glider falling 30 feet to a mattress
buried in the ground below, but being a trained performer It was a simple task
for the 65 pound stunt man.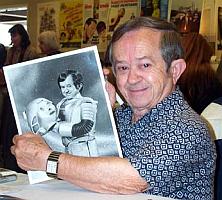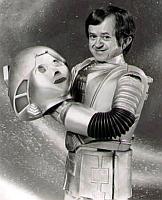 According to his wife Sue, 90 percent of all the many calls he receives at
home are people calling about appearances, endorsements and all sorts of
crazy schemes. The rubber suit he wore on "Batman Returns" was more
comfortable than the fiberglass suit he wore as Twiki on "Buck Rogers." The
angular silver costume may have given him the freedom to bust a sweet disco
dance every now and then, but according to Silla it was always either to hot or
too cold and never at the right time. He actually had one of the five original
Twiki suits until six years ago when he sold his to a collector for $15,000.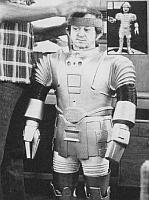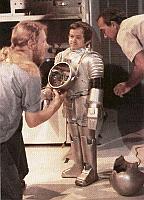 Felix Silla has since moved to Las Vegas, he is just one in a growing list of
celebs who have opted to live out their golden years in Southern Nevada.
After a career spent playing robots, ewoks and a Drew Barrymore's stunt
double, Felix settles down to life in the local 'burbs ..


Filmography - Felix Silla
Galgameth
Batman Returns
Married with Children
Spaceballs
House
The Dungeonmaster
The Dukes of Hazzard
Meatballs Part II
Star Wars: Episode VI
Under the Rainbow
Buck Rogers in the 25th Century
The Brood
The Lord of the Rings
The Manitou
Halloween with the New Addams Family
The Kentucky Fried Movie
Demon Seed
Black Samurai
Mastermind
The Black Bird
Don't Be Afraid of the Dark
SSSSSSS
Little Cigars
Bewitched
Pufnstuf
H.R. Pufnstuf
Planet of the Apes
Point Blank
She Freak
The Monkees
Star Trek: The Cage
The Addams Family
Petticoat Junction
Grindl

(1996) Little Galgy
(1992) Emperor Penguin
(1990) Alien
(1987) Dink
(1986) Little Critter
(1985) Desert Bandit
1985) The Visitor
(1984) Meathead the Alien
(1983) Ewok
(1981) Hotel Rainbow Guest
(1979-1981) Twiki
(1979) Creature
(1978) (voice)
(1978) Misquamacus
(1977) Cousin Itt
(1977) Crazed Clown
(1977) Baby
(1977) Rheinhardt
(1976) Schatzi
(1975) Litvak
(1973) Creature
(1973) Sam Lee
(1973) Frankie
1971) Troll
(1970) Polkadotted Horse
(1969) Polka Dotted Horse
(1968) Child gorilla
(1967) Bellhop
(1967) Shorty
(1967) Little Person
(1966) Talosian
(1966) Cousin Itt
(1965) Baron Munchin
(1963) Flaged

Filmography - Felix Silla (Stunts)
The Monster Squad
Dennis the Menace
The Golden Child
Weekend Warriors
Howard the Duck
Indiana Jones and the Temple of Doom
Poltergeist
E.T. the Extra-Terrestrial
When Time Ran Out
Buck Rogers in the 25th Century
The Lord of the Rings
Battlestar Galactica
The Hindenburg
The Towering Inferno
Earthquake
Battle for the Planet of the Apes
The Russians Are Coming the Russians Are Coming
A Ticklish Affair

(1987)
(1987)
(1986)
(1986)
(1986)
(1984)
(1982)
(1982)
(1980)
(1979)
(1978)
(1978)
(1975)
(1974)
(1974)
(1973)
(1966)
(1963)


All "Buck Rogers" related media including images, video and
characters etc are owned by the original author's or copyright
holders. This website is neither sponsored or endorsed by the
above mentioned nor does it affiliate with any other divisions
thereof. Contact Webmaster : [email protected]

Viewed best at 1024x768 with Internet Explorer


AFFILIATE SITES