SITE CONTENTS
Front Page
Resource Links
The Evolution
VINTAGE 1930s+
Buster Crabbe
Vintage Collectibles
Daisy Pistols
VINTAGE 1979/81
Small Figures
Large Figures
Vehicles
Misc Collectibles
Arcade Collectibles
Media Collectibles
TV Props Pg 01
TV Props Pg 02
TV Props Pg 03
REVIEWS & INFO
TV Show Info
The Technology
Space Vampire
Thunder Fighter
Behind The Scenes
Gil Gerard
Erin Gray
Felix Silla
Thom Christopher
Pamela Hensley
Tim O'Connor
Wilfrid Hyde White
GALLERY'S
Publicity Photos
Black & White
High-Res Captures
DOWNLOAD'S
Videos
Wallpapers
Buck Rogers in the 25th Century - A Media and Collectible Resource, 1928-2005
Character Review - Thom Christopher is "Hawk"



Thom Christopher was born October 5, 1940 Jackson Heights, New York USA.
He has appeared in soap operas such as "Love of Life" , "Edge of Night",
but he is mostly recognized for his Daytime portrayal of Carlo Hesser and
Mortimer Bern on the ABC soap opera "One Life to Live'. But before his
career on television had even begun Thom had pursued a life on the New
York stage, both on and off Broadway..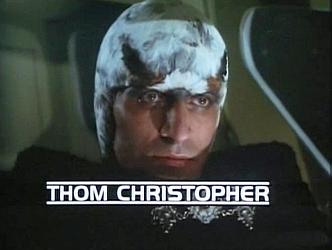 Some of his television credits include "Kojak", "The Rookies", "Harry-O",
"Cannon", "TJ Hooker" and "Murder She Wrote". His film credits include "Space
Raiders", "Wizards of the Lost Kingdom", "Butterfly Legend", "Peril", "Bridget"
and more. When taking on the role of Hawk in season two of Buck Rogers, Thom
did some research for the part by reading books on bird mannerisms, visiting
the birds section of the American Museum of Natural History and observing
real life hawks in the Central Park zoo. Thom's interests in running, fencing,
dancing and playing racket ball contributed to his lean physique and stamina
which played out perfectly for the character.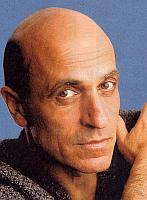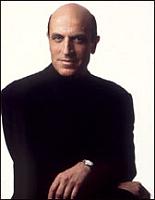 As the story goes, Hawk's ancestors originally came from Earth and evolved
into these half man half bird type humanoids, he fly's a very impressive ship
that is also shaped like a hawk and controls it with an accuracy and degree
that surpasses even the most experienced pilot. It was this amazing space craft
that we remember so vividly (below)..The ship has claw like landing gear which
he can use to grab hold of other unsuspecting craft, it was during one of these
operations that he unfortunately looses his wife Koori, played by Barbara Luna..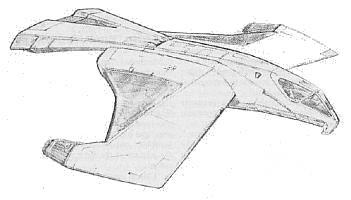 The lone survivor of his race, Hawk was originally written into only three scripts,
however it soon became clear how popular he had become so efforts were
made to have Hawk appear in every single episode. In fact Hawk was so popular
that it gave rise to the "Thom Christopher Fan Club" in the States and of the Hawk
Alliance in England.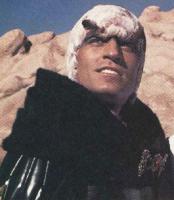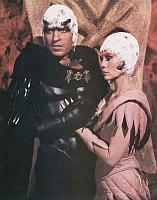 Filmography - Thom Christopher
They're Just My Friends
Tempting Adam
Law & Order
The Warrior Class
Nola
Bridget
Jackie, Ethel, Joan: The Women of Camelot
Peril
The Guiding Light
The Stranger
Blood and Wine
Loving
One Life to Live
Street Hunter
Murder, She Wrote
Andy Colby's Incredible Adventure
Deathstalker and the Warriors from Hell
Simon & Simon
Betrayed by Innocence
Hunter
Wizards of the Lost Kingdom
T.J. Hooker
Space Raiders
McClain's Law
Buck Rogers in the 25th Century
Hellinger's Law
S+H+E: Security Hazards Expert
Firepower
Voices
Love of Life
Kojak
Harry O
The Rookies
Cannon
Movin' On
The Edge of Night

(2006) Rocky
(2004) Ted Heller
(2004) Alferandi Dilmanian
(2004) Judge Kaye
(2003) Niles
(2002) Art
(2001)
(2000) Dr. Koosman
(1999-2002)
(1999/II) Steve
(1996) Jeweller #1
(1983/I) Dante Partou/Joe Young
(1968) Carlo Hesser
(1990) Wellman
(1989)
(1988) Space Raider
(1988)Troxartas
(1987) Gary Radcliffe
(1986)
(1986) Hasseb Hamza
(1985) Shurka
(1984) Paul Gavin
1983) Flightplan
(1981)
(1981)
(1981) Bill Rossetti
(1980) Eddie Bronzi
(1979) Male Guest
(1979) Paul Janssen
(1976) Earl Merrick
(1976)
(1976) Paul Rosenman
(1976) Peter Johnston
(1975) Paul Rogan
(1975) Hank
(1974)


All "Buck Rogers" related media including images, video and
characters etc are owned by the original author's or copyright
holders. This website is neither sponsored or endorsed by the
above mentioned nor does it affiliate with any other divisions
thereof. Contact Webmaster : [email protected]

Viewed best at 1024x768 with Internet Explorer


AFFILIATE SITES