SITE CONTENTS
Front Page
Resource Links
The Evolution
VINTAGE 1930s+
Buster Crabbe
Vintage Collectibles
Daisy Pistols
VINTAGE 1979/81
Small Figures
Large Figures
Vehicles
Misc Collectibles
Arcade Collectibles
Media Collectibles
TV Props Pg 01
TV Props Pg 02
TV Props Pg 03
REVIEWS & INFO
TV Show Info
The Technology
Space Vampire
Thunder Fighter
Behind The Scenes
Gil Gerard
Erin Gray
Felix Silla
Thom Christopher
Pamela Hensley
Tim O'Connor
Wilfrid Hyde White
GALLERY'S
Publicity Photos
Black & White
High-Res Captures
DOWNLOAD'S
Videos
Wallpapers
Buck Rogers in the 25th Century - A Media and Collectible Resource, 1928-2005
Buck Rogers - Paint By Number kit - 1979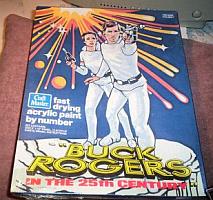 Paint By Number kit made by Craft Master 1979, contains: One 9" x 12"
panel, acrylic paints, brush and Instructions..


Buck Rogers - Gas Powered Flying Saucer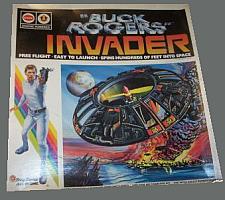 This is a large free flight Invader space craft manufactured by Cox,
It uses a snap starter 0.049 gas engine..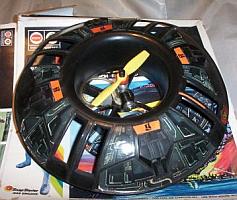 Buck Rogers - Galactic Mission Control Centre - 1980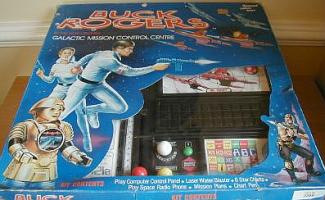 Galactic Mission Control Centre made by Thomas Slater company 1980,
Set contains a play computer control panel, Lazer water blaster, space
radio phone, eight star charts, mission plane etc..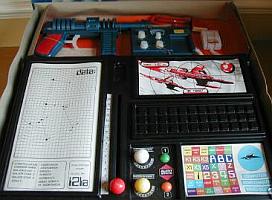 Buck Rogers - Safety Ball Target Game - 1979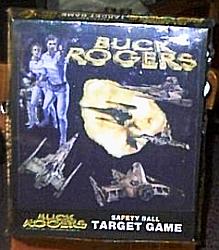 Safety Ball Target Game dated 1979, comes with 3 safety balls that
are covered in velcro and thrown at a target..


Buck Rogers - Helmet and Star-Fighter - 1979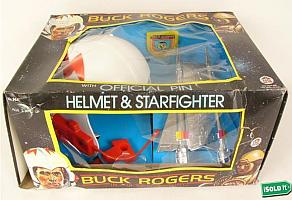 Helmet, Starfighter and Official Pin set made by HG Toys in 1979.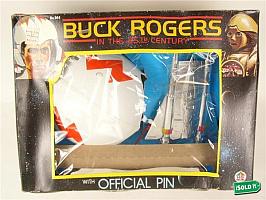 Buck Rogers - Faithful Robot Companion, 'Radio Controlled Twiki"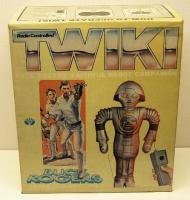 Very little is known about this item, but what i can tell by the box shown
is that the base unit is a solid plastic foot containing an electric motor
and the upper body section is an inflatable skin.. Quite Clever..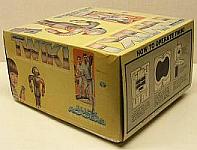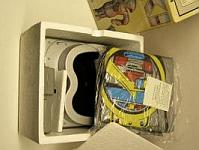 Buck Rogers - Halloween Costume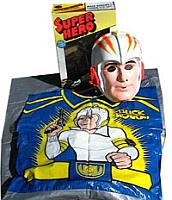 Basic Halloween Costume..


Buck Rogers - Lazer Light Pistol


The Lazer Light Pistol looks very reminiscent of similar toy I knew..
I believe there is a movable colored lens in the barrel..


Buck Rogers - Night Light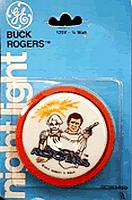 A very practical idea, the night light simply plugs into a mains socket..
great for the kids when they don't like the dark..


Buck Rogers - Plastic Money Box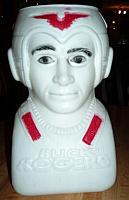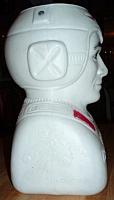 A fairly large soft plastic money box formed in the shape of Buck
Rogers head, a kind of "Money Bust"..


Buck Rogers - Cup And Bowel Set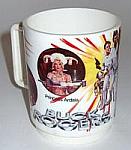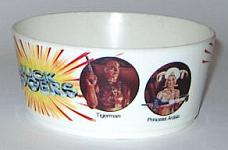 A cup and bowel set, unknown origin but the bowel looks more like
a cat or dog food dish to me..


Buck Rogers - Metal Buttons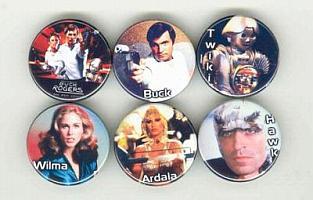 Why not adorn yourself with a collectible Buck Rogers Button..


Buck Rogers - Flying Space Ring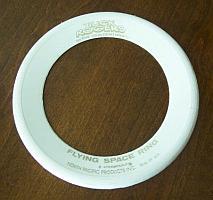 Thrown like a Frisbee but made easier to catch via the empty center..


Buck Rogers - Resin Prop Model Kit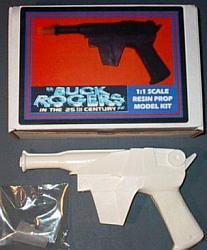 I'm not sure if this was a genuine item or not, but it sure looks
convincing, there's even a clear plastic cap for the end of the barrel..


French - Buck Rogers Water Pistol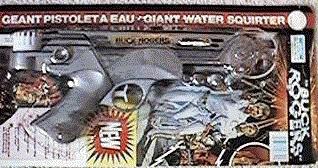 A French made water pistol, unknown maker..


Radio Controlled Twiki Robot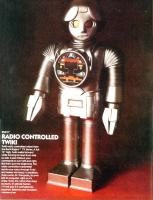 Radio controlled 12 inch Twiki Robot, it walks forward while turning his
head side to side whilst following your commands to turn left and right.
The transmitter can send your voice through Twiki and make him beep
plus it has a Dr Theopolis "LED" computer on his chest plate..

I can find no other reference to this item, is my belief that it may have
been an un-produced prototype..


Milton Bradley - Buck Rogers JigSaw Puzzle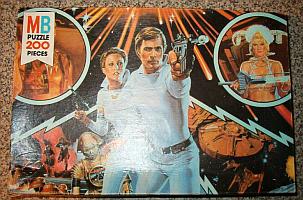 Buck Rogers - Drinking Glass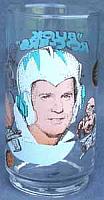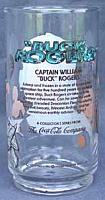 Buck Rogers - ColorForms Adventure Set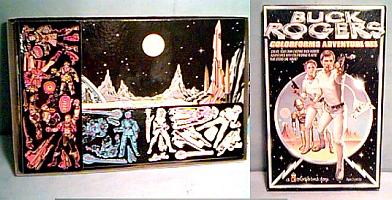 Milton Bradley - Buck Rogers Board Game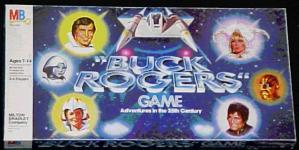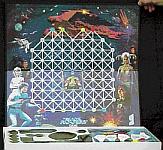 Buck Rogers - Lunch Boxes and Drink Bottles - By Aladdin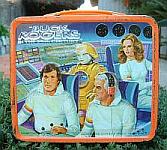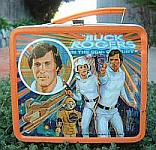 Two different designed Lunch Boxes and drink bottles, all metal
construction and quite strong although not exactly rust proof..



Remco - Buck Rogers Utility Belt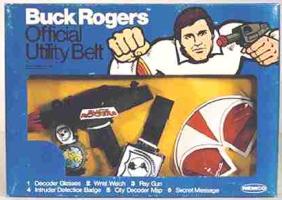 The Remco company made many different utility belts in such themes
as "Space 1999" and "Star Wars". The company was founded near the
end of the forties and was remembered for its conventional product lines
all throughout the fifties. A turn towards more interesting items in the sixties
saw a shift to a wider range of toys including battery operated items. Popular
REMCO toys produced from this period included the Barracuda Sub, Mighty
Matilda Atomic Aircraft and the 1966 Lost in Space Robot. The second half of
the 60's saw the fortunes of REMCO take a nose dive and the company finally
sold out to Azrak Hamway in the late 70's following a huge string of losses.


Buck Rogers - Twiki Communications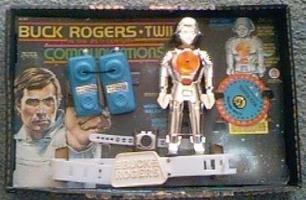 I so far have no information on this item..


Buck Rogers - Plastic Helmet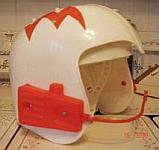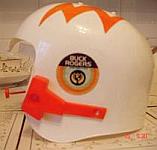 Child size Star-Fighter Helmet complete with pretend communicator..


Buck Rogers - View-Master Reels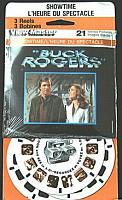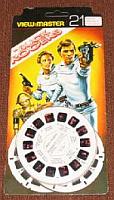 Cant forget the View-Master, many children had these toys, a great
way to see Buck, Wilma and Twiki in 3D..


Buck Rogers - Shaker-Maker Figure Moulder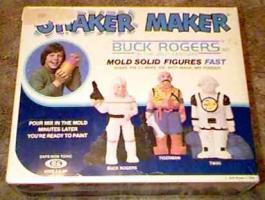 A very rare and obscure item, i remember different versions of these
when i was younger but never saw this one.. You pour plaster of paris
into plastic moulds and leave them to set, then once they have dried
you cant paint them up..


Buck Rogers - Galactic Play-Set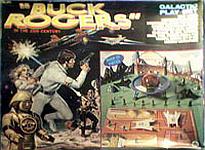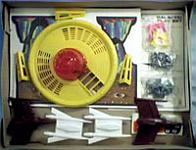 Buck Rogers - Sun-Glasses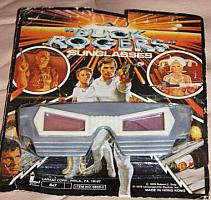 You need a pair of these on a sunny day..



All "Buck Rogers" related media including images, video and
characters etc are owned by the original author's or copyright
holders. This website is neither sponsored or endorsed by the
above mentioned nor does it affiliate with any other divisions
thereof. Contact Webmaster : [email protected]

Viewed best at 1024x768 with Internet Explorer


AFFILIATE SITES