SITE CONTENTS
Front Page
Resource Links
The Evolution
VINTAGE 1930s+
Buster Crabbe
Vintage Collectibles
Daisy Pistols
VINTAGE 1979/81
Small Figures
Large Figures
Vehicles
Misc Collectibles
Arcade Collectibles
Media Collectibles
TV Props Pg 01
TV Props Pg 02
TV Props Pg 03
REVIEWS & INFO
TV Show Info
The Technology
Space Vampire
Thunder Fighter
Behind The Scenes
Gil Gerard
Erin Gray
Felix Silla
Thom Christopher
Pamela Hensley
Tim O'Connor
Wilfrid Hyde White
GALLERY'S
Publicity Photos
Black & White
High-Res Captures
DOWNLOAD'S
Videos
Wallpapers
Buck Rogers in the 25th Century - A Media and Collectible Resource, 1928-2005
Character Review - Pamela Hensley is "Princess Ardala"



Pamela Hensley was born on October 3, 1950 in Los Angeles, California.
Born and raised near Hollywood, Pamela became a talented actress while
attending the Argyle Academy before winning an audition with the world
famous Royal Academy of Dramatic Arts in London.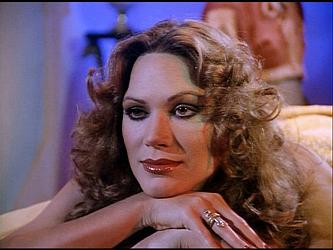 After three years of intensive theatrical training, Universal Studio's signed
her on to a seven year contract where she began a career guest starring
on such television series as "Columbo", "The Rockford Files" and co-starring
opposite James Brolin in "Marcus Welby, MD". She also starred with TV Tarzan
Ron Ely in the film "Doc Savage" before being cast as the delicious Ardala.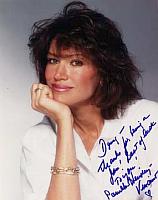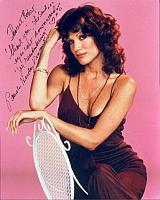 Playing the role of Ardala gave Pamela the opportunity to shine and show
off her delectability in an array of beautiful costumes befitting a Draconian
Princess. She not only appeared in the very first episode of Buck Rogers
but she returned a second and even a third time as the sultry lady on two
more tantalizing episodes. The character Ardala was always fascinated and
attracted to Buck and attempted to lure him away from his duties on almost
every occasion she was able to, the princess chose Buck for her husband
but unfortunately Buck was not a willing contestant. After moving on from
the show she gained several television and movie credits which includes
the movie "Rollerball" and the television series "Matt Houston", but sadly
disappeared from the public eye until just recently..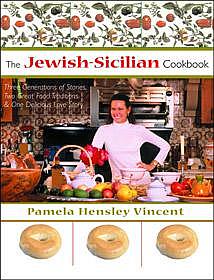 In 2004 She re-emerged having written an amazing cookbook called,
"The Jewish Sicilian Cookbook" and authored under the name Pamela
Hensley Vincent. Since the early 80's she has been married to noted
television executive producer, E. Duke Vincent. And aside from her
depart as an actress, her father maintains a thriving veterinary practice
in Coldwater Canyon, where his patients include Pamela's Persian cats,
called "Hot Tin" and "Roof."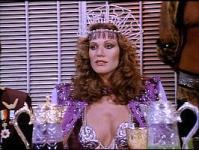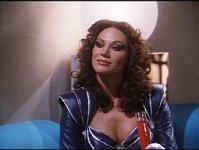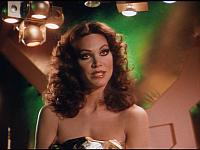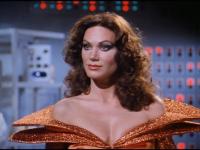 Above, various costumes adorned by the Princess, you gotta love the hair..


Filmography - Pamela Hensley
The Love Boat
Hotel
Double Exposure
Fantasy Island
Matt Houston
Rooster
240-Robert
Condominium
The Nude Bomb
Buck Rogers in the 25th Century
The Rebels
Vega$
Sharks
Switch
The Six Million Dollar Man
Kingston: Confidential
Kingston
Marcus Welby, M.D.
Doc Savage: The Man of Bronze
Rollerball
Death Among Friends
The Rockford Files
The Specialists
The Law
Ironside
Lucas Tanner
McMillan and Wife
Owen Marshall: Counselor at Law
Toma
Chase
Adam-12
Kojak
Emergency!
Banacek
The New Treasure Hunt
Griff
Self-Portrait
Making It
There Was a Crooked Man

(1984)
(1984) Brooke Whitfield
(1983) Sgt. Fontain
(1982) Linda Whitney
(1982) C.J. Parsons
(1982) Bunny Richter
(1979) Deputy Sandy Harper
(1980) Drusilla Byrne
(1980) Agent 35
(1979) Princess Ardala
(1979) Charlotte Waverly
(1979) Valerie Kemmet
(1978)
(1977) Sandra Summers
(1977) Cynthia Grayland
(1977) Beth Kelly
(1976) Beth Kelly
(1969) Janet Blake
(1975) Mona
(1975) Mackie
(1975) Connie Benson
(1975) Jennifer Ryburn
(1975)
(1974) Cindy Best
(1974)
(1974) Dee Wiggins
(1974) Gwynneth Jerome
(1974) Miss Lathan
(1974)
(1974)
(1974) Nurse
(1974) Delta
(1974) Wanda
(1974) Mandy
(1973)
(1973) June
(1973)
(1971) Bargirl
(1970) Edwina


All "Buck Rogers" related media including images, video and
characters etc are owned by the original author's or copyright
holders. This website is neither sponsored or endorsed by the
above mentioned nor does it affiliate with any other divisions
thereof. Contact Webmaster : [email protected]

Viewed best at 1024x768 with Internet Explorer


AFFILIATE SITES