SITE CONTENTS
Front Page
Resource Links
The Evolution
VINTAGE 1930s+
Buster Crabbe
Vintage Collectibles
Daisy Pistols
VINTAGE 1979/81
Small Figures
Large Figures
Vehicles
Misc Collectibles
Arcade Collectibles
Media Collectibles
TV Props Pg 01
TV Props Pg 02
TV Props Pg 03
REVIEWS & INFO
TV Show Info
The Technology
Space Vampire
Thunder Fighter
Behind The Scenes
Gil Gerard
Erin Gray
Felix Silla
Thom Christopher
Pamela Hensley
Tim O'Connor
Wilfrid Hyde White
GALLERY'S
Publicity Photos
Black & White
High-Res Captures
DOWNLOAD'S
Videos
Wallpapers
Buck Rogers in the 25th Century - A Media and Collectible Resource, 1928-2005
Norton Honer - Sonic Ray Gun - 1952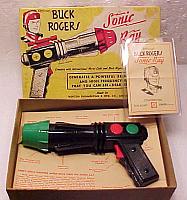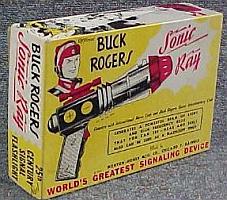 This Buck Rogers Sonic Ray Gun was manufactured by Norton- Honer
Mfg. Co., Chicago, Illinois. The manufacturer's date on the end of the box is
May 13, 1952. The gun is black plastic with green and red trim. It is a flashlight
and signal sending gun but It also emits a high frequency buzz. Measuring
7 1/4" long and 4 ½" from the sight to the bottom of the hand grip. The box is
8 3/8" wide, 6 7/8" tall and 2 3/16" deep.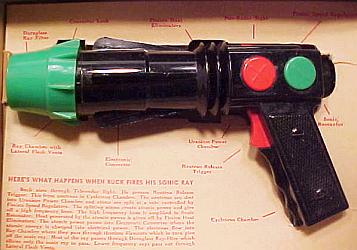 Marx - Buck Rogers Rocket Police Patrol Ship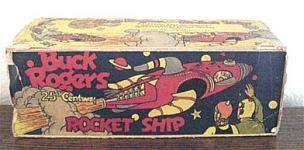 Another Marx windup toy, this is the same toy that Steve McQueen shows
his girlfriend in the in the movie, "The Hunter" Steve tells her how rare it is.
It uses a cigarette lighter flint to make sparks out the back as it moves along
and measures 10 inches in length..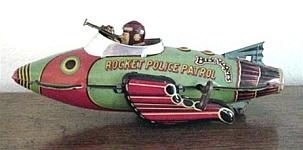 Remco Walkie Talkie Sets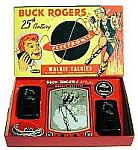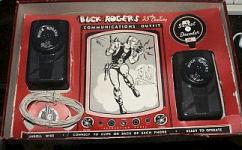 The Remco company produced two boxed variations of the vintage Buck
Rogers walkie talkie sets, with one labeled as a "Communications Outfit"..
The two receivers were attached to one another via a long length of wire
and very nicely boxed.. The lower right picture shows terminal connections..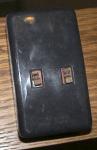 TootsieToy, Buck Rogers Die-Cast Space Ships - 1937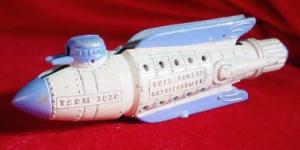 TootsieToy started producing these items back in 1937, a number of different
die-cast ships were released measuring around 4 3/4 inches in length, the
battle cruiser (Pictured above) has two small wheels in its upper fins and was
attached to a short piece of string to pull it along.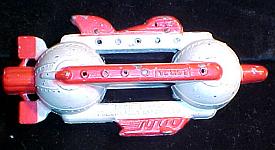 There was the "Blast attack Ship" (Above) and the Venus Destroyer (Below)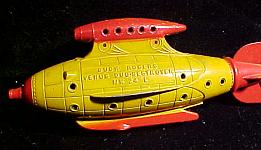 Louis Marx, Vintage Windup Rocket Ship - 1934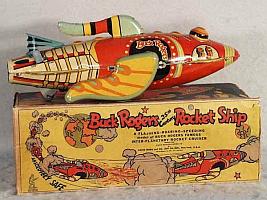 Produced by Louis Marx and Co 200-5th Ave New York USA and patented
1927, this wind up and super fast metal space ship is one the first Buck Rogers
toys to be released and was very popular back in 1934 which sold at the time
for an unbelievable 89¢. ..


MidgeToy SpaceShips, 10¢ Die Cast Toy - 1954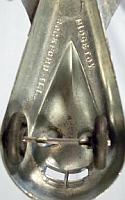 Made by MidgeToy Rockford ILL 1954, these 3 ½ inch, die cast spaceships have
2 soft rubber wheels in front and a sprag in back. With good sharp detailing the
toy came in three different colors packaged in a labeled cellophane bag..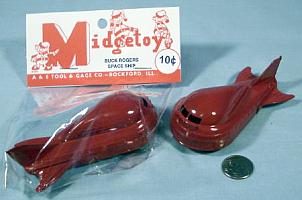 Ingraham Buck Rogers Pocket Watch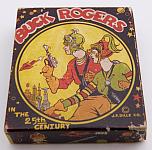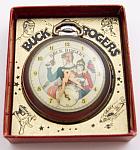 A rare pocket watch made by E Ingraham Co, Bristol Conn. USA, the case is
gold or silver in color with lightening bolt shaped minute hands and an
engraving of a monster on the back .The box has J.F Dille Co written on its front..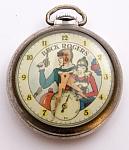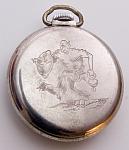 Space Ranger Kit - 1952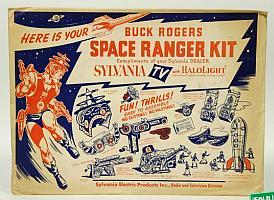 The Buck Rogers Space Ranger Kit was a Sylvania promotional giveaway back
in 1952, factory sealed in an envelope this was a free give away when you
bought one of their television sets. The set comprised of a Space Ranger
Helmet, Martian Mask, Compass, Atomic Space Rocket, Disintegrator, 8
Flying Saucers, Interplanetary Space Phone, Space Ranger Badge,
Membership Card, Pendants, figures and all made from cardboard cutouts..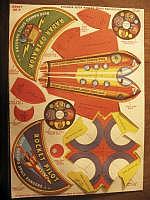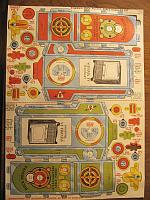 Vintage Premium Solar Scouts Badge - 1936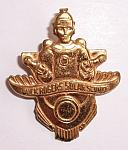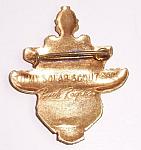 A Cream Of Wheat and newspaper premium offer, the 1936 Solar Scouts
Badge has a facsimile Buck Rogers signature, made in U.S.A. Approx
1.5' x 1.25' inches. Front reads "BUCK ROGERS SOLAR SCOUTS",
back says "TO MY SOLAR SCOUTS PAL"..


Vintage Lead Figures - 1930's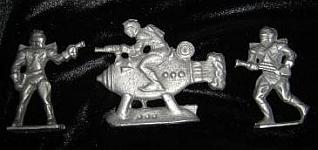 1930's Buck Rogers lead figures from the Rapaport Bros, Junior Caster sets..


Vintage Space Helmet - 1930's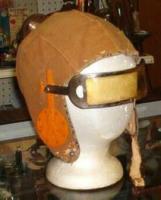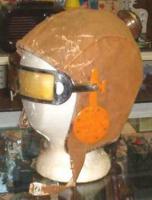 Vintage 1930's Buck Rogers Space helmet, This was either a CocaMalt
premium or store bought. They rarely show up and are much harder to find
than the Daisy pistols. The main body is made from a cloth or canvas
with chin snap and plastic visor, plus It has orange metal side pieces.


The Popup Buck Rogers - Book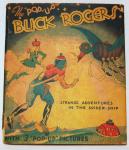 The Popup book is a classic collectible even though there are only
three actual Popup pages..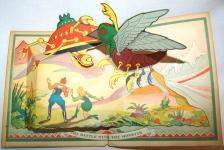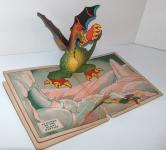 A Card Game, "ALL FAIR" - 1936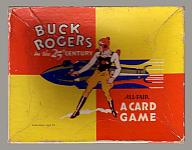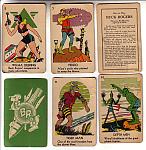 Vintage "Buck Rogers in the 25th Century" card game called
"ALL-FAIR" and dated 1936. (John F. Dille)


Buck Rogers - Punch-O-Bag - 1930's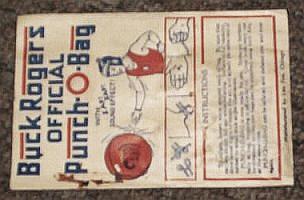 A 1930's premium, Buck Rogers Official Punch O Bag with Zap Zap effect,
which is actually a balloon baring the image of Killer Kane. These are in an
envelope with the image of a boy in a Buck Rogers outfit and helmet
punching a balloon, manufactured by Lou Fox, Chicago.



All "Buck Rogers" related media including images, video and
characters etc are owned by the original author's or copyright
holders. This website is neither sponsored or endorsed by the
above mentioned nor does it affiliate with any other divisions
thereof. Contact Webmaster : [email protected]

Viewed best at 1024x768 with Internet Explorer


AFFILIATE SITES