SD Prep Sports
E-mail us at [email protected]
Edited and Published by Phillip Brents
This site is being moved to the following URL, effective Oct. 1, 2002:
www.sdprepsports.com (www.geocities.com/sdprepsports2001)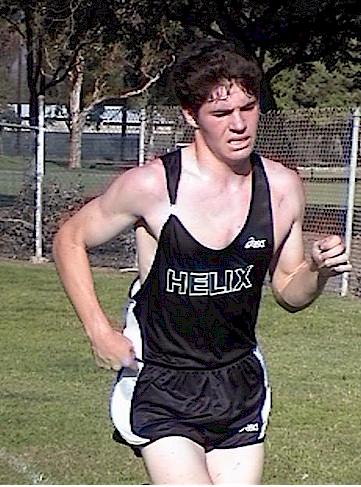 Table of Contents
(click below for sport of interest)
High School Water Polo (Boys)
High School Water Polo (Girls)
Spring Sports Review
CIF approves out-of-season policy
2002 Metro Conference Spring Sports scoreboard
Prep Parade
08/05: Wrapping up the spring sports honor roll (Metro Conference)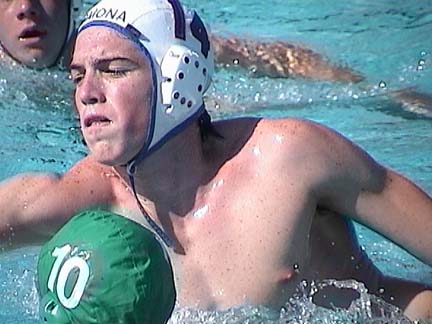 Ramona's Ryan Tucker plays defense in season opener at Mar Vista
2002-2003 Interscholastic Season
Metro Conference schedules (boys water polo, cross country, girls volleyball, tennis and field hockey)
Feature stories
Fall Sports
Football Game Reports
09/26: Metro Conference preview for 09/27
09/16: Southwest Raiders put end to section-record losing streak
09/16: Metro Conference previews for 09/20
Football Previews
09/12: Improvement is goal for Hilltop Lancers
09/10: Mesa League preview: Intrigue fueled by beefed up league
09/10: Warren lends legacy to Southwest Raiders program
09/10: Montgomery Aztecs could be Mesa League spoilers
09/09: Sweetwater Red Devils ready to throw off apprentice role
09/09: Mar Vista Mariners enter new era
09/07: Chula Vista Spartans have paid their dues, now time to reap reward
09/07: Castle Park Trojans set sights on league title, beyond
09/07: Midway Baptist Patriots start anew
09/03: Crusaders aim to repeat South Bay League title
08/30: Metro Conference composite and individual team schedules
08/26: Eastlake Titans seek championship fortunes in Mesa League scrapfest
Cross Country
09/30: BV's Ryan Becijos filling large shoes (South Bay Invitational)
09/29: West Hills Wolf Pack on the prowl (South Bay Invitational)
09/27: South Bay Invitational results and photo album
09/18: MV's Swier sets course record -- again (Baron Invitational)
09/16: Troy Swier (Mar Vista) athlete profile
09/16: Mar Vista Mariners look for league banner -- and beyond
09/15: Helix pack rules the course (Baron Invitational)
09/15: Baron Invitational results
09/15: Baron Invitational photo album
09/09: Mar Vista's Swier sets course record (Wolf Pack Invitational)
09/02: Bonita Vista looks to defend Mesa League titles
08/26: Eastlake Titans face challenges in move up the ranks
Boys Water Polo
Poway Invitational tournament schedule (32 teams)
09/29: Knights, Islanders finals matchup marks reunion (AFC Invite)
09/29: America's Finest City Invitational Photo Album (click here)
09/28: America's Finest City Invitational scoreboard
09/24: La Costa Canyon Mavericks double program's win total
09/24: Ramona Bulldogs season preview
09/19: Mariners take it on the chin from Granite Hills, 21-5 (Poway Invitational)
09/18: Hilltop Lancers out-everything Pt. Loma 26-2 (non-league)
09/11: Ramona Bulldogs sink Mar Vista Mariners, 19-6, in season opener
09/06: Metro Conference schedules (Hilltop, Mar Vista)
09/03: Doors of opportunity opening for Mariners
Girls Field Hockey
09/12: Field hockey starting to catch on in South Bay
Winter Sports
Boys Soccer
08/30: Fallbrook High gets new boys soccer coach
2002 Summer Sports in Review
California State Games
07/17: Vipers, Golden Eagles skate to inline hockey titles
07/13: Nik Clair-Williams swims to 4 State Games gold medals (swimming, archery and wrestling scoreboards)
Roller Hockey
2002 NARCh Finals
09/07: Golden Eagles put Chula Vista on national roller hockey map
08/08: Platinum Division Scoreboard (California teams reach 9 division finals, win 6 titles)
08/02: Gold Division Scoreboard (California teams reach 8 of 9 division finals, win 4 titles)
International update: Team USA places fifth at 2002 IIHF InLine World Championships
2002 Tour Pacific Cup Finals
07/11: Tour Pacific Cup Finals wrap to an amazing season -- upsets reign at season-ending event
07/06: Tour Pacific Cup Finals scoreboard
06/14: Chula Vista Golden Eagles soar into NARCh, Pacific Cup Finals
2002 Spring Sports in Review
Spring Sports Headlines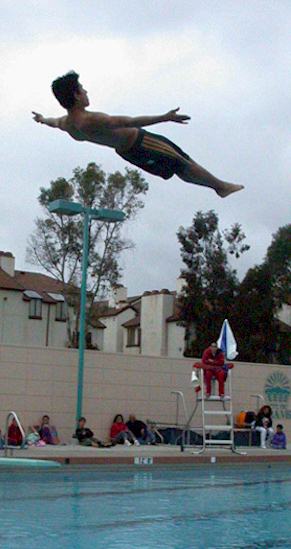 Track and Field
06/01: Bush (3 bronze medals) leads Helix to 4th place finish at state finals
05/31:2002 State Prelim photo gallery
05/24: Metro qualifies three for state meet (SD Masters report)
05/10: Metro Conference finals (story and stats)
Baseball
06/01: Marian Catholic, Eastlake keep CIF titles coming
Swimming/Diving
05/18: CIF D-2 swim finals team scores
05/18: Grossmont finishes 2nd in CIF Division 2 swim finals
05/18: Future within grasp for pair of South Bay stars
05/17: Poway's Watson, Penner sweep CIF D-1 diving finals
05/14: 2002 CIF Division 2 Diving Finals
05/10: Barons dominate Metro swim finals (story)
05/10: 2002 Metro Conference swim finals (results)
05/07: 2002 Metro Conference dive finals report (Alex Soto, Chula Vista, boys winner, right)
Hilltop High sophomore diver Kyle Kovar (profile)
Football
San Ysidro High gets its first football coach
Roller Hockey
Skate San Diego Youth & Adult leagues (standings and game highlights)
Opportunity knocks for Dana Hills Dolphins at 2002 NARCh Varsity Cup SoCal Regional
2001-2002 Interscholastic Season Headlines
Eastlake High names stadium for former principal
San Diego Section Scoreboard
CIF 2001 San Diego Section Spring Playoff Scorecard (click here)
And now for something completely different ...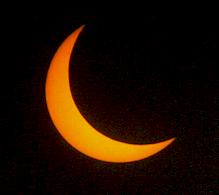 Partial solar eclipse: Monday, June 10, 2002
Observing station: Bayside Park, Chula Vista
First contact: 5:15 p.m. PDT. Sun - 31 degrees above horizon.
Maximum contact: 6:24 p.m. PDT. Sun - 17 degrees above horizon, 80 percent of diameter covered (74 percent of surface area). Photo at right shot through yellow filter at 40x, projection system
Last contact: 7:24 p.m. PDT. Sun - 5 degrees above horizon (obscured by clouds along the coastal areas).
For report and more photos, click here