SD Prep Sports: Boys Water Polo
www.geocities.com/sdprepsports
E-mail us at [email protected]
Home Swimming/Diving Cross Country Track & Field Roller Hockey Water Polo CIF Scorecard
Doors of opportunity opening for Mariners
By Phillip Brents
Posted Sept. 3, 2002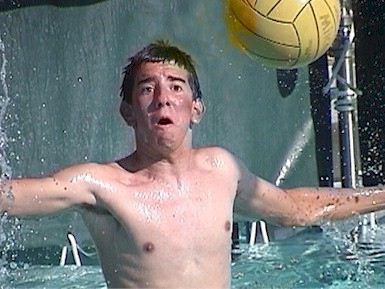 The Mar Vista High School boys water polo team did not taste victory last year until its final game of the season, defeating a depleted Hilltop squad, 19-7, for fifth place in the annual Metro Conference tournament.
Chip Case, in his first year at the Marinersí helm, admitted his share of frustration but at the same time knew what was in store for an extremely young and rebuilding team. Case is now entering his second year as head coach and the prospects are much brighter for this yearís squad.
"Thereís a lot more focus ó itís a lot easier. There are a lot more players who are on the same page than was the case last year because of all the different pages we were on," Case said. "Though itís still a challenge to get guys from different sports and draft them together. Hopefully, we can jell together."
After a year of taking its lumps, Mar Vista suddenly finds itself with nine seniors and six juniors, including one four-year performer, four three-year players and 12 two-year lettermen. The team is coming off a successful summer training with the Imperial Beach Water Polo Club during which it collected a few more key recruits.
Leading the Marinersí sizable senior contingent are Joe Czerwiec, Andrew Allen, Shawn Johnson, Brandon Keshka, Josh Madigan, John Thero, Sean Gill, Victor Townsend and Daniel Rumsey. Allen, who earned the coachís award last year for his pure passion for the game, will be playing his fourth season of water polo and will be the teamís utility man while Czerwiec ó the winner of last yearís Best Offensive award ó will be playing his third season. He capped last season with seven goals in the win against Hilltop. Johnson earned the teamís Most Valuable Player award his rookie season in 2001 and comes to the water after stints on the gridiron and volleyball court. Another rookie last season (this time from the baseball diamond) who grew into the game, Keshka brings size (6-1, 170 pounds) to the two-meter defensive position while Madigan and Rumsey were components of the Marinersí South Bay League champion swim team. Thero, should he commit to play, is among the teamís fastest swimmers and scored six goals in Mar Vistaís lone win in 2001.
Case expects Czerwiec, who swam the 100 butterfly and 50 freestyle sprint during the spring swim season (advancing to CIF in the fly event), to be a force in the middle as a two-meter offensive set with his speed and ball-handling skills while the MV helmsman said Johnson should also help solidify the two-meter offensive set position.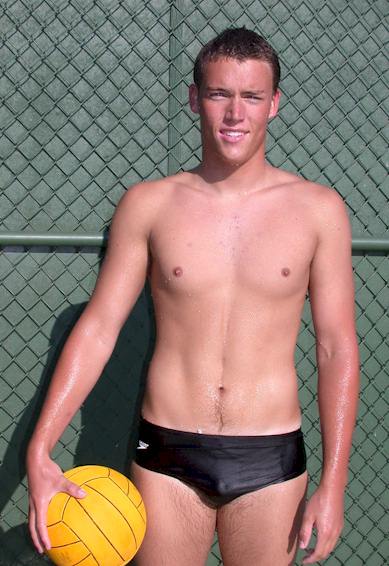 "Shawn progressed extremely well for a first-year player. His size, strength, work ethic and continuing thirst for knowledge of the game will be a great asset at the two-meter offensive end," Case said of Johnson.
Noah Stamm and goalie Eric Grieble, whom Case lists both at 6-0 and 160 pounds, are the standouts among the teamís juniors. Stamm ó yet another pick off the baseball field ó splits his time with the schoolís basketball team and itís his shooting ability that has fueled Caseís optimistic expectations for the team. Grieble is entering his third year in the pool and his second between the cage. His blocking ability earned him the teamís Best Defensive award last season.
At one point this summer, the netting in the goal area nearly needed to be replaced because of Stammís shooting prowess.
"Noah has the hardest shot on the team and itís getting more accurate each day," Case said.
Rounding out the teamís junior class are Pablo Picazo, Matt Sanford, Eric Cornwall and Carlos Espinosa. The teamís sophomore talent includes Scott Knox, Julian Czerwiec, Max Craig, Kyle Stogsdall and Adel Jabbar ó all solid performers on last yearís junior varsity team ó along with tri-sport athlete Mike Nicoloff (football, wrestling, volleyball) and newcomer Mike Hedgecock. The younger Czerwiec was the JV teamís MVP last year and was a force in the 200 individual medley and 100 backstroke during the swim season while Craig possess a strong outside shot. A collection of freshmen bolster the teamís future.
The 2002 schedule, which includes non-league games against Ramona, West Hills, El Cajon Valley, Steele Canyon and Mt. Miguel besides entry in the Poway and San Diego Open invitational tournaments, promises to be a challenging one ó but one to which the Mariners are anxiously looking forward.
"If we can stay focused and do all the right things, I really think we can be more competitive. Iíd really like for us to make the second round in the Metro tournament whether it's the first or third place game. If they keep learning as they did last year, weíll improve even more," Case said. "We have a lot of guys who are still opening doors of opportunity for themselves."
The Mariners host Ramona on Wednesday, Sept. 11, at 3:30 p.m. to officially open the season and then compete in the Poway Invitational, drawing Granite Hills on Thursday, Sept. 19, in their first pool game at 3:50 p.m. at Montgomery Middle School in El Cajon
.

Mar Vista High School
Menís Water Polo 2002 Schedule
Day

Date

Time

Opponent

Pool

Wednesday

9-11-02

3:30 PM

Ramona

Mar Vista High School

Thursday

9-19-02

3:50 PM

Granite Hills (Poway Invite)

Montgomery Middle School (El Cajon)

Fri. & Sat.

9- 20 & 21 -02

TBA

TBA (Poway Invite)

TBA

Thursday

9-26-02

3:00 PM

Eastlake

Loma Verde Pool

Wednesday

10-02-02

3:30 PM

West Hills

Santana High School

Saturday

10-05-02

9:00 AM

Steele Canyon &

El Cajon Valley

El Cajon Valley High School

Tuesday

10-08-02

3:00 PM

Chula Vista

Parkway Pool

Thursday

10-10-02

3:00 PM

Southwest

Mar Vista High School

Saturday

10-12-02

5:00 PM

Mt. Miguel

Mar Vista High School

Tuesday

10-15-02

3:00 PM

Montgomery

Loma Verde Pool

Wednesday

10-16-02

3:00 PM

Bonita Vista

Southwestern College

*Thurs Ė Sat.

10-17 thru 10-19

TBA

SD Open JV

TBA

Mon. Ė Sat

10-21 thru 10-26

TBA

SD Open Varsity

TBA

Tuesday

10-29-02

3:00 PM

Hilltop

Mar Vista High School

Wed. Ė Sat.

11-06 thru 11-09

TBA

Metro League Tourney

Southwestern College
Home Games

Metro League Games

* Junior Varsity only
Head Coach: Chip Case 285-1258 home; 459-9278 cell
[email protected]
Principal: Dr. Phipps 628-3074
Principal (ASB): M. Perrault 628-3074
Athletic Director: P. Oíneill 628-3074
Pool Facilitator: Sue Czerwiec 628-3066