SD Prep Sports: Water Polo
www.geocities.com/sdprepsports
E-mail us at [email protected]
Home Swimming/Diving Cross Country Track & Field Roller Hockey Water Polo CIF Scorecard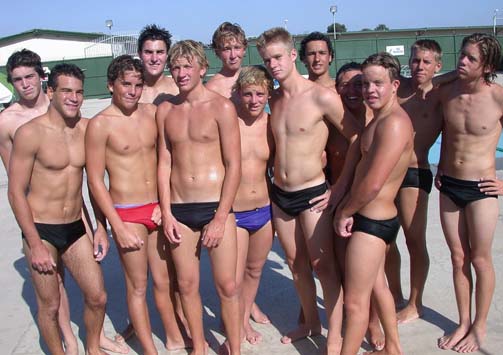 The 2002 Ramona High School boys water polo team has both the experience and youthful enthusiasm to challenge for this year's Valley League title.
Bulldogs take aim at Valley League title
By Phillip Brents
Posted Sept. 24, 2002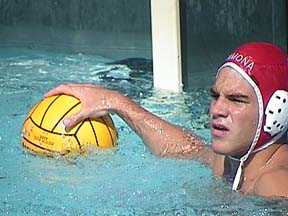 With a sizable core of experienced talent and promising newcomers on board, Ramona High School boys water polo coach Frank Yturralde believes this yearís team has an excellent chance to compete for the Valley League championship and represent itself well in postseason play.
"Our goal is to win league and make the second round or beyond in CIF," said Yturralde, who is in his fifth year as coach of the Bulldogs.
Seniors Steve Rieber, the teamís two-meter set and point driver, and goalie Brandon Buzbee, along with juniors Adam Indihar (driver), Ryan Tucker (driver) and Bryan Spivey (center guard), comprise the teamís veteran core talent Ė all with three years of experience in the program. The aforementioned five players, along with Will Adams, are all returners from a Ramona squad that finished second in Valley League play last year with an 8-2 league record and 16-8 overall mark.
Indihar is coming off a standout season last year that earned him First Team All-Valley League recognition and membership on the All-North County Conference Second Team. Tucker, Spivey and Buzbee all earned Second Team All-Valley League honors last year.
Tucker is the teamís speed merchant and is coming off a scintillating spring swim season in which he captured both the Division II 50- and 100-yard freestyle sprint titles.
Impact newcomers on this yearís squad include sophomore Brett Bylund and freshman Preston Lujan, both of whom will fill utility roles this season. Bylundís speed and left-handed shooting ability makes him a valuable asset to the team while Lujan, despite his youth, carries both physical size and speed into the pool, according to Yturralde.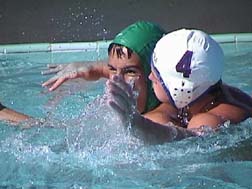 Ramona advanced to the first round of last yearís San Diego Section Division II playoffs as the 12th-seeded team but suffered elimination to eventual division semifinalist La Jolla in its first game. Yturralde said the teamís end-of-season finish this year will ultimately rely on his playersí desire, motivation and execution of the playbook in the water. If they can reach their potential, the Bulldogs coach said he would be satisfied with the outcome of the season Ė regardless of place-finish.
"As long as the team plays hard and works together, then I am satisfied. If all the players go out and give a 100 percent thatís all I ask for," Yturralde said.
Ramona showed it will be a force to be reckoned with this season after defeating Mar Vista 19-6 in the season opener for both teams Sept. 11 in Imperial Beach. Indihar had three goals, four assists and a team-high five steals while Tucker scored four goals to fuel Ramona's offense in the non-league victory. Other offensive contributors included Spivey (three goals, two assists) and Rieber (two goals, three assists) while Buzbee was credited with 13 saves.
In the Poway Invitational tournament, which wrapped up with medal-round games Sept. 21 at Mt. Carmel High School, Ramona finished 2-1 in the opening three rounds of play, dropping a narrow 8-6 decision to eventual sixth-place finisher Torrey Pines and defeating Helix 11-6 and, on the strength of four goals by Danny White, Valley League rival Valley Center 12-10 in an exciting overtime contest.
The Bulldogs have a busy October schedule that features the opening of Valley League play as well as several non-league games that will test the teamís competitiveness.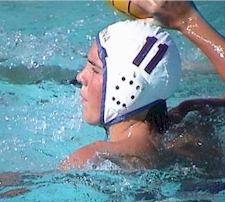 Home games include Escondido on Wednesday, Oct. 9; San Pasqual on Wednesday, Oct. 16; Westview on Wednesday, Oct. 23; Orange Glen on Wednesday, Oct. 30; and Valley Center on Wednesday, Nov. 6. All varsity home games this season start at 4:15 p.m., with junior varsity games starting off the action at 3:15 p.m. and novice games closing out play after varsity action is completed.
Ramonaís road schedule features matchups against Mt. Carmel on Wednesday, Oct. 2 (3:30 p.m.); Valley Center on Tuesday, Oct. 15 at Adams Park (3:15 p.m.); Escondido on Tuesday, Oct. 22 at Jim Stone Pool (3:15 p.m.); San Pasqual on Thursday, Oct. 31 at Jim Stone Pool (3:15 p.m.); and Friday, Nov. 4 at Westview (3:15 p.m.).
The Bulldogs will compete in two more varsity tournaments Ė the San Diego Open tournament on Oct. 14, 18 and 19 and the Servite tournament on Oct. 28, Nov. 1 and 2 Ė before postseason play begins. Ramona will also compete in the San Diego Open junior varsity tournament on Oct. 24-26.
The San Diego Section CIF playoffs open with first-round games on Nov. 13 and continue with quarterfinals on Nov. 16, semifinals on Nov. 19 and championship games on Nov. 23 to close out the 2002 season.