SD Prep Sports: Water Polo
www.geocities.com/sdprepsports
E-mail us at [email protected]
Home Swimming/Diving Cross Country Track & Field Roller Hockey Water Polo CIF Scorecard
Metro Conference Player of the Week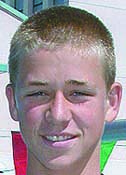 Kyle Kovar (Hilltop) - 6 goals, 6 assists, 4 steals and 8 second-half goalie saves in 26-2 non-league victory against Pt. Loma (Sept. 18)
Hilltop 26, Pt. Loma 2
CHULA VISTA, Sept. 18, 2002 -- The Lancers jump-started their home season opener at the Loma Verde pool with an explosive offensive attack that produced five goals in a 90-second span against Pt. Loma. Juniors Kyle Kovar (6 goals, 6 assists, 4 steals and eight second-half goalie saves) and Nick Davidson (5 goals, 4 assists and 6 steals) helped provide Hilltopís individual highlights in an otherwise well-rounded team effort. Nick Kolata had four goals, two assists and five steals while fellow senior Jeff Schroeder, another veteran returner, contributed six goals and one assist to the Lancer victory.
Hilltop coach John Salts was understandably pleased by the ferocity and thoroughness of the home opening win. "This yearís team is fueled by speed and aggression that has been absent from Hilltop water polo over the last few years," Salts explained. "With aggressive defense leading to a game high 34 steals, we were able to control the pace of the game. This yearís team enjoys the all-out style we are fitting into. With our speed, we are able to take the extra chance and not worry about being unable to get back if necessary. These guys have really put in the time in the water. We spent a large portion of the offseason just swimming and becoming a better conditioned team. Today, that effort was evident in the teamís performance. We have set our team goal and will not waver. This team is very determined and they are very hungry. That combination will work well for us."
Freshman Matt Chism had two goals and three steals while senior Ryan Michaelson also scored twice. Senior Joey Olivarria had three assists for the Lancers while senior Gabe Munoz rounded out the Hilltop goalscoring with one goal. Will Crumly had 11 saves and four steals in first-half netminding duty.
In the junior varsity game, Gregory Felix led the Lancers with two goals. Scoring single goals for Hilltop were Hesam Jelvah, Shawn Kenny and Ricky Lucero.