SD Prep Sports: Water Polo
www.geocities.com/sdprepsports
E-mail us at [email protected]
Home Swimming/Diving Cross Country Track & Field Roller Hockey Water Polo CIF Scorecard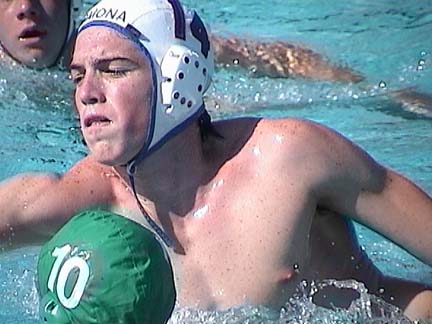 Ramona's Ryan Tucker plays defense in season opener
Bulldogs sink Mariners in opener
IMPERIAL BEACH, Sept. 11, 2002 -- Adam Indihar had three goals and four assists and speedster Ryan Tucker scored four goals to fuel Ramona's 19-6 non-league victory against Mar Vista on Patriots Day. Indihar, the Bulldogs' leading scorer last season and a First Team All-Valley League selection, also added a team-high five steals. Tucker, last spring's San Diego Section Division II 50- and 100-yard sprint swim champion, had three steals.
Bryan Spivey (3 goals, 2 assists) and Steven Rieber (2 goals, 3 assists) also helped lead the visitors on offense. Ramona led 12-4 at halftime.
Andrew Allen and Joe Czerwiec led the Mariners with two goals apiece while Julian Czerwiec and Max Craig both scored single goals. Shawn Johnson keyed Mar Vista with three steals while Brandon Keshka had two steals. Goalie Eric Grieble made 12 saves.
The Bulldogs scored twice in the game's opening 42 seconds before the Mariners stormed back to trail just 5-3 after the first period. But a 7-1 run in the second period put Ramona on top to stay. Brett Bylund and Danny White both scored two goals while Steve McKay, Will Adams and Rosten Veater all notched single goals to round out the Bulldogs' offense. Goalie Brandon Buzbee was credited with 13 saves.
Indihar, Rieber, Adams, Spivey, Buzbee and Tucker are all returners from a Ramona squad that finished second in Valley League play and 12th overall in the Division II playoffs last season.