Shaolin Daredevils (1980)
Movies --> Shaolin Daredevils --> Gallery --> Video --> Consumer Info
Theatrical Release Date: June 29th, 1979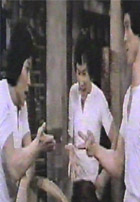 A n ambitious and corrupt officer, Hau kills General Yang for control of the entire army. Now, Yang's son Tau Ying (Lo Meng ) sets out for vengeance. He fails and General Hau kills him. Yeng's childhood friends Chen Tsang (Chiang Sheng) Yang Leun (Philip Kwok) Lu Feng and Sun Chien unite and set in motion an elaborate plan to avenge their friend. This is undoubtedly one of the more complex of Chang Cheh's 'Venoms' films, although there is not shortage of action. The fighting is awesome and the Venoms are awe- inspiring. The finale is a remarkably lengthy mix of brilliant kung fu and jaw dropping acrobatics.
T his is the first film to have the venoms star together as all good guys and fighting for a common good (the other rare instances being Invincible Shaolin and 10 Tigers of Kwangtung. We get a different look at Lu Feng, who is usually a villain; perform comedic gestures and smiling a lot. The finale shows the 3 venoms brothers (Chiang Sheng, Kuo Chui and Lu Feng) - who went to the same opera school - performing feats that are nothing short of spectacular. As a Venomsfan, it was refreshing to see them all "work together" in what would be one of their last films as the united five.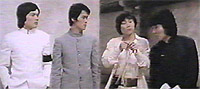 Venoms Sitemap
Featured Films
2 Champions of Shaolin
Avenging Warriors of Shaolin
Chinatown Kid
Crippled Avengers
Shaolin Daredevils
Five Deadly Venoms
Flag of Iron
Invincible Shaolin
Kid With the Golden Arm
Killer Army
Legend of the Fox
Life Gamble
Magnificent Ruffians
Masked Avengers
Ninja in the Deadly Trap
Ode to Gallantry
Sword Stained w/Royal Blood
Ten Tigers From Kwangtung