Chinatown Kid (1977)
Movies --> Chinatown Kid --> Gallery --> Video --> Consumer Info.
Review by Albert Valentin from High Impact Reviews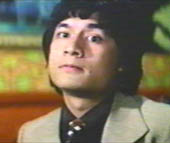 Tan Tung (Alexander Fu Sheng) is a young refugee who takes advice from his grandfather (Wong Ching Ho) to find a job and earn some money. However, because he is a refugee, he doesn't have the ID necessary to get a proper job. Tan Tung makes a living making orange juice by squeezing the oranges with his hands, showing that he had studied kung fu for 13 years. One night, he meets Cho Hau (Wang Lung Wei), a local crime boss who challenges Tan Tung to a fight for Cho's digital watch. When Tan Tung fights Cho, the watch is broken.
C ho asks Tan to rescue his cousin (Kara Hui) from some goons. However, when Tan learns that it was Cho who planned her kidnapping, he takes her back to her father. When Tan learns that Cho had his grandfather beaten, he confronts Cho, who slips a packet of cocaine in his vest. When he is framed by the cops, Tan realizes the only way to evade the cops is to leave for America. With the help of the girl's father, Tan heads for America.

U pon arrival in San Francisco's Chinatown, Tan finds a job at a Chinese restaurant where he helps Wen (Sun Chien), a student who arrived from Taiwan and was a martial arts instructor. Tan and Wen become friends as they work hard at the restuarant. Meanwhile, a war in Chinatown is about to break out. The two groups are the White Dragons, led by Pai Tung (Philip Kwok) and the Green Tigers, led by Chin Hu (Lo Meng). When Tan runs afoul of the GReen Tigers, syndicate boss Wan (Tsai Hung) thinks that Pai Tung hired Tan Tung, but Pai Tung tells Wan he didn't, but can do so.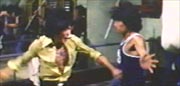 A fter losing his job at the restaurant, Tan Tung meets Pai Tung, who tells him that Chin Hu has caused trouble with him as well. Despite Chin Hu bringing in Cho to help him take over Chinatown, Tan Tung and Pai Tung destroy the White Tigers and Tan Tung begins working for Pai Tung.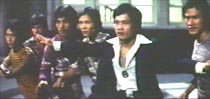 T an Tung becomes more famous in the area, the friendship between him and Wen breaks down. Furthermore, Wen, who is stressed from working and studying, begins to take drugs in order to stay up. When Tan finds out, he goes ballistic and begins to crack down on the drug market. This angers Pai Tung and Wan, who now want to get rid of Tan Tung and will do so at any cost.
I nstead of the usual period pieces, Chang Cheh brings one of his top stars, Alexander Fu Sheng, in a modern day piece where Fu Sheng is caught in the middle of a war between two factions. This is where the first appearances of the Venoms team comes in. Lo Meng and Philip Kwok play the two rival gang leaders, while Chiang Sheng and Lu Feng play thugs. Sun Chien co-stars as the young Wen, a student who also proves he is a great martial artist with his kicking skill. The film also marked the debut of rising star Jenny Tseng, who would go on to marry Fu Sheng and stay married until his tragic death in 1983. The fight sequences are well handled for this brand of cinema by Robert Tai and Lee Ka Ting (who also appear as thugs), as they showcase the skills by the cast members.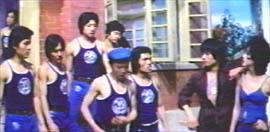 T HE BOTTOM LINE: Chinatown Kid is one of Alexander Fu Sheng's best films and the 1st appearance of the Venoms team makes it a delight to watch.