Crippled Avengers 1979
Movies --> Crippled Avengers --> Gallery --> Video --> Consumer Info.
Theatrical Release Date: December 21th, 1978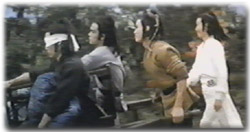 T u Tin To's wife is murdered and his son crippled by the Tigers of Tin Man. He gets his son (Lu Feng) Iron Hands and when he is old enough teaches him the 3 lethal Tiger Strikes: Clawless Tiger, Wind Tiger, and Windmill Tiger. He exacts revenge for his family's misfortune by severely crippling the sons of the Tigers of Tin Man. The thirst for revenge unfortunately doesn't stop there and Tu Tin To terrorizes the town bullying and harassing anyone he wishes. A local blacksmith Ah Wei (Lo Meng ) recognizes this unrighteous vengeance and loudly preaches it to everyone. A street peddler Ah (Philip Kwok) supports these claims and as a result is blinded by the iron hands of Chu's son making him permanently blind. Soon after, Tu Tin To invites the blacksmith over for tea only to poison his drink make him mute and unable to speak. He also crushes the blacksmith's eardrums making him deaf and unable to hear. A worker, Ah Kway (Sun Chien) gets his legs cut off by the ruthless villain. All three victims befriend each other and cross paths with a Kung fu expert, Wang Yi (Chiang Sheng) who promises revenge for the wrong done to them. However, Tu Tin To captures and tortures him until he becomes dumb in the mind. They return Wang Yi to his master who takes the crippled victims under his wing. He teaches them how to learn kung fu - despite their physical limitations - to get revenge for the wrong done to them and others by the evil Tu Tin To!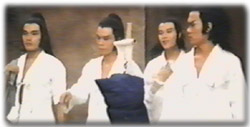 Venoms Sitemap
Featured Films
2 Champions of Shaolin
Avenging Warriors of Shaolin
Chinatown Kid
Crippled Avengers
Daredevils
Five Deadly Venoms
Flag of Iron
Invincible Shaolin
Kid With the Golden Arm
Killer Army
Legend of the Fox
Life Gamble
Magnificent Ruffians
Masked Avengers
Ninja in the Deadly Trap
Ode to Gallantry
Sword Stained w/Royal Blood
Ten Tigers From Kwangtung