Interview with Philip Kwok:
On the Set of Brotherhood of the Wolf (2002)
Media --> Philip Kwok Interview: Brotherhood of the Wolf
Photos Courtesy of TVA Films �2002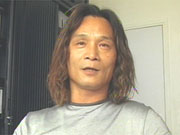 Related Links:
Brotherhood of the Wolf Website
Buy the 3-Disc DVD Now
View Theatrical Trailer Here
Discuss the Interview, See pics at the Fansite Forum

VenomsFan: How did the director, Chritstophe Gans, approach you with this project?
Philip Kwok: Well, although this film is a period piece, Christophe Gans hoped to change some things. He wanted to combine various action styles. Including French, or from Hong Kong, or from any other style - to create something original. He wanted his audience to say: "In this film, there is something different."
I had to abandon many ideas I had for sequences because they would've seemed too exaggerated for this film. I had no problem planning out fight sequences, but the film had to remain a period piece. I had plenty ideas that I couldn't use.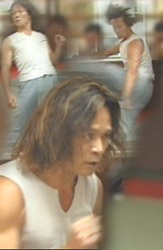 VenomsFan: Yes it definitely is a different film. We get a fresh look at not only French cinema of today, but also a new perspective at Hong Kong cinema and how it continues to influence the films of today. So how did you approach the project of working as the Fight Director of stuntmen and actors with very diverse backgrounds?
Philip Kwok: When I arrived in France, I met a group of stunt people. Some had already worked on films in France; others had never done film work. I didn't mind. In Hong Kong I choose stunt people according to their body type. If a person hardly knows any kung fu, but his fighting style lends itself to my choreography, I'll take him anyway.

Conversely, those who have worked on shoots in France and are used to certain types of moves sometimes find it hard to adapt. Working with them is less efficient. It's delicate. That's why I'd sooner choose someone who can physically perform the moves I imagine. I don't take film experience into consideration.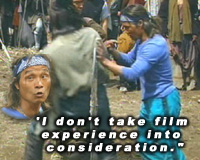 VenomsFan: And how was it working with them?
Philip Kwok: We trained everyday to prepare for the film. I made them keep practicing the moves that they were able to do and taught them how to do others. Gradually, because we were together all day long a bond grew between us. I devoted myself to them entirely. I gave them my all so that during our shoot time together they'd learn to perform my moves.
With both actors and stunt people, I use exactly the same method. I base my teaching on a friendly relationship with them. I don't act like a teacher or a master. I prefer to act like a friend. I give them self-confidence. They shouldn't wonder if they'd be able to learn a move. Had they been thinking like that, they wouldn't have believed in themselves. They would have doubted their own fighting talent and me.
VenomsFan: I would imagine the film shoots are a little different in France than what you are used to in Hong Kong. Can you talk about the differences between the two?
Philip Kwok: In Hong Kong we shoot much more quickly. We don't break down the moves as much. We take shortcuts. Here (France), it is a different concept. They're more precise and take more time to ensure perfection. Both the camera crew and the technicians do things much more slowly.
We agreed to come here, so we have to adapt to the local methods. We work quickly because in Hong Kong that's how it is. But now, here, they work like this. We're the ones who have to blend. Alone it's impossible to get everyone to hurry up. I got used to it in the end. At first it was hard. But now it's fine.
VenomsFan: Okay, let's talk about how it was working with the main actors - Samuel Le Bihan and Mark Dacascos. What were the challenges you faced working with these talented actors?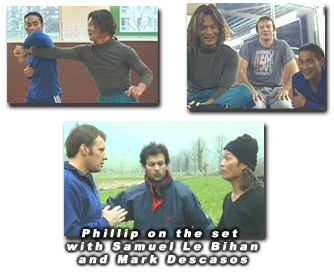 Philip Kwok: The first time I met the leading actors, only Marc Descasos gave me the impression he'd fought before. Christophe showed me Crying Freeman. I thought he managed the moves well. I had no idea of his potential before I got to know him. I asked him "Can you do this?" his polite reply: "I'll try." He's a good guy. I'd show him each sequence I had choreographed for him. He'd watch me, and when he'd get it, we'd take it further. His attitude was that he'd give his very best. Actors like that are rare.
VenomsFan: And Samuel Le Bihan?
Philip Kwok: At first Samuel was a bit reserved towards me. He'd only ever worked in French contexts. He'd done a bit of boxing. You see, I fight Hong Kong style. Here they call it kung fu, but it's not. It's more of an action style specific to cinema. It's a mixture of styles. I don't do kung fu. To some actors it looks like kung fu. They want to fight the way they are used to. Samuel didn't like my suggestions at first. I knew he'd resist so there were things I didn't even suggest.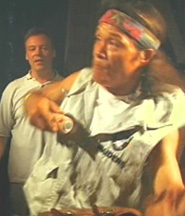 VenomsFan: Martial art fight choreography was new to both actors. Was there any competition to "get the moves" right between any of them?
Philip Kwok: When we started shooting the fight scenes, Samuel got a bit worried when he saw what Mark was doing. He wanted to be up to par so he made a lot of effort. I thought up some moves for him. He performed them perfectly and accepted me at last. It was very fast. Samuel is very bright. There were moves he didn't' know how to do, but he tried. He even got the hardest ones in the end. He did them. Samuel is pretty good.
VenomsFan: You have been in the film business longer than most of your fans have been alive. What does this film mean to you? Has it in anyway brought you back to the yesteryears of the VenomsDays? If so, how?
Philip Kwok: Most definitely VenomsFan! I'd always hoped to shoot a film abroad in which I'd have the freedom to express myself. This film gave me such an opportunity. It wasn't the case in the James Bond film Tomorrow Never Dies. In Brotherhood of the Wolf, my greatest joy was the few fights I really liked. They are the fruits of my labor.