2 Champions of Shaolin
Movies --> 2 Champions of Shaolin --> Gallery --> Video --> Consumer Info.
Theatrical Release Date: April 12th, 1980
Review by Scorpion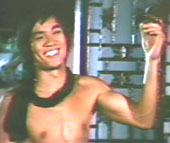 A pparently, 2 Champions of Shaolin was one of the last movies that Chang Cheh did with the Venoms. Although this period-set movie is not their best efforts because of the uninteresting story, it is still a lot better than your average Kung Fu film.
I had previously owned the Ground Zero version and what a joke that DVD was. FULLSCREEN, grainy, washed colors and over-saturation of red permeates this film.
This Celestial version is, however, a beautiful and nearly flawless re-mastering of the Venoms classic. I could not believe how crisp, clean and clear the scenes were, and best of all -- it is WIDESCREEN. Even if you already own this movie, the sheer quality of the Celestial release warrants forking over your hard-earned cash.
Lo Meng (aka The Toad) stars as Tung Chien-chen, a naively conceded and headstrong character, who is quick to fight. As usual, Lo Meng wastes no time getting himself in trouble, this time with the Manchurian soldiers and barely escapes death as he is caught off guard by knife expert, Chui Tai Ping. He meets Chin Tai-lei (Sun Chien) and his sister, whom he marries later on.

Afterwards, Lo Meng meets fellow Ming supporters, Chiang Sheng and the baby venoms and together with the help of a manchu spy, fight the Manchu to the death.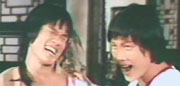 The climatic fight at the end, will leave no-one disappointed. Everybody involved brings their A-game to the table. The fearless Lu Feng shows once again that he is a one-man wrecking crew. The ever- reliable Wang Li is absolutely menacing (on a sidenote, he is the coolest looking character in the film). The charismatic Chiang Sheng is in his most versatile role yet. Sadly, the woefully underused Sun Chien is the only venom present that isn't quite up to par with the others, but keep in mind he does meet a gruesome death half way through the film.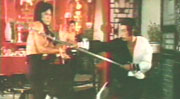 Chin Siu-ho makes his debut in this film. In my opinion, he did an excellent job and held his own alongside veterans such as Wang Li and Lu Feng (It is quite obvious that this role was tailored towards Venoms frontman, Philip Kwok, but due to a very public dispute with Lu Feng, Philip Kwok left the set).
Here he plays Wei Sing-hung, who is conflicted because he doesnt know what side he should be loyal towards -- the family who raised him who are now aligned with the Manchus -- or to his secret Ming bloodline of the past.
The plot is bland and unoriginal compared to other Venoms flick, such as Kid with the Golden Arm and Magnificent Ruffians. There wasn't much interest for me concerning the plot, still the fight scenes more than made up for the lackluster plot.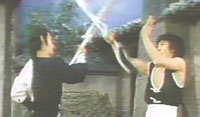 Filled with kung fu from nearly beginning to end, this is one of the more action-packed Venoms films. Lo Meng, who has rarely given the chance to truly show his remarkable skills, goes all out in one of his best performances since Five Deadly Venoms.
Do yourself a favor and add this Celestial DVD to your collection.