This trail is within the 19,000 acres of Central Rainforest Reserve; six miles East of Soufriere at the foot of the highest mountain, Mt. Gimie.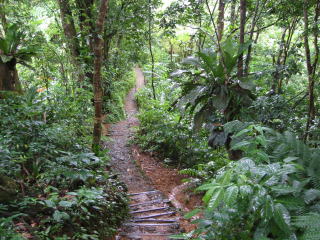 The Enbas Saut Falls Trail is a 2.5 miles (5 km) cut trail. Remote, wild and unbelievably scenic, with a combination of Rainforest, Cloud Forest, Elfin woodlands and wildlife.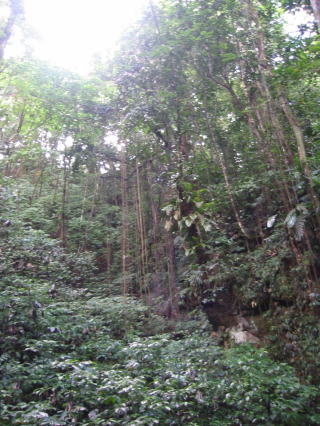 The peaks of Piton Canarie, Piton Troumassee and Mount Gimie stands predominant not too far from the trail. Enbas Saut when translated to English means "below the falls". Thus the trail is most famous for its two cascading waterfalls and pools at the head of the Troumassee river, where you can bathe in pure water.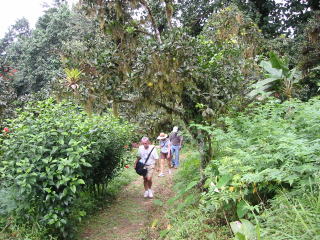 ---
Access

30 min. from Soufriere by car
100 min. from Castries
=> Map to Enbas Saut Trail (PDF)

No Public Transportation
Trail Office Hours

8:30 am to 2:00 pm
Monday to Saturday
Fee for Nature Trail

25 EC Dollars or 10 US Dollars per person, half price for kids
*Prices subject to change
For more information

Forestry Department: (758) 468-5645/5648/5649 or
Our Nature Trails
[Union] [Forestiere] [Barre de L'isle] [Millet] [Enbas Saut] [Edmund] [Des Cartiers]
---
[Home] [Nature Trails] [Hiking Trails] [Bird Watching] [Mini Zoo] [Eco Lodge] [Gros Piton] [Maps] [Guides] [Fees & Policy] [Visitors Review ][Forestry Dep.] [Site Map] [Link] [Contact]
---
Copyright © 2005
Forestry Department
Ministry of Agriculture, Forestry & Fisheries
All rights reserved
Design and Photo by Takashi Aoki