The Barre de L'isle Forest Reserve gets its name from the fact that it is a ridge that divides the Eastern and Western halves of St. Lucia. It takes approximately one hour to walk this 1.6km (one mile) trail and another hour to climb to the top of Mt. La Combe.

The Barre de L'isle trail provides panoramic views of certain parts of the island from four lookout points along the trail. One can have a mystic view of the rugged Mt. Gimie and the blue green rainforest from a distance. One can see Cul-de-Sac valley and the Caribbean Sea on the West from a vantage point, and a commanding view of the Mabouya Valley and Fond d'Or beach on the Atlantic coast on the East.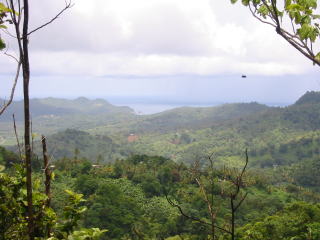 It is the easiest trail to access from the town of Castries and Rodney Bay area, just 30 min drive from Castries, located along the highway between Castries and Dennery.
Map of Barre de L'isle Trail (PDF) =>
---
Access

30 min. from Castries by car
15 min. from Dennery
=> Map to Barre de L'isle Trail (PDF)

Public Transportation:
2B or 2C bus from Castries to Barre de L'isle

*Public Buses are not scheduled.

Office Hours

8:30 am to 2:00 pm
Monday to Friday
Fee for Nature Trail

25 EC Dollars or 10 US Dollars per person, half price for kids
*Prices subject to change.
For more information

Dennery Range Office: (758) 453-3242
or
Forestry Department: (758) 468-5645/5648/5649
Our Nature Trails
[Union] [Forestiere] [Barre de L'isle] [Millet] [Enbas Saut] [Edmund] [Des Cartiers]
---
[Home] [Nature Trails] [Hiking Trails] [Bird Watching] [Mini Zoo] [Eco Lodge] [Gros Piton] [Maps] [Guides] [Fees & Policy] [Visitors Review ] [Forestry Dep.]
---
Copyright © 2005
Forestry Department
Ministry of Agriculture, Forestry & Fisheries
All rights reserved
Design and Photo by Takashi Aoki