Welcome to the Des Cartiers Rainforest Trail. Explore the definite possibility of seeing the rare birds, especially the St. Lucia parrot.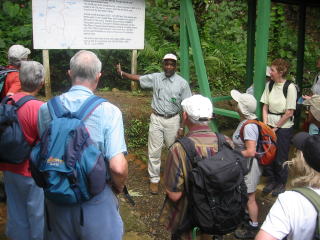 Trek through the ultimate rainforest and view the wonderful verdant forest, discover many of St. Lucia's endemic wildlife as you walk this 2.5 miles (4 km) trail.

The experience of a botanical paradise. Get off at Mahaut to explore St. Lucia's most hidden lush rainforest.
Map of Des Cartiers Trail (PDF) =>
Drive six miles (9 km) inland from the east coast main highway throughout a secondary road.
---
Access

30 min. from Vieux Fort by car
15 min. from Micoud
90 min. from Castries
=> Map to Des Cartiers Trail (PDF)

No Public Transportation

Trail Office Hours

8:30 am to 2:00 pm
Monday to Friday
Fee for Nature Trail

25 EC Dollars or 10 US Dollars per person, half price for kids
*Prices subject to change.
For more information

Vieux Fort Office: (758) 454-5589
or
Forestry Department: (758) 468-5645/5648/5649
Our Nature Trails
[Union] [Forestiere] [Barre de L'isle] [Millet] [Enbas Saut] [Edmund] [Des Cartiers]
---
[Home] [Nature Trails] [Hiking Trails] [Bird Watching] [Mini Zoo] [Eco Lodge] [Gros Piton] [Maps] [Guides] [Fees & Policy] [Visitors Review ][Forestry Dep.]
---
Copyright © 2005
Forestry Department
Ministry of Agriculture, Forestry & Fisheries
All rights reserved
Design and Photo by Takashi Aoki