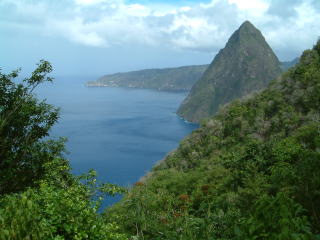 The Pitons (Gros Piton and Petit Piton, now designated a world heritage site) becomes the symbol of St. Lucia. Gros Piton Nature Trail is operated by the Gros Piton Tour Guides Association and offers a great opportunity to concur the top of the pyramid.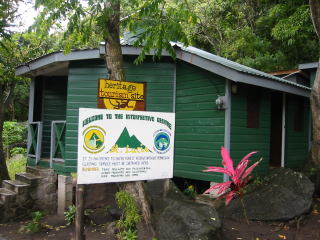 The nature trail starts from the community of Fond Gens Libre. There is a visitor center exhibiting some panels of rare vegetation and birds in Gros Piton. The name Fond Gens Libre is translated as "Village of the Free People". Brigands, or black freedom-fighters, used the area as a secure haven during the slave rebellion of 1748. Numerous Brigand sites can be seen including caves, tunnels, rock shelters, camps, signal stations, look-outs and landing sites.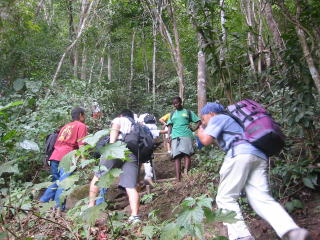 The first half of the trail is for everyone to enjoy! Departing from the Fond Gens Libre Community, the base of the trail winds around the mountain at a gradual slope. Ocean views and the Village of Choiseul can be seen to the East. Several Brigand sites and the Anse L'lvrogne Canyon can be visited in the first section.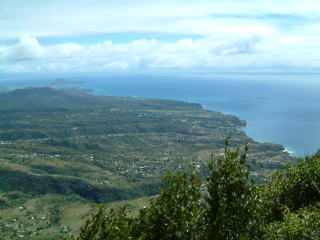 The second half of the trail involves a steep ascent to Gros Piton Summit, and is intended for the more adventurous hiker. Approximate time: 4 hours round trip.

---
Access

From Soufriere to Fond Gens Libre Community
40 min. by car
Office Hour
Everyday
8:00am ~ 3:00pm
For more information

Gros Piton Tour Guides Association
(758) 489-0136,286-0382
---
[Home] [Nature Trails] [Hiking Trails] [Bird Watching] [Mini Zoo] [Eco Lodge] [Gros Piton] [Maps] [Guides] [Fees & Policy] [Visitors Review ][Forestry Dep.] [Site Map] [Link] [Contact]
---
Copyright © 2005
Forestry Department
Ministry of Agriculture, Forestry & Fisheries
All rights reserved
Design and Photo by Takashi Aoki