Millet Bird Sanctuary Trail
St. Lucia is located in the West Indies, the Caribbean. The island is rich in beauty. Not only can one enjoy the sea, sun & sand, but also the breathtaking landscape, rarest species of flora & fauna found any where in the world. No wonder visitors of all walks of life come from all over to partake in this unforgettable experience.

Forestry Department, Ministry of Agriculture offers you great opportunities to explore our rainforest in St. Lucia. Find out why everyday is an adventure!

What we have
There are several trails on the island located in the forest reserve.

Nature Trails are well maintained for all kinds of visitors: about 1.5 to 2 miles (2 to 4 km), 2 to 3 hours loop or going-in & going-out trails.

Hiking Trails are relatively long hiking across the rainforest: about 6 to 10 miles (10 to 16 km), 4 to 8 hours.

Bird Watching is specially organized for bird lovers, who want to spend a minimum of 4 hours in the forest to observe the endemic St. Lucian birds.

Mini-Zoo offers an opportunity to observe the endemic animals such as St. Lucia Parrot, St. Lucia Iguana and Boa Constrictor.

Eco Lodge is a facility to overnight in a forest house and camps in a tent. Every year Summer Camps are hosted at this Eco Lodge.
Gros Piton Hiking Trail is managed by the community of Fond Gens Libres assisted by the Forestry Department.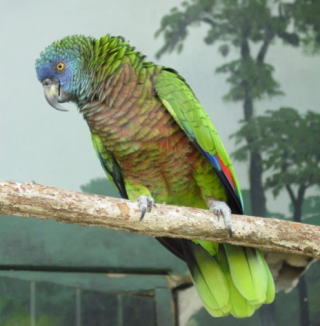 Image of St. Lucia Parrot



Strangler Fig