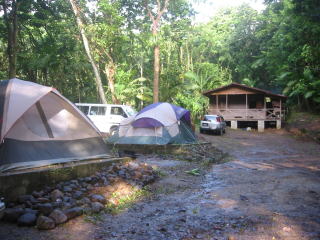 The La Porte Eco Lodge was designed for back packing and camping enthusiasts. It is also for those who are just interested in spending the night out in the rainforest, religious organizations, community groups, cooperate organizations and families in need of solitude and a tranquil environment.
The La Porte Eco-lodge is the perfect place to relax after a day of trekking in the forest. The grounds around the lodge can also be used for camping as the lodge has limited accommodation. You can bring your own tent or rent one from the Forestry Department.
---
Summer Camp
Every year the Forestry Department hosts Environmental Summer Camps at the Eco Lodge. The objectives of the camp are to provide a wilderness experience, instill love and respect for nature, and to provide physical, educational, recreational and cultural benefits to all participants. Some activities are offered by the Forest officers to achieve such objectives.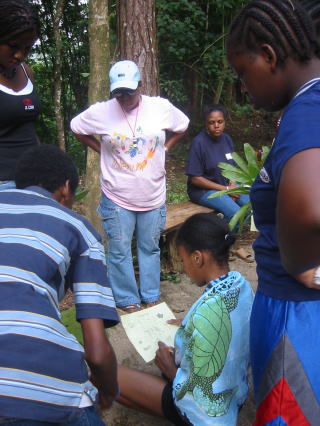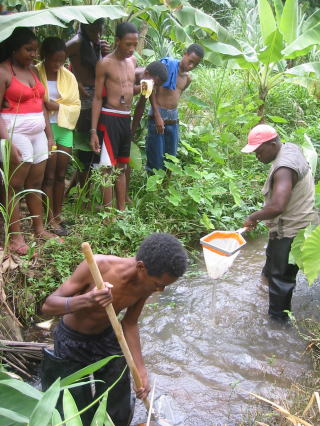 Left:Tree Identification, Right: Water Quality Monitoring
Below: Students of Environmental Club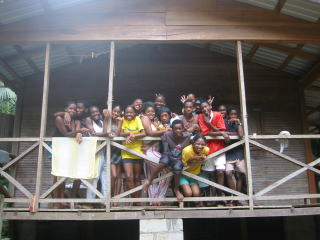 For more information about summer camp, please contact Environmental Education Officer at Forestry Department.
---
Access

30 min. from Vieux Fort by car
15 min. from Micoud
90 min. from Castries

No Public Transportation
For more information
Forestry Department: (758) 468-5645/5648/5649
---
[Home] [Nature Trails] [Hiking Trails] [Bird Watching] [Mini Zoo] [Eco Lodge] [Gros Piton] [Maps] [Guides] [Fees & Policy] [Visitors Review ][Forestry Dep.] [Site Map] [Link] [Contact]
---
Copyright © 2005
Forestry Department
Ministry of Agriculture, Forestry & Fisheries
All rights reserved
Design and Photo by Takashi Aoki