Rochow Family
Homepage
Welcome, to the ROCHOW family homepage. From here, you can visit a particular branch of the family, or read through all 15. This has been done to seperate each branch of the family for easy access. Family members will know which branch they appear under and can go straight there.
You can also visit the "Where is the next Reunion" page where there are pictures of previous reunions and get information on the next family reunion as well. This would make it much easier for families to find out where and when to plan for this bi-annual event which, brings the families from all parts of the country to one place, generally at Easter.
There is also a link to the new "Rochow Family Club Page" where family members can chat online, leave messages & pictures, and generally communicate with the rest of the family without the expensive cost of numerous phone calls. I have recently added a Birth's, Death's and Marriages page to help family members keep up with all the going's on in the family. I hope you enjoy your visit, and look forward to hearing from you with any ideas or information you'd like to pass on to me.
I have also found a Rochow Museum in Reckahn which is of great interest. It is thought that Friedrich Eberhard von Rochow pictured on the site has some resemblance to present Rochow's. Although it is all in German, you may like to try Dictionary.com to copy and paste to translate.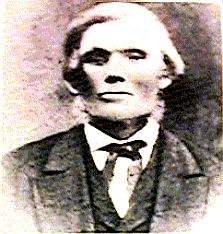 It was on the 24th December 1851, that our Fore-Father Johann Gottlieb Rochow arrived in South Australia. For years people have wondered where the name Rochow originated. Some people said it was a German name and others said it was Polish. Research gives the origin of our name to be Prussian, more specifically Saxe-Prusse. The tense religious situation in Prussia and the drastic reductions in the value of the landed estates, brought about by the Hardenburg Decree, influenced our ancestor, Johann Gottlieb Rochow in his decision to migrate.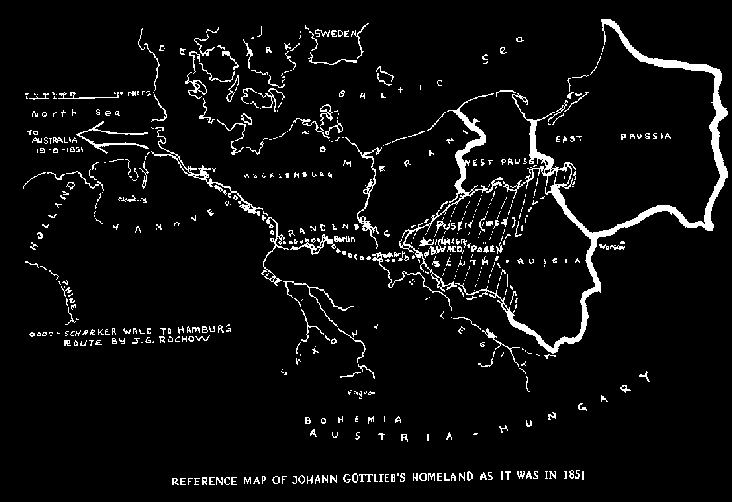 After he received favourable reports from the first of those to emigrate to South Australia, he left his home in Scharker Wald, South Prussia (more specifically Posen, now part of Poland) and commenced travelling along the River Oder. By barge along inland canals, he passed through Berlin, onto the River Elbe, and finally reached the Port of Hamburg.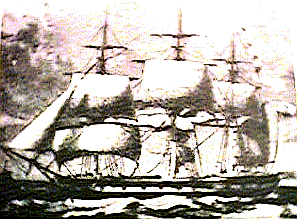 He left Hamburg in a 420 ton sailing ship "Helene", on the morning of 19th August 1851. The ship carried a total of 128 passengers from 49 different families. On the same ship was Gottfried Rochow, his wife and two daughters; believed to be Gottlieb's parents and sisters from the village of Boroy, 16 kilometres from Scharker Wald. They arrived at Port Adelaide on the 24th December 1851, after a journey of 127 days.
In reference to Johann Gottlieb's family who arrived on the boat with him, his father Gottfried passed away at Birdwood at the age of 60 years in 1856. One sister Anna Dorothea married Gottfried Wilhelm Zadow, and the other sister Anna Rosina married Friedrich Wilhelm Hausler in the early 1860's.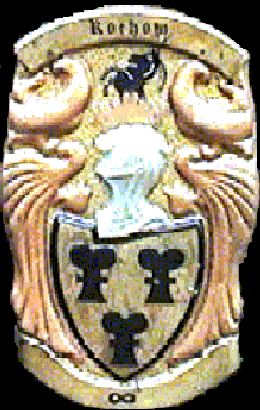 Family coat of arms were awarded and used during the era of the Teutonic Knights who, for 700 years after 1191, were responsible for German military achievements. A coat of arms was awarded to Baron Rochow during this period, and registered by him on the 17th January, 1640.
On the 11th January, 1855 (at the age of 35 years) Johann Gottlieb was married to Anna Elizabeth Schaepe at Lobethal, according to the rites and ceremonies of the Evangelical Lutheran Church, by Pastor Gotthardt Daniel Fritzchke, in the presence of Johanna Rosina Schaepe, Anna Rosina Rochow, Ludwig Zadow and Wilhelm Menzel.
On the 9th November, 1857, Johann Gottlieb purchased 81 acres of land (section No. 6331), from James Frederick Williams, 35 acres (section No. 5633) from Thomas Corkhill, and a further 92 acres (section No. 6342) also from Thomas Corkhill all in the Hundred of Talunga. The total number of 208 acres was purchased for the price of 675 pounds ($1350). He farmed these properties, which were only a short distance from Blumberg, for the next 10 years, and during this time his wife presented him with five sons and four daughters. One son and one daughter died in infancy.
During the 1860's the land became less productive as benefits of phosphates were not yet known. His family was growing older and larger and Johann Gottlieb found it difficult to support them and continue to pay off the mortgage at the same time. He decided it was best to move to new lands then being subdivided in the Western Mt. Lofty foothills, and finally settled at Milendella in the year 1867. The first land he farmed there was 106 acres section No. 960 in the Hundred of Tungkillo, situated above Milendella in a local area known as "The Gap". The first years council rates paid on this land amounted to 7/6.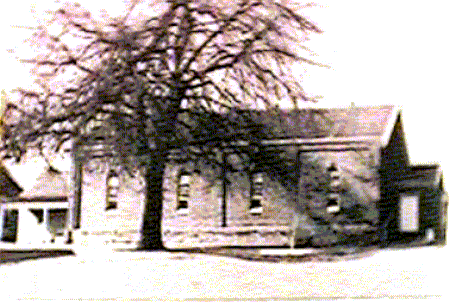 LUTHERAN CHURCH, LOBETHAL, SOUTH AUSTRALIA
This little Church is the oldest Lutheran Church in Australia that is still in use. It was served from the inception of the congregation in 1841 to 1863 by Pastor G.D. Fritzsche and the Foundation Stone was laid in 1843 by Pastor Kavel. The building was dedicated two years later, in 1845.
The bricks were made by the settlers and much voluntary work was done (the women folk included, carried many of the completed bricks to the site). The building, 62 ft. x 32 ft. x 17 ft. was erected by contractors Kleinschmidt and Klar at a cost of 130 pounds. This solidly built church is a monument to the zeal and self-sacrificing spirit of the pioneers. The HymnBooks contained 1929 Hymns.
The pulpit, altar, and altar railings, which are beautifully hand crafted from local red gum, were installed in 1854. It is the oldest country Church, of all denominations, in which services have been held uninterruptedly since its Dedication in 1845. (Under the Southern Cross – Brauer).
As his family grew older he found a need for more land so he purchased 234 acres at 1 pound per acre at Stone Wall (section No. 4 in the Hundred of Ridley) in 1882. This land, situated near the River Murray was cleared and farmed by his boys to grow wheat and keep cows and horses, their dairy produce being sent by river boat to the market. Also, in 1882, his son Wilhelm Friedrich purchased 434 acres, section 212 in the Hundred of Angas (close to Punthari), his family helping to clear and farm this property. In 1887 the land at Stone Wall was sold.
On the 24th August, 1891, Johann Gottlieb's wife Anna died at the age of 54 years and was the first person to be buried in the Millendella cemetery. In 1892 his original land was taken over by his first son Gottfried and Johann Gottlieb retired onto a small block of land at the foothills near Millendella.
Six years later he himself died on the 15th July, 1897, at the age of 77 years, and is buried next to his wife.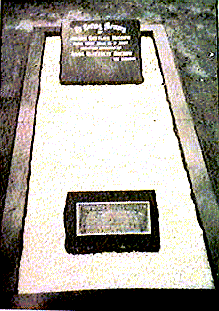 JOHANN GOTTLIEB's BURIAL PLACE AT MILLENDELLA CEMETERY
This grave was without headstone until 1972 when this tablet and base were erected; the dedication ceremony taking place on the 1st April, 1972, at the occasion of the first Rochow Family Reunion. (We would like to thank W.H. Martin & Sons of Mile End for their help in the making of this memorial.)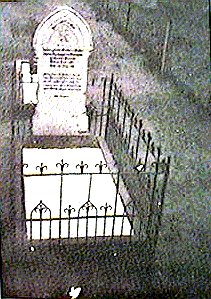 ANNA ELIZABETH's BURIAL PLACE AT MILLENDELLA CEMETERY
In 1891 she was the first person to be buried here. At the time when the tablet was being erected some restoration was also carried out on her grave. The wrought iron work on Anna Elizabeth's grave was made by one of her children.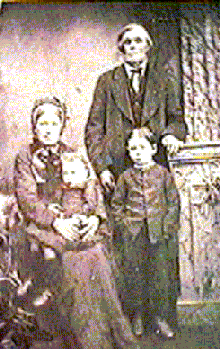 Johann Gottlieb 1820 - 1897 & Anna Elizabeth 1837 – 1891
their children
JOHANN GOTTFRIED.........1-4-1856.......BIRDWOOD

JOHANNA PAULINE............20-11-1857....BIRDWOOD

WILHELM FRIEDRICH........24-8-1859......BIRDWOOD

PAUL GOTTHARDT.............22-5-1861......BIRDWOOD

HERMINE ELIZABETH........26-1-1863......BIRDWOOD

CARL HERMANN.................18-7-1864......BIRDWOOD

CARL FRIEDRICH................26-6-1865......BIRDWOOD

ANNA MARIA.......................26-6-1865......BIRDWOOD

AUGUSTE..............................11-5-1867.......BIRDWOOD

JOHANN WILHELM.............30-11-1869......PALMER

GUSTAV REINHOLD...........30-12-1871.......PALMER

AUGUST ALFRED....................1874.............PALMER

GOTTLIEB THEODORE...........1876.............PALMER

RUDOLPH ALBERT..............3-3-1879..........PALMER

ELIZABETH ANNA..............18-1-1882.........PALMER

Rochow Family Club Page

Where is the next Reunion?

Passenger List Of Helene

Rochow Museum in Reckahn

Birth's, Death's and Marriages


© 2008 [email protected]

---
This page hosted by
Get your own Free Home Page