Johann Wilhelm
The Tenth Child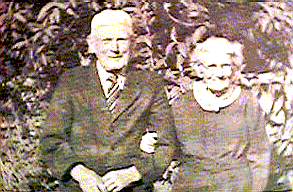 Johann Wilhelm was born on the 30th November 1869 at Palmer. After leaving Palmer Lutheran Day School he apprenticed himself as a blacksmith to Shearers of Mannum. On completion of his apprenticeship he was presented with a gold sovereign and case. He later commenced his own business at Sanderson, buying it from Johannis Weber, his brother-in-law. He married Amalie Johanna Ploenges at Milendella on the 27th September 1891.
The family moved to the South East of Australia, travelling by sea as there was no railway at that time. Johann Wilhelm carried on his trade at Glencoe for some years and moved again, this time to Hynam where he lived for the remainder of his life. The local press made mention of his journey to Hynam as he travelled on the second train to leave Mount Gambier over the newly completed railway.
As well as continuing as a blacksmith he took up some 60 acres of land. The later venture proving unsuccessful, Wilhelm concentrated on his chosen trade. In this he was renowned and became noteable as a blacksmith, wheelwright, coachbuilder and farrier. As years passed he trained and eventually passed the business over to his son Herbert.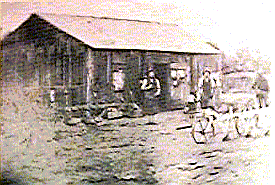 The blacksmith shop owned by Johannis Weber from 1885 and Johann Wilhelm Rochow from 1900.
Johann Wilhelm Rochow was to those who truly knew him a man of strong convictions. He proved evidence of this in his outlook towards family and Church. He was honoured by being the man to officially open the new Lutheran Church of St. John at Naracoorte, where his good friend, Pastor Hanson, served. His wife died on the 1st March 1956 and he followed her on the 26th June, 1956 at the age of 87 years.
Children

Back to Start

Next Child

Rochow Family Club Page

Where is the next Reunion?


� 2008 [email protected]

---
This page hosted by
Get your own Free Home Page