Gustav Reinhold
The Eleventh Child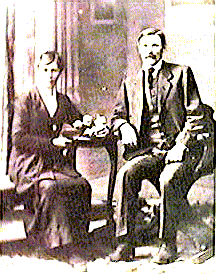 Gustav Reinhold was born on the 30th December, 1871 at Palmer. Although he lived with his parents at Milendella he was christened and confirmed at Palmer. He attended German School for a few hours on several days of the week, having to walk four miles across country to get there. He taught himself to speak, read and write the English Language.
At an early age he helped his father and elder brothers on a holding at Stone Wall, minding cows and bringing them in from the river swamps to be milked. Later he worked at his brother Wilhelm's blacksmith shop at Sanderston. He was an expert at horse-shoe making and loved making things with iron in general, heating it in his coal burning forge and shaping it to his liking, even making things like iron gates.
When in his twenties he opened his own blacksmith shop at Black Hill, (then called Friedensthal). He built a two roomed cottage there and then at the age of 26 he married Anna Maria Starick on the 3rd May, 1897 at Cambrai. A few years later he acquired approximately 400 acres of land in the Hundred of Ridley Section No. 238. He cleared it and settled on it with his wife and seven children. He commenced mixed farming while still doing the blacksmithing as well. He lived ther until his death on 3rd December, 1951. He is buried at Black Hill.
Children

Back to Start

Next Child

Rochow Family Club Page

Where is the next Reunion?


� 2008 [email protected]

---
This page hosted by
Get your own Free Home Page