Wilhelm Friedrich
The Third Child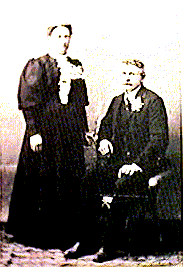 Wilhelm Friedrich (known as Friedrich) was born at Birdwood on the 24th August, 1859. He was baptized at Birdwood and attended the Lutheran Day School at Birdwood. He later finished his schooling at Palmer where he was confirmed.
At the age of 22 years in 1882 Friedrich purchased 434 acres of land at Angas Valley (Section No. 212, the Hundred of Angas) which he cleared and farmed with the help of his family.
On the 3rd October, 1884, he married Johanna Pauline Mueller at St. Stephens Lutheran Church, Adelaide. For 28 years he lived and farmed at Angas Valley (close to Punthari), except for a short period of approximately two years spent at Black Hill around the year 1900. While at Angas Valley, he also became known for his butcher's business. In 1910 he sold this land after hearing favourable reports of the South East of South Australia from his brother, Wilhelm, and he moved to Hynam where he bought a property of approximately 1000 acres.
Although a man of deep religious beliefs, his family enjoyed their life immensely and held barn dances in their barnes, organized tennis parties and attended Literary Society which met fortnightly.
The Church Service at Hynam was held in his home, conducted by Pastor Alfred Brauer, assisted by his brother Johann Wilhelm.
In 1926 he left Hynam and retired to Murray Bridge where he died on April 16th, 1943.
Children

Back to start

Next Child

Rochow Family Club Page

Where is the next Reunion?


� 2008 [email protected]

---
This page hosted by
Get your own Free Home Page