Anna Maria
The Eighth Child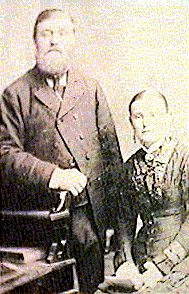 At Birdwood on the 26th June, 1865 Anna Maria was born a twin to Carl Friedrich. She was also christened there, and attended the Lutheran School at Palmer.
At the age of sixteen she married Johann Gottlieb Loechel in the Palmer Lutheran Church on the 3rd August, 1881 by Pastor Henzel. Their first home after their marriage was on a 300 acre farm close to the Milendella school, where cows, pigs and sheep were kept, but mainly wheat was grown. From this farm they also supplied meat to the local residents.
Anna Maria was the second wife of Johann Gottlieb Loechel who had seven children to be cared for from his first marriage and Anna Maria gave birth to fourteen children, two of whom were stillborn, giving a total of nineteen children to be reared. She was greatly admired for her bright and cheerful disposition as a good wife, and devoted mother, giving her large family a good home.
Children

Back to Start

Next Child

Rochow Family Club Page

Where is the next Reunion?


� 2008 [email protected]

---
This page hosted by
Get your own Free Home Page