Elizabeth Anna
The Fifteenth Child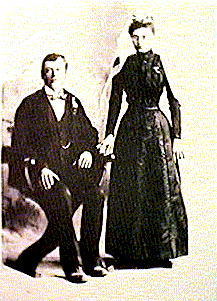 Elizabeth Anna was born at Milendella on 18th January, 1882, and was christened on the 19th February 1882 by Pastor Wiese at the Palmer Lutheran Church. She lived with her parents on their farm in the hills above Milendella while going to the Lutheran School at Palmer.
Elizabeth continued to live and work on the family farm until the age of 20 years when she married Ludwig Hermann Zadow at the Milendella Church in 1902. The young couple settled on a farm of 1200 acres at Punthari where their four children were born. Soon after the birth of her only son she died of peritonitis and was buried at the Milendella cemetery on 6th March, 1910.
Elizabeth Anna is remembered as a good mother and wife, and also for her great love of horses.
Children

Back to Start

Rochow Family Club Page

Where is the next Reunion?


� 2008 [email protected]

---
This page hosted by
Get your own Free Home Page