Ysaria is a larp trilogy by Laura Turpeinen, Heidi Westerlund and Anja Suomalainen. It's about classic fantasy larp clishés; different courts, black and white and pink mages, vampires, kenders, elves, pirate elves that are secretly ninjas, werewolves, furries, sea people, pirate dwarves, orcs and so on. The name Ysaria,roughly translates to ninetisia, as most of the clishés come from the 90's larps. The previous larps were played at 2008 and 2010, and the third game, Ysaria III - Loppu on lähellä, (Ninetisia - End is near) is played 6th of September on backwoods, an hour drive from the city of Turku.
Not only are we inspired by 90's larp, but also by popular culture. For instance on Ysaria II, there was a competition called Who wants to be an Archmage? And speaking of inspiration, Ysaria is of course also influenced by the Nordic Larp tradition, so we're fitting on the definition of Nordic Larp by Jaakko Stenros. For instance we would have never come up with our "simulate sex with singing", if we hadn't tried Ars Amandi.
Ninetisia is kind of humorous game, but the game is of course still played seriously. We hope people to stay in-character the whole game, leave offgame jokes on the after game sauna, and other ways respect our wish to make a great clishé larp.
Larp is played in Finnish, but we put this English info page up just to tell also our foreign friends, what kinds of games we do.
It might have been a mistake.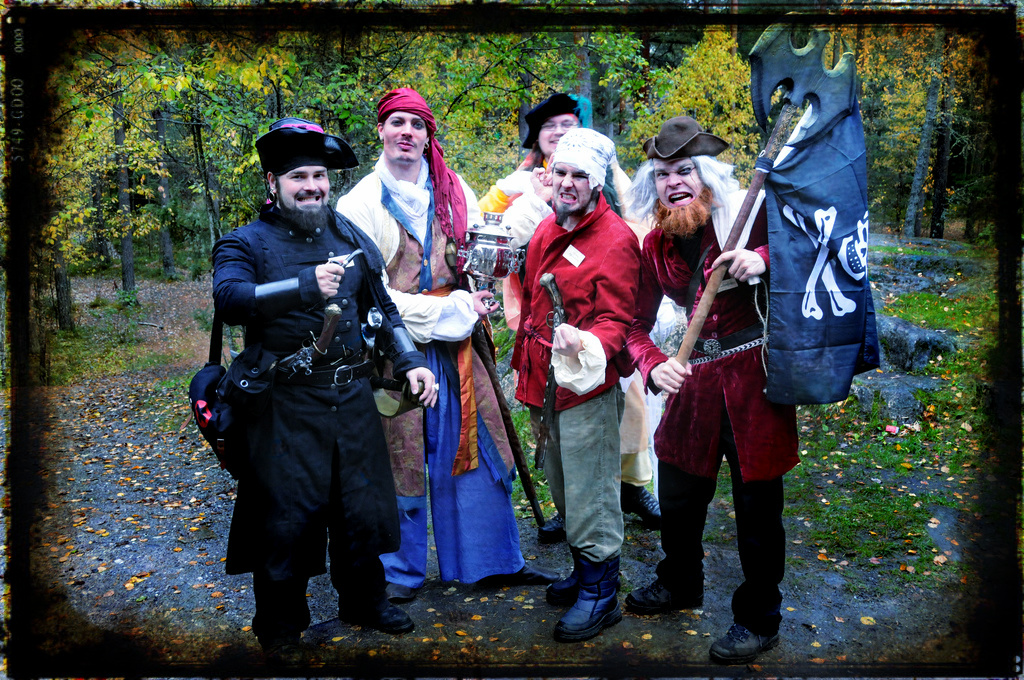 Pirate dwarves at Ysaria 1. Original picture by Suvi Korhonen