| | |
| --- | --- |
| | Crescent Alliance Self Help For Sickle Cell |
Trial Update
Sister Somayah Found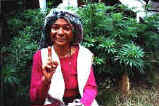 NOT GUILTY
on 15 Medical Hemp Charges
Sickle Cell and Hemp:
Healing Applications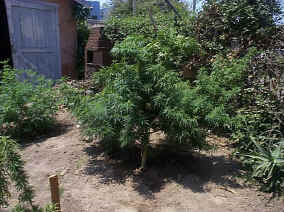 Click Photo Above
For Link To L.A. Times Article
To read about the trial

Weekend Trial sequence e-mails
March 15-18, 2002
From Brenda www.hempmuseum.org - 3 15/02
Donations can be sent to
www.paypal.com
into the account of
[email protected]
Well, just a quick note from Strictly Brenda...
Somayah was excellent on the stand. I am hoping she will make the cover of some wonderful magazine like vanity fair...and anyone who can help, please advise...
The defense, Sean Carney, made his closing arguments. He again added up 720 packs of cigarettes IF Somayah had actually harvested all the crops which were twice abducted by the police...
He was into such a frenzied logic that both myself and my good friend Rick, an attorney from Belgium, were somewhat impressed and worried. We haven't quite cast Sean, but some of us did suggest he was working for the wrong side...
Then came Wellborn. Like a confident big bear who seems to know the ropes and the jury, he summarized everything quite succinctly and clearly, giving us, and the jury, we hope, cause so see Somayah as she is.
In the end, the choice seems to be that Somayah was either a very unsuccessful would be dope dealer, or the courageous woman who refused to take the time served in lieu of standing up for her (and our) rights.
A woman who has spent her life trying to alleviate the pain of herself and others by finding many ways to use the cannabis plant for this.
If cooking is a crime, and mixing alcohol to extract the best of plant-life, there are many chefs and food companies who stand at risk.
So, Wellborne gets some finishing remarks tomorrow, and then the Carney last words.
Prayer may be in order. After seeing the film guilt by association last night on CourtTV, I felt horrified that such injustice is still the order of the day. We must all be aware of what is happening and support those who stand up for us...like sister Somayah..
Somayah March 17, 2002
Thank you Sister.......going to sleep now......gotta get up and be ready for the good fight!!
We now are preparing our BILLION DOLLAR BILL FOR COMPASSION
Somayah- March 18, 2002
CAN YOU PRONOUNCE

NOT GUILTY

15 TIMES?
"Ever notice how
the cops always show up
at harvest time?

the POLICE, THEy come and neaRly blow me and my brother Akile away ........ .(Photo of Hemp Warrior Akile and Sister Somayah at 2002 L.A. Million Marijuana March)
Bruce Margolin
saved the day.........
Attorney Bruce Margolin
Sister Somayah is a Sickle Cell Survivor
If you have any information to share
about being either a sickle cell survivor,
or
how you use medical marijuana
as part of your health therapy
e-mail your story to be part of the research
[email protected]
Jack Herer, Bill Bret, Scott Imler, Marvin Chavez, Richard Davis (Hemp Museum.Org), Sherwood Akuna, J. Nayer Hardin.
Donations can be sent to
www.paypal.com
into the account of
[email protected]
For More Information Contact: Sister Somayah:
323-232-0935
Sister Somayah Kambui
Copyright © 1999-2007
by HempIsHep
All rights reserved.
Revised: 24 Sep 2008 11:58:57 -0700 .