Crescent Alliance Self Help For Sickle Cell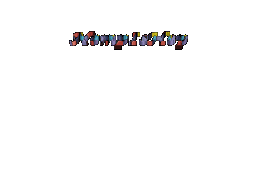 Medical Marijuana & California
Prop 215
The Will Of The People

Implement Hemp Legalization


Above is one of
Sister Somayah Kambui's
Medical Marijuana plants
seized by the
Los Angeles Police Department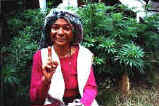 Sister Somayah was acquitted on
all 15 hemp related charges
State of California
The Medical Marijuana Initiative
Section 11362.5 is added to the Health and Safety Code to read:
11362.5 (a) This section shall be known and may be cited as The Compassionate Use Act of 1996.
(A) To ensure that seriously ill Californians have the right to obtain and use marijuana for medical purposes where that medical use is deemed appropriate and has been recommended by a physician who has determined that the person's health would benefit from the use of marijuana in the treatment of cancer, anorexia, AIDS, chronic pain, spasticity, glaucoma, arthritis, migraine or any illness for which marijuana provides relief.
(B) To ensure that patients and their primary caregivers who obtain and use marijuana for medical purposes upon the recommendation of a physician are not subject to criminal prosecution or sanction (arrest).
(c ) To encourage the federal and state government to implement a plan to provide for the safe and affordable distribution to all patients in need of medical marijuana.
2(c) Not withstanding any other provision of the law, no physician in this state shall be punished, or denied any right or privilege, for having recommended marijuana for medical purposes.
(d) Section 11357, relating to the possession of marijuana, and Section 11358, relating to the possession of marijuana, and Section 11385, relating to the cultivation of marijuana shall not apply to a patient, or to a patient's primary care giver, who possesses or cultivates marijuana for the personal medical purposes of the patient upon the written or oral recommendation or approval of a physician.
(e) For the purposes of this section, "primary caregiver" means the individual designated by the person exempted under this act who has consistently assumed responsibility for the housing, health, or safety of that person.
"Ever notice how the police
always show up at harvest time?"
Sister Somayah Kambui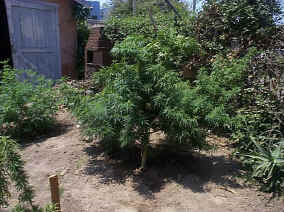 Donations can be sent to
www.paypal.com
into the account of
[email protected]
Certification Doctor's Note
To Whom It May Concern:
This is to certify that ___________________ is currently under my care and medical supervision for the treatment of ________________________.
This patient reports that cannabis/marijuana is providing otherwise unattainable relief from his/her symptoms. I have no objections of him/her using marijuana for this purpose.
Please provide this patient with whatever information and assistance possible.
Thank you
Date_________________
Physician's Signature_______________________
Print Name_______________________________
Address__________________________________
City, State, Zip____________________________
Telephone:________________________________
After you have your signed Doctor's Note
e-mail [email protected]
to join a Cannabis Buyers Club.
If you don't have a doctor
Contact Sister Somayah
For medical referrals
Sister Somayah is a Sickle Cell Survivor
If you have any information to share
about being either a sickle cell survivor,
or
how you use medical marijuana
as part of your health therapy
e-mail your story to be part of the research
[email protected]
For More Information Contact: Sister Somayah:
323-232-0935
Sister Somayah Kambui


Copyright © 1999-2008
by HempIsHep
All rights reserved.
Revised: 24 Sep 2008 11:58:46 -0700 .