Matrox Parhelia Review - Page Contains 21 Parts
By Typedef Enum - November 16, 2002
INTRODUCTION
Products reviewed by computer hardware review sites can, in many cases, shape the perceptions that many of us have on unfamiliar manufacturers. Unless you happen to be NVIDIA or ATI, you might only have one legitimate shot at impressing consumers. The unfortunate consequence is that the responsibility of delivering a fair and unbiased review lies with such websites.
Such was the situation for Matrox a few months ago when they unveiled the highly anticipated Parhelia graphics chipset. The Parhelia was a revolutionary new architecture for them considering that their last performance chip came out during NVIDIA's TNT2 era.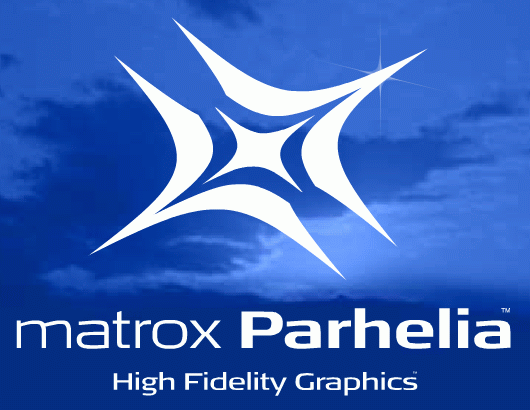 The Parhelia was generally welcomed, but when the non-disclosure agreements expired and the first Parhelia reviews were published, there was an ominous "thud" by many review sites. Many of these sites catered to the gaming audience and answered questions such as "how well did it score in 3DMark2001?" or "how did it perform in the unreleased version of Unreal Tournament 2003?"
Nevertheless, I purchased a Parhelia for the following reasons:
Multi-Monitor Support - Matrox has been a leader in this area and I was confident that they had the best implementation available.


2D Image Quality - I was spending more time doing work from home and wanted better image quality in Windows at high display resolutions.


Dual DVI - I recently upgraded to LCD's at home and wasn't impressed with the image quality of the secondary LCD using a competing graphics card.


Fragment Antialiasing - The quality of this implementation appeared to be very good based on the screenshots I had seen in reviews.


Surround Gaming - Despite the requirements, I saw this as a feature that could literally transform my gaming experience.
Despite what I'd read, and all the people who told me I was crazy, I realized the Parhelia was loaded with features and performed better than review sites claimed. So I decided to put together my own review, which covers the following areas:
Package Contents
Graphics Card
Drivers and Driver Quality
2D Image Quality
DVD Features and Quality
TV-Out
Multi-Head Options
3D Features
Surround Gaming and Performance
Overclocking
Help
Conclusion
BOX CONTENTS
Let's take a look at what you get right out of the box.
Parhelia Graphics Board
DVI to VGA Adapter
Dual-Monitor Connector
TV-Out Adapter
Manual
Driver and Demo CD
It can be particularly annoying having to purchase additional equipment to enable specific features of a graphics card. This isn't the case with the Parhelia as Matrox provides you with all the necessary items to expose the features listed on the box.
CHIP INFO
Let's get a few factoid's out of the way, shall we?
.15 Micron Fabrication (UMC)
220MHz Core Frequency
275MHz Memory Frequency (550MHz Effective)
4 Pipelines
80 Million Transistors
Dual DVI-I Outputs
256-Bit Memory Bus
DirectX 8 Compliant
A few things jump out. First of all, as far as memory bandwidth is concerned, this chip should not be bandwidth limited. In total, the Parhelia yields close to 18 gigabytes per second of bandwidth. The unfortunate aspect of the graphics processor is its relatively low frequency, at just 220MHz. It should be noted that this will limit performance in some situations, but we'll hold that thought for now.
The 4 pipeline architecture is consistent with other DirectX 8 class graphics cards. Dual DVI support is beneficial if you're using multiple LCD's. Although the Parhelia's transistor count has since been eclipsed by ATI's R300 (Radeon 9700), it's still a very large chip. You might expect such a large chip to have a loud cooling fan, but this isn't the case at all. I've found the sound level to be very quiet, in fact.
DRIVERS
Many of you probably aren't familiar with Matrox's user interface and control panels, but they have done a great job with their PowerDesk application suite, which has a look and feel similar to the Windows XP interface.
PowerDesk User Interface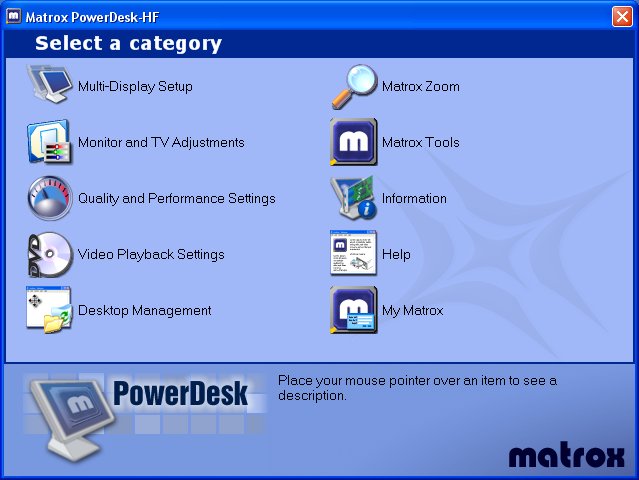 The main categories are self explanatory and information for each item is provided when performing a mouse-over on the icon. You might be asking, "where's the driver panel?" Matrox canned that type of interface and did it their way. When you access the display driver panel in Windows, a shortcut is provided to this application.
I like it. In fact, I like it a lot. The user interface is appealing, help is beneficial to the user, and it provides quick and easy access to important display settings. Be assured that I'll have more to say about PowerDesk later on in the review.
DRIVER QUALITY
I've been using NVIDIA based graphics cards for so long and I wasn't sure what to expect from the Parhelia. The best case scenario was that most games would work, albeit not very well optimized, mixed in with a few system crashes. But I was wrong. During the time I've used the Parhelia, my system has yet to experience crash. This is an impressive accomplishment given the fact that Matrox had a LOT of ground to cover in going from the DirectX 6 era to the Parhelia.
DRIVER TWEAKING
One thing you might want to know is how tweakable the Parhelia is. The next two screenshots show the PowerDesk control panels for managing desktop and 3D graphics settings.
PowerDesk Desktop Panel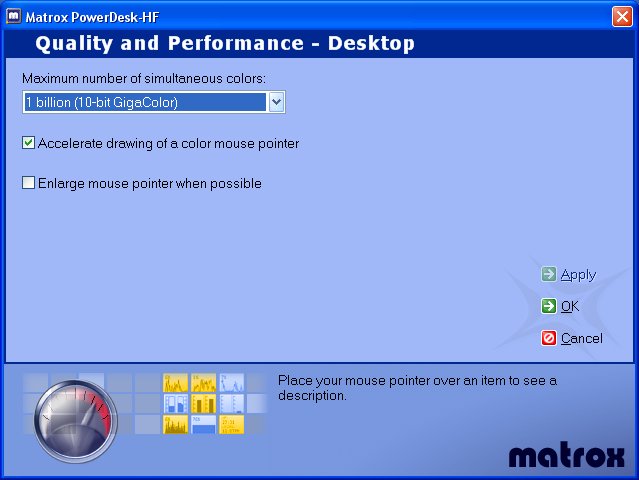 PowerDesk 3D Panel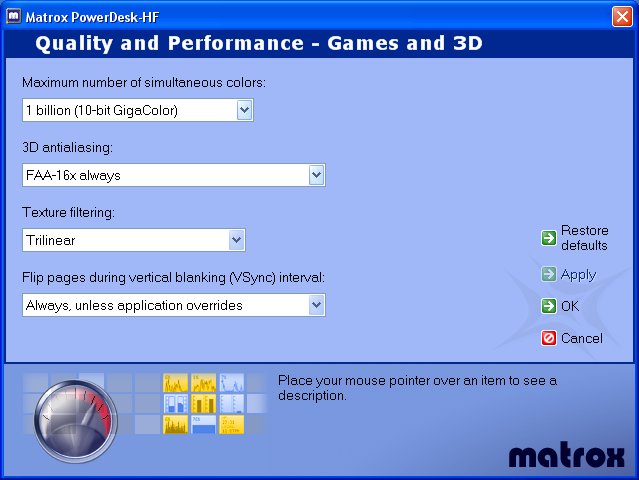 "What? That's it?!" Well, think about the tweaks that are available for ATI and NVIDIA based graphics cards. For the majority of users, most graphics settings are rarely adjusted as users typically want to choose a method of antialiasing along with a anisotropic texture filtering.
Matrox also provides the user with the Technical Support Tweak Utility shown below.
Technical Support Tweak Utility
2D IMAGE QUALITY
When someone says "Matrox", what's one of the first things that comes to mind? One answer would probably be outstanding 2D image quality.
UltraSharp Display Output Technology - Provides the highest signal quality RGB, DVI, and TV outputs


400MHz 10-bit RAMDAC


10-bit GigaColor technology - Supports 10-bit per channel color throughout the graphics pipeline


Glyph Antialiasing - Provides hardware acceleration for antialiased text in Windows 2000 and Windows XP


10-bit DVD decoding
There are some that feel the Matrox 2D mystique is completely overblown. If you insist that there's no difference in 2D image quality, take a look at the frequency response charts that Matrox has provided on their website. If that still causes doubt, then I recommend using your own set of eyes to evaluate the Parhelia's 2D quality.
Another area the Parhelia shines is in secondary video output, which is just as good as the output on the primary display. While using a GeForce4 Ti 4200, I noticed a series of wavy lines on one of my secondary LCD's that's not there with the Parhelia. I even took a digital snapshot of my Dell 1900FP LCD panel for illustation.

The vertical line on the right extends from the top of the screen all the way to the bottom. And the text that you see is of poor quality. On the Parhelia, the display was crisp and clean throughout.
I'd like to point out one thing with regards to 2D image quality. NVIDIA does not manufacture its own graphics cards so it's unfair to say that all NVIDIA based graphics card will produce the same quality. For example, the GeForce4 Ti 4200 I used may not be representative of all GeForce4 offerings. At the same time, this becomes a critical issue because you have to know which manufacturers to avoid. With the Parhelia, you know that you're going to get the same quality every time.
The bottom line is that you know that 2D image quality shouldn't be a problem given Matrox's legendary status in this area. Yes, there really is a difference, so don't get sucked into believing that 2D image quality is a thing of the past.
GIGACOLOR / GLYPH ANTIALIASING
Since using the Parhelia, I've always enabled Gigacolor on the desktop. It's difficult to say how this feature contributes to the overall 2D image quality and it becomes more difficult for me due to the fact that I use three LCD displays. Why is that? Because, LCD's tend to use 8-bit DAC's.
Likewise, I always have Glyph Antialiasing enabled. From my understanding this feature directs the hardware to do the processing, thereby making 2D performance noticeably faster.
DVD PLAYBACK
DVD is an area that's often overlooked in reviews, and yet, we tend to see a number of DVD related questions in message forums. Let's first cover how you might employ DVD's on the Parhelia.
You're basically looking at a couple of options relating to DVD playback, which are dependent on your configuration. On a basic single monitor system, DVD playback is no different on the Parhelia. Where you get more options is in dual or triple-head mode. In these modes, you can drag the DVD window into another display as the Parhelia has a total of three hardware overlays. But Matrox has taken this one step further with DVDMax.
The Parhelia employs 10-bit DACs in the DVD pipeline so I had great expectations for the final output.
DVDMAX
DVDMax is a feature that's geared towards multi-head configurations. What it boils down to is giving the user the ability to play a DVD on a secondary display in full-screen mode. In this case, you could be running a DVD on the non-primary display while working on the primary display. This may seem far-fetched, but I can assure you that I've had Lord of the Rings running while I was doing actual work!
Let's take a look at some of the options in detail. From the main PowerDesk interface you would click on the Video Playback Settings icon, which brings up the following control panel.
PowerDesk Video Playback Panel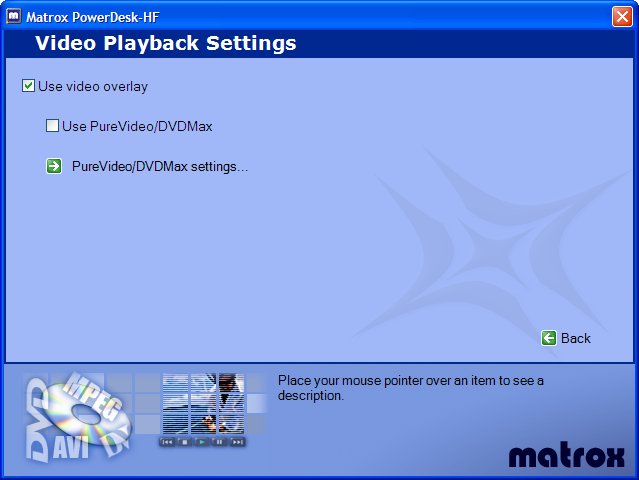 Here's what the DVDMax configuration options look like.
PowerDesk PureVideo/DVDMax Panel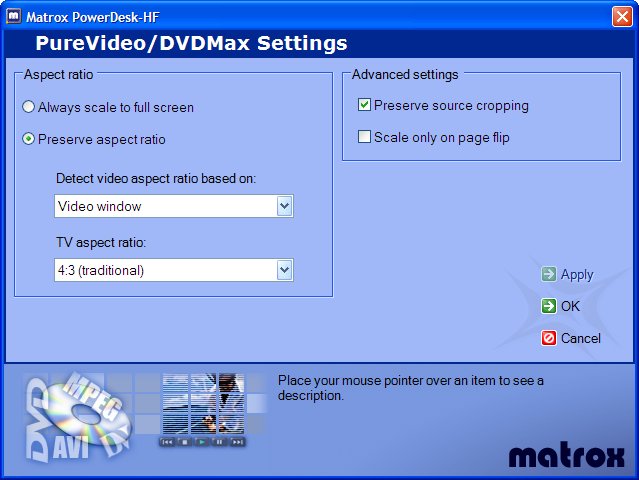 Placing the mouse over a given setting will fill the bottom portion of the window with helpful information. How many interfaces have we seen in which the manufacturer provides cryptic looking settings, some of which are legacy and no longer used, or simply settings that nobody really understands? Fear not, as Matrox gives you enough information to make an educated choice.
QUALITY
Now that we've seen some of the options made available to the end user, it's time to answer the question: "How does it look?" In short, I don't believe you'll find a better quality DVD picture than the Parhelia.
Picture quality is a difficult measure to gauge, but I can tell you that there was an immediate difference for the better compared to the GeForce4 when using WinDVD.
TV-OUT
TV-out isn't usually covered in reviews and I couldn't understand why it was useful considering my previous dealings with this feature. I had hooked one of my TV's to a GeForce4 a while back and had to rely on the open source project DScalar to get it to work. Unfortunately, the picture quality wasn't very good. I had basically wrapped up this review, but thought it would be a good idea to cover TV-out on the Parhelia to see where things stood compared to my last experience.
POWERDESK
Matrox exposes TV-out functionality via the PowerDesk utility. In fact, it's no different than choosing a display configuration. Let's take a look at the interface.
PowerDesk Multi-Display Panel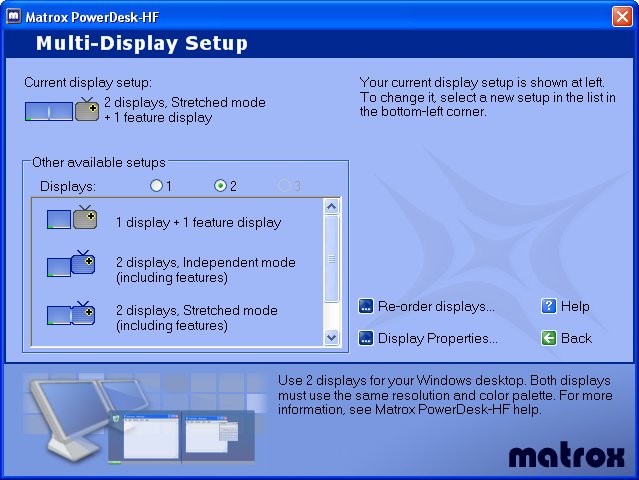 As you can see, I have selected a mode that:
Allows two displays
Sets stretched mode
Sets the third display to a feature display
When using TV-out, you'll have to change the physical connections on the graphics card itself. By doing so, PowerDesk will automatically adjust the display settings accordingly. Matrox includes a TV-out adapter that is used as an attachment to the dual-monitor cable. Here's a diagram from the PowerDesk Help feature.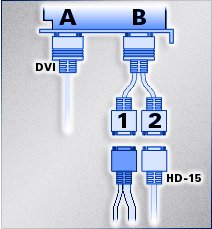 Again, just to be clear what you're looking at in this photograph. The primary display is connected to DVI "A" and the dual-monitor cable is connected to DVI "B". From the dual-monitor cable, you would connect a secondary display to connector "1" and the TV-out adapter to connector "2". From here, you have a choice based on the available connection on the TV. In this case, my TV doesn't have an S-Video adapter, but a standard composite connector in which case I routed a 12' video cable from the TV to the composite connector on the TV-out adapter.
QUALITY
I've covered how to configure the hardware and software to support TV-out, but how does it look? In short, the picture quality is a definite improvement compared to my experience with a GeForce4 and I even moved one of our TV's into the computer office. Not that a digital photograph is terribly meaningful, but here's a screenshot for you to check out.

Yes, that would be Lumberg from one of the funniest movies I've seen in a long time, "Office Space."
I also experimented with a variety of TV-out configurations.
DVD - I played a DVD that was routed to the TV via DVDMax and the quality was significantly better than the GeForce4. This configuration is a viable setup with the Parhelia.


Desktop - When cinfiguring the display for clone mode, the TV mimics whatever is displayed on the desktop. As far as the desktop display, the overall quality was very good, but text was difficult to read, which may have been due to the TV. Games work as advertised and looked great.


Cable - I have an older WinTV PCI card for viewing cable TV and with DVDMax was able to dump cable output to the TV.
MULTI-HEAD
Up until two months ago, multi-head meant very little to me. I don't know why because my line of work is perfect for this technology. I can't tell you how many times having to minimize or maximize a window in a development environment used to drive me nuts. Multi-head is one of those features that once discovered, you probably won't stop using it. One thing that kept circulating in my head during the initial Parhelia reviews was how you configured these things? How do you hook them up?
INSTALLATION/CONFIGURATION
You would think that configuring the Parhelia for so many display modes would be difficult, which isn't the case at all. Let's look at some of the options you have, as well as some of the potential limitations.
DUAL-HEAD
Dual-head really has no limitation, per-se. If you only deal with two displays, then you're looking at the following configurations:
2 digital displays (LCD), each connected to DVI outputs #1 and #2
1 digital display (LCD) connected to DVI output #1 and the second display (LCD/CRT) connected to the DVI-to-Analog converter
The Parhelia actually provides two distinct DVI connectors, which is a useful feature when dealing with LCD panels. Despite what you may have read, LCD's look better when paired with DVI as opposed to analog connectors. Here's how PowerDesk addresses this configuration.
PowerDesk Multi-Display Panel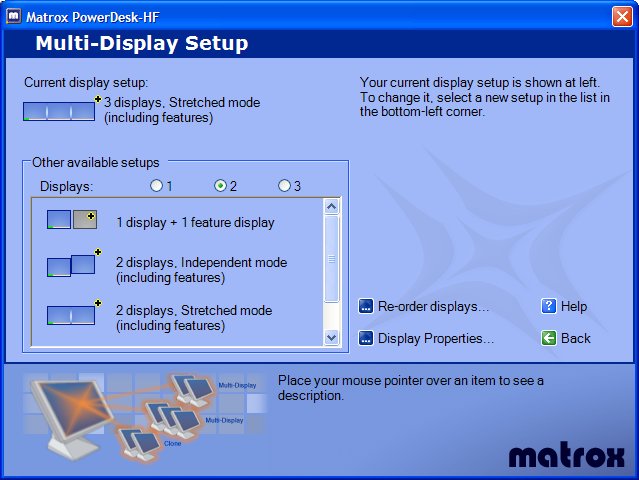 In selecting the 2 displays option, you end up with 4 choices, one of which isn't visible in the screenshot:
1 display + 1 feature display
2 displays in independent mode
2 displays in stretched mode
2 displays in clone mode
Independent mode basically means that each display is treated as a completely separate display altogether. Stretched mode literally expands the desktop from the main display all the way to the second display, while clone mode will duplicate the contents of the primary display onto the secondary display.
TRIPLE-HEAD
Triple-head, unfortunately, has a couple of limitations that should be discussed. First of all, you cannot run any single display higher than 1280x1024. For those considering pairing a Parhelia with LCD's, this isn't a huge issue since many consumer LCD's support a 1280x1024 native resolution. If your LCD supports a native resolution of 1600x1200, you'll have no choice but to use a non-native resolution. If you're unfamiliar with LCD's, most panels tend to look worse when run in non-native resolutions although it tends to vary. In my case, the Dell FP2000 doesn't look too bad when run at this resolution, but I've had other panels that looked noticeably worse under such circumstances.
CRT's are different, in the sense that there's no real native resolution so you could potentially lose out on some screen real estate. In other words, you might be somebody who would run their CRT at 1600x1200 under normal circumstances. However, this limitation would force you to use 1280x1024.
Triple-head mode also limits your DVI capability as well. Despite the fact that the Parhelia has two distinct DVI connectors, the second DVI connector must be connected to a splitter cable, which has two analog connectors on the end. In other words, the center/primary display may be connected to DVI output #1, but the left/right displays must be connected to the analog connection on your display. For CRT's, this isn't an issue. LCD's, on the other hand, are a different animal altogether. As an example, my Dell FP2000 looks bad when connected to an analog output, but the Dell 1900FP looks much better. However, no matter how you slice it, hooking an LCD to the analog output will look inferior to that of digital.
In addition, triple-head only supports stretched mode. All of these limitations should be considered, but I'm here to tell you that the benefits outweigh these items.
INDEPENDENT RESOLUTIONS
Another feather in Matrox's cap is that the Parhelia allows you to set different resolutions and refresh rates for your displays while under dual-head mode. When you're in triple-head mode, they must be the same for all displays.
Unless I'm mistaken, the GeForce4 doesn't allow you to do this. As a test, I installed my GeForce4 and never realized that this limitation existed. In any event, this is almost a requirement if you happen to be using displays that have different resolution limitations. Again, consider my current setup. I have a primary LCD that can handle 1600x1200, while the other 2 LCD's only go up to 1280x1024. Unsing the GeForce4 and nView, I was forced to go down to 1280x1024 on both displays. On the Parhelia, I had to do a similar thing, but only under triple-head mode, not dual-head.
MY CONFIGURATION
As an example, I've provided a digital image taken from my home office.

Hopefully, this image was good enough to give you a feel for just how awesome having that level of screen real estate can be. For the software developers who might be wondering:
Left display - JBuilder 7, Java IDE
Center display - Visual Studio 6 C++ IDE
Right Display - MSDN
I was working on a project that required debugging a chunk of C++ code in Visual Studio that was being called from a Java application. Ordinarily you would be forced to minimize/resize/maximize a series of windows in order to access each application, but triple-head allows you to see the "whole picture." I can't tell you just how productive this environment is for development work and I would venture to guess that it would be equally ideal for graphics artists, technical writers, and the like.
3D FEATURES
I'm not going to go into much detail here simply because I'd like to focus on those areas that have maximal impact on your everyday gaming experience. With that said, the Parhelia is a DirectX 8 class graphics accelerator and obviously supports the required DirectX 8 specifications. The Parhelia also supports some features that aren't called for in DirectX 8 such as displacement mapping. Anyhow, let's touch on the most important features.
Quad-Texturing - Each pipeline has 4 texture units


Super Sample Texture Filtering - Provides up to 64 texture samples per clock, supporting up to 16-sample anisotropic texture filtering.


16X Fragment Antialiasing (FAA) - Provides 16-sample antialiasing (Super Sample) to polygon edges.


Full Scene Antialiasing (FSAA) - Supports traditional 4X antialiasing (Super Sample).
I'll briefly cover the filtering and antialiasing features, since these will have the most impact on day to day usage.
ANISOTROPIC TEXTURE FILTERING
When the Parhelia debuted, one feature absent from the shipping drivers was the ability to force a higher level of anisotropic texture filtering. At the time, it was believed to be an issue with the drivers, which would be addressed at a later point. More on this on a minute. For now, feel free to click on images below to get an idea for the difference that anisotropic texture filtering makes with the Parhelia.
| | |
| --- | --- |
| No Anisotropic | Anisotropic |
| | |
Based on the comparison, you can see that anisotropic filtering does help sharpen textures. However, it's also clear that this feature is handicapped due to the low number of samples that are currently being used by the driver. I sent an e-mail to Matrox asking why they haven't increased the number of samples and/or the ability to adjust the number of samples. The following was their response.
We feel that Parhelia's 2-tap anisotropic filtering is a significant improvement over both bilinear and trilinear filtering and by us enabling any higher setting we would effectively hit that law of diminishing returns in terms of quality improvement / performance reduction."
Let me restate my position on this issue. Matrox needs to completely re-think this due to the fact that it's not competitive with other graphics chipsets. What's the point of limiting the capability of the hardware? Why not give the consumer a choice? Quite frankly, this has been one of my few sore spots with the Parhelia.
16X FRAGMENT /4X SUPERSAMPLE ANTIALIASING
Fragment antialiasing (FAA) could go down as one of the biggest strengths in the Parhelia arsenal. I use the word "could", because it's not an easy feature to assess. In layman's terms, 16X FAA applies 16X supersampling to the polygon edges. An algorithm on the chip attempts to determine when to process polygon fragments and when not to do anything but write the data out to the framebuffer. When the algorithm determines a fragment exists, the pixels are sent to a fragment buffer to be processed. The result of the fragment buffer is eventually written to the framebuffer.
Matrox has taken an interesting stance when dealing with antialiasing. The way they see it is that you only need to perform antialiasing on a given amount of data and it should be done at the highest possible quality. Ultimately, this implementation is dependent on detecting polygon fragments and this is where that word "could" comes into play. On the whole, FAA is a great feature. It does handle the task of cleaning up the jagged edgesies better than any other implementation I've used. On the other hand, any Parhelia owner can tell you about the growing pains FAA has undergone.
This isn't really such a bad thing, is it? Again, it's a double-edged sword. Matrox continues to improve FAA through driver updates, but there are known limitations that simply cannot be addressed in the current hardware. It's my personal belief that a future Matrox part will be required to fully rectify these limitations.
Let's try and make heads or tails out of this feature, and see if we cannot draw a couple of specific conclusions. I have also tossed in some 4X FSAA screenshots for comparison.
Quake 3 - 1
Quake 3 - 2
IL-2 Sturmovik
Nascar Racing 2002
ANALYSIS
Let's focus on the FAA positives:
When compared to the 4X sample mode, FAA does a better job on the edges.


Performance impact of FAA is relatively minor.


Works in both OpenGL and Direct3D with no API tradeoffs.


Very effective in flight and racing simulations.
And now on the negatives:
Doesn't work 100% of the time, across the board. You can spot areas in the provided screenshots that not working.


Will not work on stencil buffers.


Because it only works on edges, you must apply anisotropic filtering to address textures. Not really a negative per-se, but is a consequence of the implementation.


For the most part, FAA is an effective antialiasing method. It allows for a large number of samples to be used with a minimal penalty on performance. Matrox has had some difficulties over the months in trying to eliminate bugs with FAA, but should be commended for diligently getting it up to par. At the present time, there are no serious issues with this feature.
When actually playing a game, you don't tend to notice some of the imperfections, but they are imperfections nonetheless. It likely that the next generation Parhelia part will eliminate these issues altogether. If Matrox can achieve this, they could end up with the most effective antialiasing feature available in the consumer market.
SURROUND GAMING
When I first saw the initial Parhelia reviews, Surround Gaming seemed to be presented as a gimmick-like feature. Quite honestly, I thought the same. First of all, what kind of support would this feature have? We've seen many promising 3D technologies come to pass over the last several years, and many of them have yet to materialized or are just now being adopted.
The appeal that Surround Gaming had going for it was the simplicity of enabling the feature. There are actually two requirements.
Adjustable screen resolution higher than 1600x1200
Adjustable field of view (FOV)
Most 3D game engines support these two requirements in some form, but the question comes down to how easy or difficult it is to change. In the case where the engine supports the requirement, but doesn't expose it, a patch will be required. The one limitation that exists with Surround Gaming are games based on DirectX 7. Unfortunately, DirectX 7 had a screen resolution limitation of 1920x480. It's actually slightly higher, but this is the highest attainable resolution. Keep this in mind when dealing with older titles. This was addressed with DirectX 8 so at least you'll be covered with newer titles that support these features.
The nice thing about Surround Gaming is that many popular 3D engines already natively support it, which include Quake, Unreal, and Lithtech engines. Right off the bat, you've got a decent number of titles from which to choose.
In terms of answering how long it would take to implement this feature, let me to give you an example. I enjoy playing Quake 2 deathmatch and thought it would be really cool to enable Surround Gaming. The Quake 2 engine supported adjustable FOV, but had hard-coded screen resolutions. I downloaded the Quake 2 source code from id Software's server, changed the source, made a build, and began testing in about 10 minutes.
Now that I've gotten all of that out of the way, what about Surround Gaming? In short, it's the best 3D feature I've used since I went from a Virge3D to a Voodoo. It's that compelling. This feature literally transforms the gaming experience unlike any other feature I've experienced to date. I would probably say that this will remain true until Doom III debuts.
HUD
One of the things you'll see in some of the interface screenshots below relates to the "HUD." This was one of the issues that plagued the early Parhelia reviews. As an example, consider Quake 3. When you enable Surround Gaming, the net effect is that the HUD would end up being stretched to the point where it becomes difficult to use.
Under OpenGL, Matrox has provided a way to preserve the HUD to the center display. In doing so, it looks no different than playing the game on a single display. Despite the fact that Matrox provided this workaround, the user had to go into the registry and flip a DWORD variable. Clearly, there needed to be a better way. More on this in a second.
GAME TWEAKS
Matrox's PowerDesk interface performs a variety of functions. In addition to those items mentioned previously, it's also used to manage game-specific settings. All you do is let the program search your drive for games and the rest is up to you. Other graphics cards have 3rd party utilities that perform a similar functionality, but Matrox provides it in one convenient support application.
Powerdesk Game and 3D Settings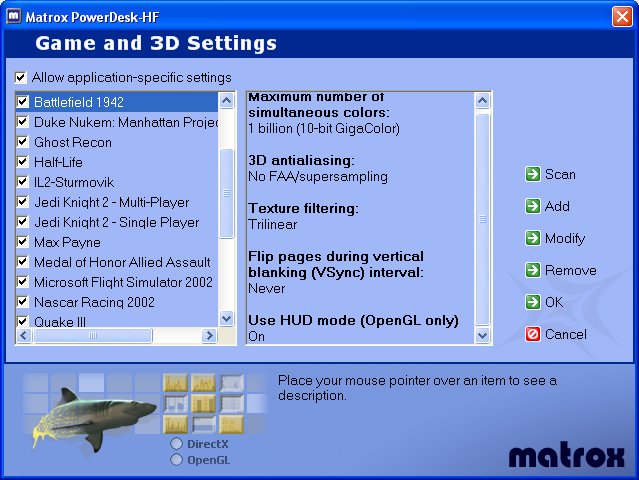 Here, you can see a list of detected games on the left and a summary of settings on the right. If I want to make a change to a specific title, I would click on the "Modify" button, and make the necessary change.
Powerdesk Game and 3D Settings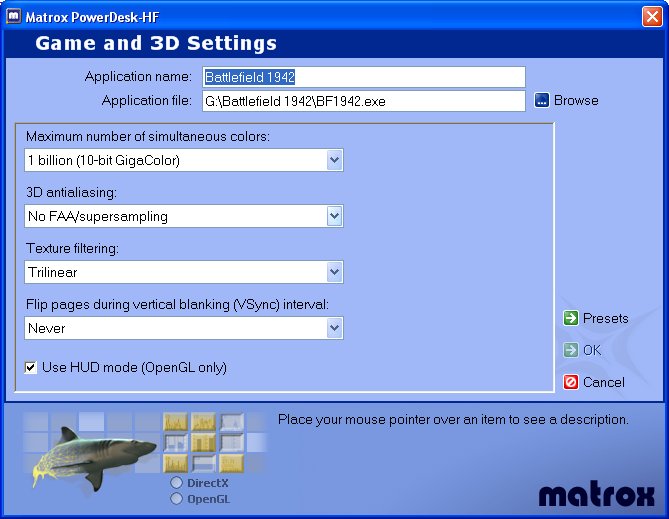 In this interface, I would make specific setting changes. Remember my earlier reference to the HUD? As you can see from the above screenshot, Matrox has provided a checkbox in order to resolve the aforementioned issue.
APPTIMIZER
One thing that Matrox was "dinged" on during the initial reviews was the difficulty in enabling this feature. In some games, you had to edit configuration files, while in others, registry edits had to be performed. As a result, Matrox designed the Apptimizer. Let's take a quick look at the interface.
Apptimizer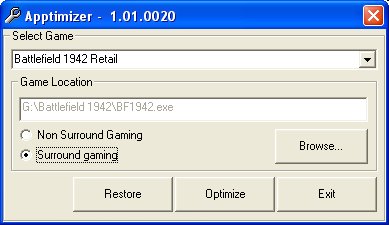 Matrox has done all the dirty work for you in making all of these things happen. All you have to do is select the Surround Gaming title, provide a path, and then push the "Optimize" button. A shortcut is then added to the desktop.
This simple piece of software has an .ini file that can be continually updated with newer games. Since owning the Parhelia, I believe Matrox has updated this three of four times. Software, such as the Apptimizer, becomes useless without keeping it up to date and Matrox should be given a pat on the back for doing just that.
There is one thing that I would express to the folks at Matrox. As of now, the PowerDesk utility already has provisions for making game specific tweaks, and I'd like to see this feature added to the driver. As an example, I've done a little photoshop magic to demonstrate this concept.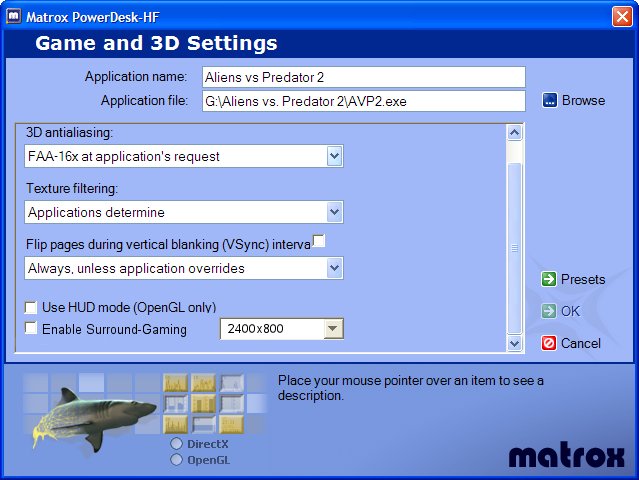 As you can see, I've added an "Enable Surround-Gaming" option to the user interface, along with a selectable resolution combo box. Since the driver has the ability to tweak individual games (to include the path, which is also necessary in the Apptimizer), it seems logical to place everything in one convenient application.
Note: I inadvertently used 2400x800 when it should have read 2400x600.
DISPLAYS
During the time that I've owned the Parhelia, I used several different display configurations. Initially, I used two 20" Dell FP2000's and one 19" CRT. Eventually, I settled on one FP2000 and two FP1900's. The point I would like to make is that Surround Gaming doesn't require you to have top-of-the-line left/right displays. When I used the CRT, the fact that it was a different size didn't seem to make much of a difference. The fact that it was simply there did the trick.
It's my opinion that you could get away with using any rag-tag combination of displays and the experience will still be intact. In my case, I opted for better left/right displays for my actual "work" rather than for the gaming side of things.
Finally, I want to also briefly touch on the issue of perception. What I mean by this is that I've read comments that the spacing between displays would interrupt and/or distort the overall perception of the game itself. This is really not the case at all, as far as I'm concerned. When you're playing the game, you just don't notice it. Furthermore, the size of the bezels doesn't hamper the experience either. Again, this is something you have to experience first-hand to get a feel for what I'm saying, so I'm just relaying my own experience.
GAMES
I'd like to go through a number of titles that expose this feature and try to convey my experience for each title. But before doing so, let me preface it by stating something that I feel must be said right off the bat: The Parhelia does, in fact, have enough "juice" to allow you to play these games in Surround mode. I can't tell you how many times I've seen something like, "the unfortunate thing is that the Parhelia is too slow to make Surround Gaming a usable feature."
In fact, a common theme has been in comparing it to FSAA on the Voodoo5 5500. Great feature, but not fast enough. Speed is always subjective, so let me put it in these terms - I've yet to find a s single title that is, on the whole, too demanding for this feature. The one asterisk I would add is that some titles will require you to dial down the image quality features such as antialiasing and anisotropic filtering. When you're using a standard resolution like 1024x768, you can pretty much stack all features.
With that said, let's take a look at Surround Gaming and try to make heads or tails out of it. I'll be focusing on the following titles:
Quake 3
Jedi Knight 2
BattleField 1942
Microsoft Flight Simulator 2002
Aliens vs. Predator 2
Unreal Tournament 2003
Nascar Racing 2002
Return To Castle Wolfenstein
Serious Sam 2
In analyzing performance, I didn't run through all the possible driver tweaks (FAA, anisotropic filtering, etc.) due to time constraints. In general, FAA has a fairly minimal performance impact and anisotropic filtering seems to deliver similar performance results as a GeForce-class accelerator.
SETUP
My system consists of the following:
Windows XP Professional w/Service Pack 1
Intel Pentium 4 @ 2.7GHz
Epox 4G4A+ Motherboard
512MB PC2700 DDR Memory
Matrox Parhelia 128MB - Driver Version 1.2.0.42
1 Dell FP2000 20.1" LCD (primary)
2 Dell FP1900 19.0" LCD (left/right)
2x Western Digital Special Edition 120GB IDE (Raid)
Creative Labs Audigy
Note that with the exception of Unreal Tournament 2003, sound was enabled during testing. Let's check out some Surround Gaming action.
QUAKE 3
Before you say, "What? Quake 3? Come on!" there's a reason behind the madness! In all seriousness, I picked Quake 3 simply because I felt this feature did a lot to really enhance this game. It really did make the whole deathmatch experience better.
SETTINGS
Quake 3 was tested using the following settings:
Surround Gaming - 2400x600 resolution
Normal - 1024x768 resolution
Trilinear filtering forced via driver
16X FAA enabled where noted
In-game graphics settings at maximum quality
SCREENSHOTS
Let's take a look at a comparison between a single monitor screenshot and that of Surround Gaming.
| | |
| --- | --- |
| Normal | Surround |
| | |
As I stated earlier, I found Quake 3 to have taken on new life in Surround Gaming. First person shooters really do benefit from this technology simply because in widening the field of view, you get a chance to not only see more of the 3D world, but you also see your enemies in situations that you wouldn't have seem them under normal circumstances.
I would like to take this opportunity to inform you of an issue that all Quake 3 based games had with Surround Gaming. Has anybody noticed a slew of Quake 3 engine patches as of late? Under Surround Gaming, there wouldbe maps that would cause the game to fall back to the desktop. The folks at Matrox investigated this issue with id Software, and a bug was identified. Since that time, the latest patches have fixed this issue.
I wanted to bring this to your attention in order to demonstrate Matrox's effort and willingness to get problems fixed/resolved.
PERFORMANCE
Let's see how the hardware handles the task.
Quake 3 Performance
| | |
| --- | --- |
| Test Mode | Average Frame Rate |
| Normal | 150 |
| Surround Gaming | 90 |
| Surround Gaming with FAA | 65 |
Quake 3 is an older game and doesn't impose a serious challenge when running at such a high resolution. In addition, let's also put one thing into perspective: the "normal" framerate. There will be those that would scoff at the 150 FPS mark because it pales in comparison to, say, a GeForce4 Ti 4600. That's fine and dandy, but what exactly does that 300 FPS really buy you for this particular title, other than the "wow" factor?
I've also tossed in FAA numbers as well. At 2400x600, 65 FPS isn't too shabby. As a point of reference, a GeForce4 Ti 4600 yields under 50 frames per second at 1600x1200 with 4X antialiasing.
In conclusion, I really do believe that a lot of FPS gamers would find Quake 3 to have a new lease on life, so to speak, under this mode.
JEDI KNIGHT 2
Jedi Knight 2 is yet another stellar title based on the Quake 3 engine. Expected framerate should be much less than what you would see from Quake 3.
I'm a huge Star Wars fan, but for some reason, I was never really too interested in the slew of games that have come out over the years, but that changed with this title. Not only are the graphics great, but the gameplay is fun.
SETTINGS
Jedi Knight 2 was tested using the following settings:
Surround Gaming - 2400x600 resolution
Normal - 1024x768 resolution
Trilinear filtering forced via driver
No antialiasing
In-game graphics settings at maximum quality
SCREENSHOTS
Let's take a look at a comparison between a single monitor screenshot and that of Surround Gaming.
| | |
| --- | --- |
| Normal | Surround |
| | |
The reoccurring theme here is that Surround Gaming makes a single display pale in comparison.
PERFORMANCE
Let's see how the Parhelia deals with a more intense Quake 3 engine game. I used the "jk2ffa" benchmark that's included with the game.
Jedi Knight 2 Performance
| | |
| --- | --- |
| Test Mode | Average Frame Rate |
| Normal | 71 |
| Surround Gaming | 56 |
Again, performance isn't going to top a Radeon 9700, but it's also more than acceptable based on my style of gameplay. The Surround Gaming aspect more than makes up for the framerate.
Approximately 60 frames per second is going to give you the necessary "push over the cliff" to allow using this feature with an exception possibly being heavy multi-player action.
BATTLEFIELD 1942
I had mixed feelings about including this title, given all the problems I saw posted online, which wasn't limited to the Parhelia. However, upon installing the game and applying the latest patch, I had no problems. The ability to see more of the battlefield, so to speak, does make this game a perfect match for the Parhelia's Surround Gaming mode.
In fact, my "significant other" made a similar remark when she peeked in my office while playing in Surround Mode.
SETTINGS
Battlefield 1942 was tested using the following settings:
Surround Gaming - 2400x600 resolution
Normal - 1024x768 resolution
Trilinear filtering forced via driver
16X FAA enabled where noted
In-game graphics settings at maximum quality
SCREENSHOTS
Again, a comparison between a single monitor screenshot and Surround Gaming.
| | |
| --- | --- |
| Normal | Surround |
| | |
PERFORMANCE
I used FRAPS to acquire an average framerate while playing a single player campaign. The specific campaign was Operation: Market Garden.
This one has some meaning for me, having served in an Airborne unit a few years ago. Personally, I always found myself jumping out of the plane to relive some great memories.
Battlefield 1942 Performance
| | |
| --- | --- |
| Test Mode | Average Frame Rate |
| Normal | 67 |
| Surround Gaming | 48 |
| Surround Gaming with FAA | 39 |
The numbers are quite good, all things considered. As I mentioned before, the various forums on the Internet have painted a very poor picture in terms of bugs and performance.
The Normal performance was very good. I checked around the Internet and came across a review that benchmarked a Radeon 9700 in this game and it yielded right around the same numbers. One thing that should be noted is the fact that FAA distorts the fonts within the game. This is a bit of an annoyance, for obvious reasons. Battlefield 1942 was the only game I played that exhibited this behavior.
The Surround performance might seem a bit low, but it was actually playable to me. The game certainly benefits from having that added peripheral real estate like all the other games.
MICROSOFT FLIGHT SIMULATOR 2002
Flight simulator games are a much different animal than the traditional ones benchmarked in most reviews. Why? Because, framerates tend to hover around ~30 frames per second due to the extreme strain these games place on the central processor. Hence, they tend to play similarly across different graphics accelerators.
One thing that can be looked at is the degree of quality that antialiasing brings to the table. Flight simulation titles seem to exaggerate jaggies in the worst possible way, so an effective antialiasing implementation can make an incredible difference to the gamer.
It should be pointed out that this title is based on DirectX 7. As a result, you're completely limited to a maximum resolution of 1920x480. As I mentioned earlier, there's no workaround for this, but it has been corrected in DirectX 8.
SETTINGS
Flight Simulator 2002 was tested using the following settings:
Surround Gaming - 1920x480 resolution
Normal - 1024x768 resolution
Trilinear filtering forced via driver
16X FAA enabled where noted
In-game graphics settings at maximum quality
SCREENSHOTS
Once again, have a look at the screenshots to assess the difference that Surround Gaming provides over a typical resolution setting.
| | |
| --- | --- |
| Normal | Surround |
| | |
PERFORMANCE
The expectation here is that performance should be constant across the board.
Flight Simulator 2002 Performance
| | |
| --- | --- |
| Test Mode | Average Frame Rate |
| Normal | 32 |
| Surround Gaming | 29 |
As expected, there's really no difference between the two configurations due to the fact that we're severely CPU bound. You could say that enabling Surround Gaming has a minimal impact on performance.
When looking at the antialiasing aspect of the screenshots, you can spot areas where FAA is not being applied to the plane. It's not nearly as evident when actually playing the game, but can be spotted nonetheless. Going back to what I said earlier, this is one of the unfortunate aspects of FAA. When it works you can make the argument that it cannot be touched by the competition. But when it doesn't you can spot the imperfections. For example, when you're getting ready to takeoff the lines on the runway don't get antialiased at all and it jumps out at you. Other times you would really have to look hard.
I think it's safe to say that Flight Simulator buffs would really enjoy using the Parhelia. As of this time, the Parhelia supports Flight Simulator 2002 and Combat Flight Simulator. There are some other flight simulator games that will also be supported in the very near future as well, but those titles have not been publicly disclosed.
ALIENS VS PREDATOR 2
This is a rather intense game to play, regardless of mode. As I've said before, first person shooter games really shine in Surround Gaming and this one is no exception.
The thing that makes this one even more so is the "scare" factor. Having more peripheral vision makes the gameplay more intense, especially when you can see creatures coming towards you from the left and right.
Once again, the DirectX 7 limitation will come into play, so we're going to be limited to only 1920x480 for this game.
SETTINGS
Aliens vs Predator 2 was tested using the following settings:
Surround Gaming - 1920x480 resolution
Normal - 1024x768 resolution
Trilinear filtering forced via driver
16X FAA enabled where noted
In-game graphics settings at maximum quality
SCREENSHOTS
Here's a couple of comparison screenshots to take a look at.
| | |
| --- | --- |
| Normal | Surround |
| | |
PERFORMANCE
Again, I relied on FRAPS to obtain framerate data.
Lithtech powered games have had a bad reputation for delivering less than ideal performance, but it seems that the developers have done a much better job than in years past. Let's see where things stand.
Aliens vs Predator 2 Performance
| | |
| --- | --- |
| Test Mode | Average Frame Rate |
| Normal | 60 |
| Surround Gaming | 60 |
As surprising as this may sound, performance was smooth across the board. I say this mainly because of Lithtech's past reputation, not because I was expecting poor performance from the Parhelia. In any event, Surround Gaming was a real experience with this title.
For some reason, VSYNC is limiting the framerate, as the performance was locked at 60Hz. I hadn't experienced this in any other title, so I would gather that this is a game specific issue.
Overall, an excellent title for anybody thinking about Surround Gaming. The intensity is there regardless of which 3D graphics card you happen to be using, but it's heightened when you have all that screen real estate to play with. This should also give you a pretty warm feeling knowing that games based on the Lithtech engine work well with the Parhelia.
UNREAL TOURNAMENT 2003
Unless you have been living under a rock the last several weeks, you would know that Sweeney and company have finally released Unreal Tournament 2003. I was definitely interested in seeing just how well the Parhelia would deal with a game that's as graphically intense as this one. I think it's safe to say that this will remain true until until Doom III ships.
I've seen a lot of people post on the net that this would be one of those titles that make the Parhelia look pretty bad, so let's see if we can separate fact from fiction.
SETTINGS
Unreal Torunament 2002 was tested using the following settings:
Surround Gaming - 2400x600 resolution
Normal - 1024x768 resolution
Trilinear filtering forced via driver
16X FAA enabled where noted
In-game graphics settings at maximum quality
SCREENSHOTS
A couple of comparison screenshots to check out.
| | |
| --- | --- |
| Normal | Surround |
| | |
PERFORMANCE
All benchmarks were taken using the flyby benchmarking feature with sound disabled. I decided not to test any of the botmatch benchmarks as they're more dependent on the CPU.
Unreal Tournament 2003 Performance
Average Frame Rate
Test Mode
Asbestos
Flyby
Suntemple
Flyby
Antalus
Flyby
Normal
144
93
112
Surround Gaming
91
55
45
Surround Gaming
with FAA
61
41
34
First, let's talk about the overall numbers. Again, we're talking about a brand new title that hasn't yet been fully optimized and I suspect the same could be said of the drivers as well.
In terms of normal gameplay, the Parhelia has no problems across the board. When analyzing Surround Gaming under the more intense maps such as Antalus we can see that the numbers, in my opinion, are acceptable. When dealing with less intense maps the Parhelia has no problems.
As far as FAA is concerned, you've got to be careful about which maps are being used. The Antalus map seems like a worst case scenario, while some of the others are more mainstream. You can get probably get away with using FAA, but there are a few maps that are just too much for both FAA and Surround Gaming.
The Parhelia is capable of delivering good performance regardless of whether or not you plan to use Surround Gaming or not. Quite frankly, I was surprised by the Surround performance. Why? Because, a lot of the numbers that were tossed around while the game was still under development seemed to paint a less than favorable picture of the Parhelia. This is precisely why I believe that no unreleased software should ever be used to evaluate a product. Not only doesn't the average Joe not realize what is being rendered, but it also doesn't accurately portray final performance levels.
NASCAR 2002
Driving simulations are another genre of games that benefits from Surround Gaming as the wider peripheral vision adds more realism to the driving experience. You can literally see cars passing along on either side of the car.
Generally speaking, driving games aren't my "cup of tea", but I will confess that having forced myself to go out and buy this title as the Surround Gaming feature opened my eyes, so to speak. I really enjoyed playing Nascar 2002.
SETTINGS
Nascar 2002 was tested using the following settings:
Surround Gaming - 2400x600 resolution
Normal - 1024x768 resolution
Trilinear filtering forced via driver
16X FAA enabled where noted
In-game graphics settings at maximum quality
SCREENSHOTS
Here are a couple of comparison screenshots to look at. You should be able to pick out areas where FAA is not doing the job. However, take a look at the job FAA does in/around the windshield, as well as some of the vertical lines nearby.
| | |
| --- | --- |
| Normal | Surround |
| | |
PERFORMANCE
All benchmarks were taken using FRAPS. Driving games are similar to flight sims in that the CPU plays a much larger role in determining the final performance. Therefore, we can expect fairly similar numbers across the board.
Nascar 2002 Performance
| | |
| --- | --- |
| Test Mode | Average Frame Rate |
| Normal | 33 |
| Surround Gaming | 32 |
| Surround Gaming with FAA | 26 |
Again you can see not a lot of deviation between the various modes. These numbers are consistent with those posted by other grahics cards such as the GeForce4. The important thing to note is that Surround Gaming is a viable option to use.
Of all the games I played, Nascar 2002 is the one that most visibly exhibited the limitations of FAA.
RETURN TO CASTLE WOLFENSTEIN
Return to Castle Wolfenstein is a fairly good example of a more recent game yielding far less performance than Quake 3. I've seen several instances in which some folks believed that a game like this would simply tank under a Surround Gaming scenario, but in reality, this is another ideal game to play on the Parhelia. Let's see how things shake out.
SETTINGS
Return to Castle Wolfenstein was tested using the following settings:
Surround Gaming - 2400x600 resolution
Normal - 1024x768 resolution
Trilinear filtering forced via driver
16X FAA enabled where noted
In-game graphics settings at maximum quality
SCREENSHOTS
Let's take a look at a comparison between a single monitor screenshot and that of Surround Gaming.
| | |
| --- | --- |
| Normal | Surround |
| | |
Once again, another title that shines under Surround Gaming mode. This is one of those games that, if you had completed the single player game in the past, you wouldn't mind doing all over again in Surround Gaming mode.
PERFORMANCE
Let's see how the hardware handles the task. I used the "checkpoint.dm_57" benchmark that's been floating on the net for quite some time.
Return to Castle Wolfenstein Performance
| | |
| --- | --- |
| Test Mode | Average Frame Rate |
| Normal | 116 |
| Surround Gaming | 62 |
| Surround Gaming with FAA | 48 |
The results are somewhat curious. A drop of nearly 50% in Surround Gaming might indicate a lack of optimizations in the drivers, but the performance is still high enough to provide a satisfactory gaming experience.
The Surround + FAA scores are good as well. I'd like to see it higher as the drop from normal to Surround Gaming is steep. It would seem that one could get better performance than 48 FPS, but this is still in that playable neighborhood.
It's safe to say that this title does not bring Surround Gaming to its knees. As I said before, it's is a feature that breathes new life into an existing game and you might even consider replaying some of your favorite games over again. In fact, I've already started a new single player game :)
This concept is a testament to the feature itself. If the feature is so compelling that you're willing to replay a game all over again, then you're talking about a very good feature.
SERIOUS SAM 2
Who hasn't been on the Serious Sam bandwagon? If you could envision one title that might really shine in Surround Gaming, this could very well be it. With all of those monsters flying at you from all angles, you can easily see why.
These were my exact sentiments and I was patiently awaiting the release of the Croteam patch that would finally add Surround Gaming support. Here's a sneak peak look at the latest yet-to-be released patch that finally unlocks this feature. Matrox and Croteam were very cool in allowing me to test drive this baby before releasing it.
This is a very different type of build from that which will eventually be released. There are many things that are specific to the needs of IHV's. So, I'm not going to provide any numbers. However, I'll make a couple of observations.
One interesting aspect of Croteam's work on this patch is that the engine supports both 1 and 3 viewports for Surround Gaming. Without getting into technical details, the most accurate method of providing Surround support is to use 3 separate viewports. The tradeoff here is in the area of performance. While 3 viewports more accurately renders the game, it also yields lower performance.
SETTINGS
Serious Sam 2 was tested using the following settings:
Surround Gaming - 2400x600 resolution
Trilinear filtering forced via driver
No antialiasing
In-game graphics settings at maximum quality
SCREENSHOTS
I've included a slew of screenshots captured from the final level. Check them out. This has to be the nuttiest frag fest I've ever played.
Pictures don't really do this one justice. The ability to see all of these things coming at you from every direction is great.
PERFORMANCE
Due to the fact that this is an unreleased patch, I've decided against benchmarking this title. However, let me make a couple of observations.
I played the final level, where the amount of enemies coming at you is almost insane. By default, this patch has a framerate counter in the upper right corner, which was recording between 40-70 frames per second. This was quite shocking given the sheer madness of this level. A possible explanation for the performance is that Serious Sam 2 supports quad-texturing as does the Parhelia.
I played for an hour and at no time would I consider the performance to be sub-par. I was surprised thinking that running the game at such a high resolution, as well as the sheer nature of the game, would yield less than desirable performance.
I can guarantee that first person shooter fans would get a kick out of playing this title under Surround Gaming. Of all the Surround Gaming titles that I've played, Serious Sam 2 is probably the most enjoyable.
Great job Croteam.
SURROUND GAMING ANALYSIS
I've taken a look at several games that showcase Surround Gaming, so let's see if we can't tie together a few things:
Performance was much better than I would have anticipated


Glitches that plagued early drivers are a thing of the past. I had no issues playing any of the games, outside of those items listed as implementation limitations.


Apptimizer application makes enabling/disabling the feature a snap.


Parhelia has enough power to make Surround Gaming a useable feature.
Let me take this opportunity to reinforce something that I've said a few times already just in case it hasn't quite hit home yet. Surround Gaming totally rocks and I don't see myself ever going back to a single display. It really is that good. As a litmus test, I reinstalled my previous card to see if there were any compelling performance reasons for going back. I played pretty much all the games listed in this review and can honestly say that this simply was not the case.
I wish there was a way to allow you to experience Surround Gaming first hand because screenshots don't do it justice. As it currently stands, Matrox has been able to get some 34+ games to support this feature and the list is growing. Based on what I have heard regarding future support, you can be assured that this number will grow in the future.
The disturbing thing about this feature is the lack of coverage by the main hardware review sites. I understand that not everybody can either afford to purchase the necessary displays or desk space required for Surround Gaming. However, I can't fathom why these sites haven't taken the time to investigate this feature more closely. If nothing else, to at least discuss the possibilities from the point of view of an avid gamer.
Every person that has either seen my setup or heard me talking about it left wanting to, at a minimum, see the thing in action. In some cases, they were willing to go out and get one for themselves.
OVERCLOCKING
As always, overclocking results should never be taken as gospel. Your mileage will always vary. Here's a shot of the utility that Matrox provides in order to overclock the card.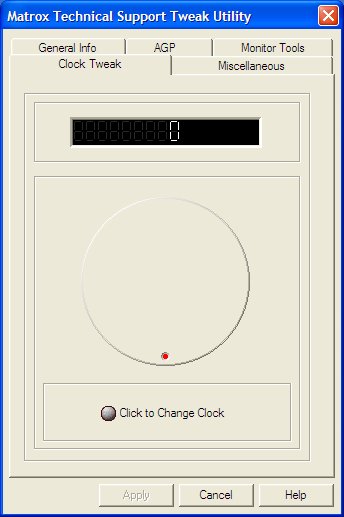 The one thing that might be confusing, particularly if you're used to NVIDIA cards, is that this utility sets the overclocking percentage rather than the absolute frequency(s) for both the core clock as well as the memory. As an example, consider setting the utility to the value 10. Since the chip is clocked at 220MHz and the memory at 550MHz, this would yield a core clock of 242MHz and a memory clock of 605MHz.
During my testing, using all stock components, I achieved a 5% overclock.
Overclocking Results
| | | |
| --- | --- | --- |
|   | Default | Overclocked |
| Core | 200MHz | 231MHz |
| Memory | 550MHz | 578MHz |
Let's see how this translates in real world performance.
Quake 3 - Overclocking Results
| | | |
| --- | --- | --- |
| Core | Memory | Average Frame Rate |
| 200MHz | 550MHz | 165 |
| 231MHz | 578MHz | 170 |
The general consensus is that the Parhelia is basically clocked very close to the maximum stable frequency, so one shouldn't count on being able to overclock the board by a significant amount. Most people were somewhat surprised by the relatively low clock rate to begin with, though understandable given the complexity of the chip.
USER INTERFACE / HELP
This is the first time that I decided to place any emphasis on either "User Interface" or "Help" for a particular review. Why? Because, this board has a ton of options, and there's a strong potential for a user to get lost in both how one configures the hardware, as well as the software.
With that said, I've got to give Matrox a heck of a lot of credit in these 2 areas:
Help Files
User Interface
In my experience as a developer, I place strong emphasis on providing useful information to our technical writers so they can write the Help for a project. Too often, I see examples where this never happened. So, when I see something that really does a banner job of addressing this, I like to point it out.
Likewise, the same goes for developing good user interfaces. You really want to design them in such a way so your average Joe user isn't required to have to resort to searching through a bunch of help files in order to obtain the information they're looking for.
I've mentioned this a couple of times thus far, but the overall PowerDesk user interface design is exceptional. It's easy to use and provides the variety of options in a manner that's a piece of cake to understand. In fact, when you take a look at all the possible options that the Parhelia provides the user, it's very easy to see that a poorly written UI could give a user nightmares. This isn't the case at all.
The application also provides extremely useful information when simply doing a "mouse over" on a given UI element. In many cases, the information is detailed enough to not require you to have to refer to the Microsoft Help. How many times have you seen some obscure explanation for a feature found in the Advanced Display properties?
The part of the application that allows you to set game specific tweaks is a breath of fresh air as well. Sure, there have been 3rd party applications that allow you to perform similar functions, but this one comes as is directly from the manufacturers.
Likewise, when you have to resort to the Microsoft Help, Matrox's technical writers have done an outstanding job. Heck, the chapter that deals with setting up your connections is second to none. In total, the Help covers every single major category found in the PowerDesk, and the corresponding information is actually meaningful to both the novice, as well as advanced user.
CONCLUSION
So, there you have it. My main motivation for doing this article was to show you a side of this product that may not have hit home with some of the earlier reviews. I never went out and bought this card thinking I would end up doing a review, but I felt compelled to do it after seeing all the cool things this card is capable of doing.
First of all, let's talk about the positives:
Best 2D image quality.


Unparalleled multi-head implementation.


High quality antialiasing technology.


Outstanding DVD playback.


Surround Gaming technology transforms gaming experience.


Performance, though not the fastest, is extremely good.


Driver quality is outstanding.


Best driver user interface to date.


Excellent commitment by Matrox engineers to fix driver issues and garner Surround Gaming support.


TV-out is excellent.


I have never seen a better support operation than that of Matrox. I have personally filed bug reports on their website and every one of them was answered by a support representative.
Now, let's touch on some of the negatives:
Cost. Matrox should figure a way to bring this board into the $250 price point.


FAA has some issues that can' be resolved via drivers alone. On the whole, it's an awesome feature, but needs a more refined algorithm to work across the board.


To maximize the capability of the Parhelia, you should invest in 3 displays. For some, this is an economic difficulty while others simply don't have the desk space to accommodate 3 displays.


Anisotropic filtering levels are not competitive with NVIDIA and ATI. The hardware is capable of more samples, but is currently held back by drivers. Matrox please do the right thing and up the number of samples.
Matrox has been out of the loop since the TNT2 era and they had a lot of ground to makeup. Going from a DirectX 6 era chip to a DirectX 8/DirectX 9 one is a huge jump and Matrox should be commended for their effort. Some will say that the Parhelia is not 100% DirectX 9 compliant, which is true to an extent. On the one hand, you always hate to buy something new only to see it not being compliant with the latest technology. On the other hand, we all know how this really works as it takes a long time for actual games to surface that harness even a portion of the latest technology. The GeForce3 came out almost 2 years ago, and we're just now starting to see games take advantage of DirectX 8! With respect to DirectX 9, it's a certainty that we will not see any games based on this API for a solid year thereafter.
No matter how you look at this board, the one thing that should stand out is Surround Gaming. Of all the technologies to come out over the last several years, I can state that none of them approach changing the gaming experience as this feature. It's one of those deals that you have to experience first hand to truly appreciate. Once you try it, you will never want to game on a single display ever again. Cost is an issue, but you could really get away with picking up some used displays for very little money.
Going forward, these are the items I would like to see from the next Parhelia chip:
Higher clock: Matrox needs to achieve a much higher clock. Overclocking results posted on various forums shows the Parhelia to gain significant performance from seemingly very little overclocking.


Price: $300+ for the one and only Parhelia product is a tough sell for a lot of folks. They should try to bring several solutions to the market covering the mid to high-end markets.


I would like to see triple-head mode impose no limitations on the user. As it stands, Matrox has the absolute best implementation around, but I do have to run my primary LCD in non-native mode whenever employing triple-head due to resolution limitations.


FAA: Matrox has reduced the vast majority of bugs associated with FAA, but there exists some bugs that cannot be overcome via drivers alone. From what I have gathered, this has been addressed, and the next Parhelia should be squared away.


Hidden Surface Removal: One thing that was absent from the architecture was an intelligent HSR module to help alleviate wasted processing.
So, there you have it. This review has taken me a long time to complete mostly due to my work schedule. I had planned to kick this thing out many weeks ago, but I have been swamped at work.
At the end of the day, how would I summarize this product? The Matrox Parhelia is a product that's geared for the guy that wants the accelerator to do a wide range of things and doesn't put 100% emphasis on the highest framerate. It does an amazing number of things very well and in some cases, significantly better than the competition. The multi-head support is second to none and the legendary 2D quality is intact. TV-out is extremely usable and Surround Gaming is something you have to experience. Even if you don't have 3 displays, the Parhelia is still a compelling product. I would, without any doubt, highly recommend this product to anybody out there that finds any of these items important.
Bottom Line: don't believe everything that you hear and have an open mind. The vast majority of hardware review sites spend very little time with an actual product and don't hardly put any stock in anything outside the standard benchmark games/utilities. In many cases, I seriously question just how much the average reviewer plays games, but that's a completely different issue.
In closing, I would like to take this opportunity to thank Sebastian and Omar from Matrox for extending themselves to me during the time I put this review together. They were always more than willing to take time out of their busy schedule to answer questions and to even investigate some of the issues that I ran into from time to time. Their tireless effort has been noted and has left an extremely positive mark.
Leave your comments over here in this thread or perhaps even here.
Typedef