---
The Matrox Comeback

I remember some time back when Matrox launched the G550, I was pretty disappointed at the product as it was not a gamer's card at all. Although it carried a higher model number, the G550 was nothing more than just a souped up G400. In fact, many have tested the G550 to be less superior to the G400 Max. Still, we gave Matrox a pat on the back for coming out with a pretty good product for office and Internet use. You've got to give them the credit for coming out with the DualHead display technology which until today, is still quite difficult for others to beat.

When I asked Matrox at the launch of the G550, I was told that they were already working on a killer, but no specifics were given. I asked how good was this next killer and all I got was a smile. We know Matrox was good, but I didn't expect them to come out with anything that's as radical as the Parhelia.

So, what can the Parhelia offer? There are certainly lots of rumors going around the web and some of you might have seen photos of demonstrations sneaked out from one of those Parhelia demos that Matrox have been doing this couple of weeks. We're pretty glad that Matrox gave us a preview of the Parhelia in a closed door session just last week.

Since Matrox is still pretty much involved in fine tuning the product before mass production, what we saw at the announcement was pretty much the final product. It was a full working demo and boy, we were awed by its performance. Not only that its performance was good, the card showed a lot of potential - in terms of its technology and usability.



So, are you ready to find out more about the next biggest thing that will hit the gaming market? If you are, go on to the next page and be amazed at the list of features.

---
Parhelia Specifications
Matrox Parhelia-512 Technical Specifications

General Features & Characteristics

512-bit GPU
80 million transistors
Based on 0.15-micron technology process
256-bit DDR memory interface
Up to 256MB DDR unified frame buffer
10-bit Gigacolor Technology

10-bit per channel RGB rendering and output
over one billion simultaneously displayed colors
10-bit precision for 2D, 3D, DVD and video
10-bit frame buffer mode for ARGB (2:10:10:10)
10-bit RAMDACs with full gamma correction

AGP 8x with Fast Writes support
8-way parallel DMA streaming engine
OpenGL 1.3 and DirectX 8.1 compliant 3D engine

High Fidelity Display Engine

DualHead-HF Display Technology

Fourth-generation DualHead
Dual integrated 400MHz 10-bit RAMDACs

Dual independent RGB outputs
Up to 2048x1536 @32bpp on each RGB output

Support for two digital TMDS transmitters

Dual independent DVI outputs (up to 1920x1200 on each output)
Single dual-link DVI output (up to 2560x2048)

Integrated 10-bit high-fidelity TV/video encoder

NTSC/PAL output
Direct encoding of native interlaced YUV

TripleHead Desktop

Support for 3rd RGB output
Three display desktop at up to 3840x1024 @ 32bpp

10-bit gamma correction

Per-layer gamma and color correction at full speed

Dual independent, gamma correctable hardware overlays
Support for true multi-display under Microsoft Windows 2000/XP
Hardware accelerated multi-screen OpenGL support
UltraSharp Display Output Technology

Highest-quality analog, digital and TV output
Ultra-crisp display quality at high frequencies
Highest-quality design, electronics and filters

5th-order output filters
Highest-fidelity frequency and transient response for optimal signal quality
High signal-to-noise ratio (SNR) with super-low PLL Jitter

High Fidelity 3D Engine

Quad Vertex Shader Array

Four vertex shader units (DirectX 8.1 and beyond)
Highest sustained complex vertex shader performance
Parallel processing of up to 16 vertices
512 instruction on-chip cache
256 constant registers

Quad texturing per pixel, per clock cycle
64 Super Sample Texture Filtering

Highest quality trilinear and anisotropic filtering
8-sample anisotropic and trilinear filering on 4 dual-textured pixels/clock
16-sample anisotropic filtering on 4 single-textured pixels/clock

36-stage Shader Array

4 pixel pipes
4 texturing units per pixel pipe
5 pixel shader stages per pixel pipe
support up to 10 pixel stages per pass
4 pixels/clock throughput with quad texturing and 5 pixel shader operations

Hardware Displacement Mapping

Patent-pending Depth-Adaptive Tessellation for continuous level of detail (LOD) geometry
Vertext Texturing for dynamic generation of geometry using texture maps
Support of Bezier curves and N-patch (PN-triangle) evaluation

Surround Gaming

Support for games rendered across three displays
Ultra-wide field of view (FOV)

GigaColor Gaming

10-bit source texture support and precision
High-precision ARGB (2:10:10:10) frame buffer

16x Fragment Antialiasing (FAA-16x)

16x supersampling quality on edge pixels only
Avoids blurring of internal pixels
Low performance overhead
Support for Full Scene Antialiasing (FSAA)

Texturing Support

Support all texture formats including :-

32-bit source textures
10-bit per channel texture support
All DXTC formats
2D, 3D (volume) and cubic textures
Non-square and non-power-of-2 textures
Planar and packed YUV textures

Up to 2K by 2K source textures
Support for projected textures
Support for texture swizzling
Render-to-texture support

Other 3D Features include:-

Depth acceleration unit for advanced Z processing
32-matrix Matrix Palette Skinning (MPS)
Particle acceleration
Full sub-pixel and sub-texel precision
Environment Mapped Bump Mapping (EMBM) and DOT Product-3
Planar, cubic and spherical environment mapping
Fogging, alpha blending and specular highlighting
Flat and gouraud shading
Independent intensity, Z and texture depths
Antialiased 3D vector support

High Fidelity 2D Engine

GigaColor Desktop

All drawing operations at extended 30-bit color (10:10:10)
10-bit per channel frame buffer
High-quality dithering for lower bit depth output

Glyph Antialiasing

Hardware accelerated text antialiasing
Programmable gamma correction

Full acceleration of Windows XP GDI and DirectDraw functions
GDI+ v2.0 ready
Programmable, ultra-fast bliter at up to 16 pixels/clock
True-color full-screen overlay plane with 8-bit alpha
Alpha cursor support
32-bit ultra-fast VGA core

High Fidelity Video Engine

PC Theater DVD Playback

10-bit DVD playback
10-bit advanced filtering and scaling
10-bit DVD output via TV encoder
Independent gamma and proc-amp controls

Programmable overlay processor

Video overlay with programmable proc-amp and independent gamma correction
Video mixing engine in overlay processor

High-quality horizontal and vertical scaling

Up to 4x4 filter kernel with programmable filtering coefficients
Full-speed bi-cubic filter
Fully VMR-complaint front-end scaling

Advanced de-interlacing with sub-pixel positioning
VIP2.0 compliant video input port

Compliance

Operating systems - Microsoft Windows and Linux
Platforms

X86, X86-64 and IA-64 compatible
AMD 3DNow!, MMX, Intel SSE & SSE2 optimized
AGP 8x, 4x, 2x and 1x

Compliance

PCI 2.2, AGP 2.0 and AGP 3.0
PCI Bus Power Management 1.1
ACPI
DirectX 8.1, PS1.3, VS1.1, VS2.0
OpenGL 1.3
DirectX VA, VMR, WDM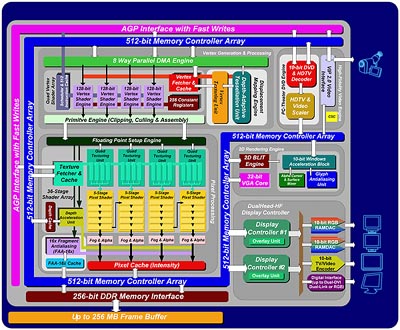 Click the image above to see the full Parhelia chip block diagram.
---
DualHead to TripleHead

When Matrox launched the Millennium G400, Matrox attracted many PC users as it gave new meaning to working efficiently. Dual displays were not common at that time and the G400 gave users a new dimension in computing with its ability to display graphics simultaneously on two monitor. However, all that is becoming too common today as other graphics manufacturers have, in one way or another, managed to integrate a secondary display in their new GPUs and graphics cards.

The new Parhelia will break that trend now with its new TripleHead feature. The new feature does not only allow one to span their desktop display to three independent monitors, but it also let 3D games render graphics across all the three monitors at the same time. This new technology is called Surround Gaming.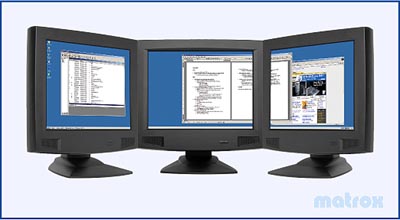 The TripleHead desktop in action.


In Surround Gaming, 3D scenes will be rendered on two additional monitors, one on each side of the user. Giving users an ultra-wide field of view will greatly enhance and enrich game play with its peripheral viewing capabilities. Imagine playing a first-person shooter game (like Quake 3) while having the advantage of spotting the enemies hiding in the far corner of your eye. All this is possible with this technology. We see this as a terrific support for future 3D games as it not only brings a new level of realism to gaming, but it is here to set a standard in future gaming as well. Chip Hinnenberg of LucasArts' Entertainment Company LLC said, "The Matrox Parhelia-512's Surround Gaming feature gives games new life with its immersive peripheral view capabilities. This is the wave of the future and the way games should be played."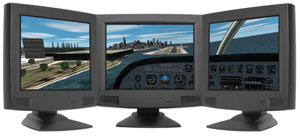 Microsoft Flight Simulator 2002 in action. Click the picture to see the difference with and without Surround Gaming.


Many other gaming developers agreed too and developers have pledged support for this cool new feature. "The Parhelia-512's Surround Gaming feature could significantly enhance the Massive Multiplayer experience by allowing the user to move many space-intensive HUD items off the primary rendering screen and onto one of the two alternate screens. Having a whole screen dedicated to chat, another dedicated to the 3D world view, and a third for maps, inventory and stats would be wonderful," Jeff Grills, technology director, Sony Online Entertainment, currently working on Star Wars : Galaxies.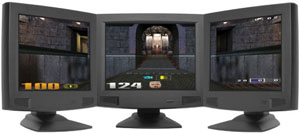 Quake3 Arena in action with three monitors. Click the picture to see the difference with and without Surround Gaming.


Surround Gaming currently supports quite a number of games and its out-of-box support for a wide variety of popular games will make this feature widely acceptable. Developers need not be bounded by developing games specific for this feature. According to Matrox, it works on most games and true enough, they demonstrated TripleHead on popular games like Quake 3 Arena, and the recent Jedi Knight 2 : Jedi Outcast.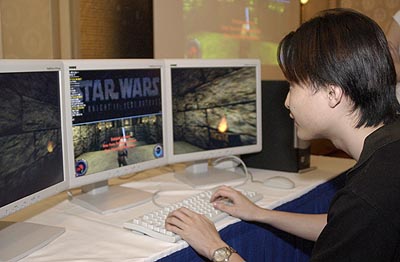 Our GameAxis game reviewer (guess who?) showing off his skills in Jedi Knight II.


With the TripleHead desktop mode, business users or professional graphics designers will once again enjoy an expanded view of their desktop. Let's just say the trend will no longer be a single display for multiple windows, but rather, multiple windows on multiple display screens. The TripleHead feature will produce clear and crisp video output at up to an analog resolution of 3840x1024 at 32-bit color. Of course, DualHead will still be supported and you can still get up to 2048x1536 of display resolution on each analog RGB monitor. If you intend to use digital flat panels, the Parhelia-512 will give you up to 1920x1200 of resolution on each digital display - that's more than enough to fit the next generation of ultra-wide LCD TFT screens.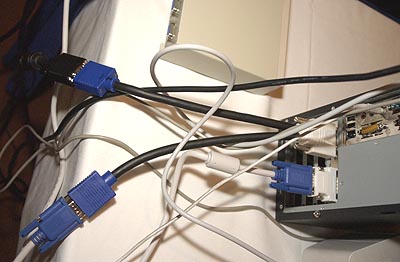 This is how you'll be wiring up all three monitors to the card.
---
Quad
Vertex Shaders
The new Parhelia-512 integrates four parallel DirectX 9 compatible vertex shader units into a single vertex processing array. With an array of four vertex shaders, the Parhelia-512 is able to sustain very high performance levels even when it is executing very complex vertex shader programs on high-resolution 3D models. The Parthelia is powered by a rather sophisticated control unit, with deep instruction and register caches. There are a total of 512 instructions in the cache and 256 constant registers with 16 vector input parallel registers. The Quad Vertex Shader array is measured to give up to 100+ Megatransforms/second. Compared with other cards currently available right now, the Parhelia boasts of the highest number of vertex shader units and it supports the latest Vertex Shader version 2.0. Other GPUs like the GeForce3, GeForce4 and Radeon 8500 supports only up to version 1.1.

Vertex Shader Comparison with other GPUs

| Chip | Vertex Shader Version | # of units |
| --- | --- | --- |
| Parhelia | 2.0 | 4 |
| GeForce3 | 1.1 | 1 |
| Radeon 8500 | 1.1 | 1 |
| GeForce4 | 1.1 | 2 |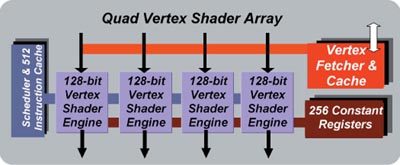 The Quad DirectX 9 Vertex Shader Array block diagram.
Quad
Texturing
The Parhelia-512 is the first GPU to integrate quad pixel quad texturing feature (4x4 texturing). This simply means that there are now four pixel pipes (similar to both GeForce4 and Radeon 8500) and in each pipe, there are four texture stages per pipe. Other GPUs like the GeForce4 and Radeon 8500 only featured two texture stages in each pipe. Thus, the Parhelia-512 can render four textures on four pixels simultaneously in a single pass. Unlike other GPUs, when there are more than 2 textures to be rendered, another pass needs to be performed to complete the texture rendering. On the Parhelia, the rendering completes in one clock cycle - shortening the time by half. This greatly enhances performance throughput especially when the game requires the GPU to perform complex quad texturing.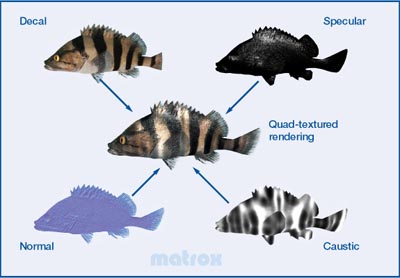 The Parhelia can render four textures in four pixel pipes in a single pass.
36-Stage
Shader Array
In each of the four pixel pipelines, the Parhelia-512 features four programmable texture stages and five pixel shader stages. This adds up to a total of 36 shader stages. According to Matrox, this gives the Parhelia the power to render some of the most demanding 3D images with unprecedented performance. Other GPUs could only offer up to 16 shader ops, less than half of what the Parhelia offers. However, the question is whether 3D games today would actually take advantage of this massive shader array. Maybe not today and you would certainly not see the difference in performance. Perhaps in the future when games get more realistic, the answer is a big YES. But before that happens, you can be pretty sure that the Parhelia-512 is armed with enough processing power to render next generation games.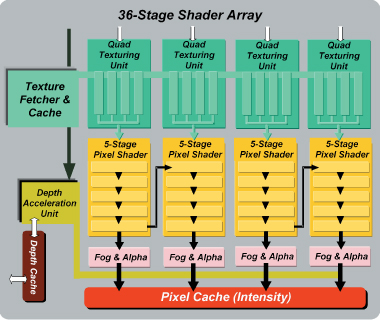 The 36-stage shader array in the Parhelia-512.
---
Hardware Displacement Mapping

Perhaps one of the biggest feature introduced in the Parhelia-512 is Matrox's revolutionary Hardware Displacement Mapping (HDM) technology. As the first to develop the hardware implementation of HDM, Matrox has contributed elements of this technology to Microsoft for inclusion into DirectX 9's API as a standard feature. Thus, in the upcoming DirectX 9 release, you will be able to see games making use of this new feature and similar to Hardware T&L, it could very well become a standard requirement for games.

To quote from the Matrox white paper, "Theoretically, displacement mapping is a technique that uses displacement maps to displace the vertices of a mesh. The resulting displaced mesh takes the shape represented by the displacement map." Thus, in order to displace a mesh surface, a 2D bitmap is used and the individual pixel values in the displacement map are height values defined by the shape of the object. When the 2D bitmap is mapped onto the mesh, the surface of the mesh is displaced to form the shape of the object.

Hardware displacement mapping is divided into three stages in order to produce a smooth and detailed mesh that can be textured or shaded using vertex and pixel shaders.



The Hardware Displacement Mapping process. Click for a bigger picture.


In the first stage, a base mesh with low triangle count is sent to the GPU. The GPU then tessellates the base mesh to increase its triangle count. Increasing the triangle count will help smoothen the displaced surface and adds more detail to the shape. Matrox has also implemented an approach to tessellation and it's called Depth-Adaptive Tessellation. This is a patent-pending technique that allows varying levels of detail (LODs) tessellated across a mesh. By varying the LODs, much of the processing in the GPU can be relieved as there will be less triangles to process.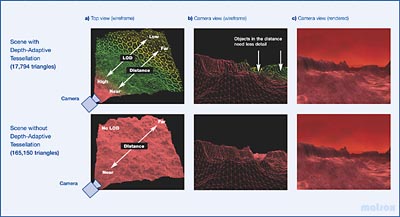 Depth-Adaptive Tessellation explained. Click for a bigger picture.


In the second stage, the position of each vertex of the tessellated mesh is displaced with the displacement map. The pixel values determined by the map will be translated to height information and the shape of the object can be easily defined with this displacement map. This displacement map can be applied to both static base meshes and dynamic, skinned base meshes. This gives the feature a lot more flexibility.

In the third and final stage, the displaced mesh will be treated and rendered like any other vertex stream. This means that vertex shaders, textures and pixel shaders can be simply applied to the mesh to create the final rendered image.

Alright, now that you know how hardware displacement mapping works, what's the advantages? The advantage lies in its versatility. Firstly, it is hardware accelerated. This simply means that complex geometries can be created without additional load to the CPU. In addtion, the technology helps to create surfaces that's much more realistic than bump-mapping. This will undoubtedly create 3D games with more breathtaking graphics than ever before. Already Matrox has confirmed that this feature has been adapted in one future game title. Amazing, even before Parhelia-512 is released.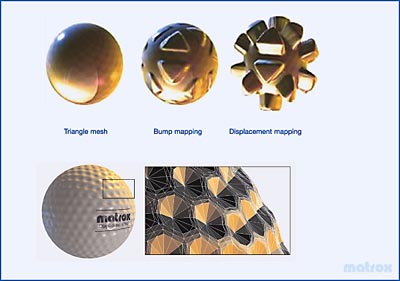 Displacement Mapping versus Bump Mapping.


Secondly, Hardware Displacement Mapping works with static and skinned meshes. In other words, if used in skinned characters, very detailed 3D characters can be created. The beauty lies in its flexibility to use the same base mesh to render different objects based on different displacement maps. This makes HDM extremely easy to be implemented.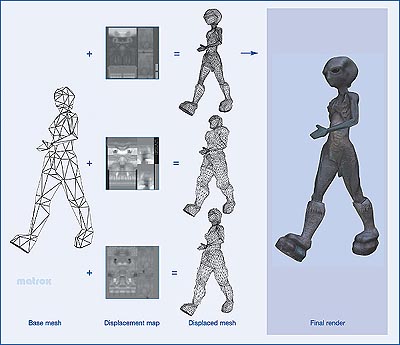 Hardware Displacement Mapping can be applied to the same base mesh to create uniquely different characters through the use of varying displacement maps.


As quoted from Randy Pitchford, president, Gearbox Software, "After seeing Matrox's Hardware Displacement Mapping technology in action, I got kind of giddy. The artists at Gearbox will go nuts for this technology!". Currently, Gearbox is working on Counter-Strike: Condition Zero.
---
16x Fragment Antialiasing (FAA-16x)

Matrox's implementation of antialiasing comes with a different twist. Instead of fully applying antialiasing to the entire object, FAA-16x intelligently picks out the edge pixels of triangles and then applies 16x super-sampling on them. This leaves internal textures sharp and unblurred, thus giving the game a smooth yet sharp appeal. Since edge pixels only make up a small fraction of the total pixels in a particular scene, the FAA-16x rendering could be performed with very low performance penalty. Thus, the quality of 3D graphics offered by the Parhelia-512 would be very interesting indeed as this will surely add to the debate of who's better at antialiasing. No doubt each will have their own strengths and weaknesses.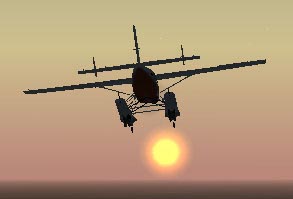 Without any antialiasing.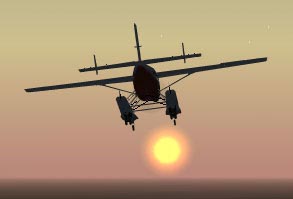 With FAA-16x enabled.


So, if you're uncomfortable with FAA-16x, you can still enable 4x FSAA (Full Scene Antialiasing). But judging from initial screenshots provided by Matrox, FAA-16x does seem to be pretty promising for now. According to Matrox, FAA-16x performance with anisotropic filtering far exceeds Quincunx, SmoothVision or Accuview.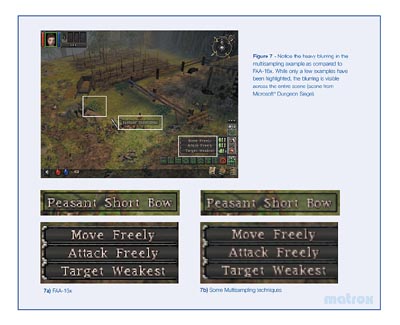 With FAA-16x, internal textures do not get blurred. Here's an example from Dungeon Siege. Click picture for a larger view.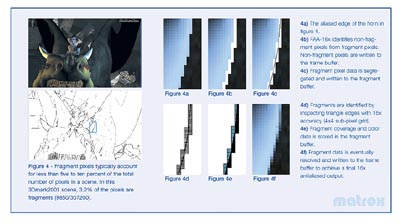 FAA-16x explained. Click the picture for a larger view.
Glyph Antialiasing

Glyph antialiasing is introduced not so much for the gamers but for those who wants to read text clearly. It is Matrox's answer to accelerating font rendering through the hardware. This is to take as much of processing away from the CPU as possible. Supported by modern operating systems from Microsoft such as Windows 2000 and Windows XP, Glyph antialiasing also supports independently programmable gamma correction for text.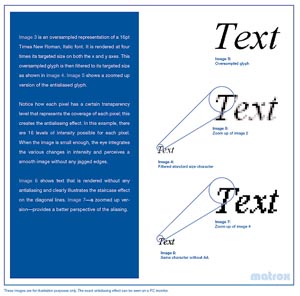 Glyph Antialiasing explained. Click picture for the full view.


We think Glyph antialiasing will benefit TFT LCD monitors more as fonts will no longer look hard and cold on the LCD monitors. Antialiasing will soften the look of fonts and this will definitely make reading text on the monitor more enjoyable. Fortunately, only Matrox has actively addressed issues of text clarity and this will definitely make the Parhelia-512 more appealing for business use than any other cards.

---
Availability and Price

Details about the availability of the Parhelia-512 are still a bit sketchy as there are still some more fine tuning to do. Skeptics say that it would be difficult for Matrox to produce the silicon since the die is potentially huge especially at only 0.15-micron with 80 million transistors. Skeptics aside, Matrox plans to ship the first version of the Parhelia-512 somewhere between June and July. They will come in a variety of boards with different memory sizes ranging from 64MB to 256MB. The exact product lines are still not finalized at this point of time but it seems that Matrox has plans to introduce products at different clock rates in different price ranges. Let's hope that Matrox will keep their product line cleaner than what the folks at NVIDIA or ATI did to their GeForce4 and Radeon respectively.

With such features packed into the board, Matrox also plans to ship a separate set of boards which will target high-end 3D workstations. Looks like Matrox is all out to grab not only the gaming market, but high-end 3D workstation graphics as well.

As for price, well, not much was told but they have indicated 128MB DDR versions to cost below US$400. The Parhelia-512 will certainly not be cheap, but if you're a serious gamer, the new Parhelia-512 does promise a lot more than just gaming performance.



All in all, Matrox has once again surprised the graphics industry with a lot of fancy and powerful features. If they can pull through with enough yield to meet the demand, Matrox will definitely capture a large share of the gaming market next quarter provided that the card performs as well as the specifications promised. Today, Matrox is not only out to take the gaming market away from giants like ATI and NVIDIA, but Matrox is actively redefining the future of gaming. With Surround Gaming introduced in the Parhelia-512, there's no doubt that Surround Gaming will be the next big thing in gaming. Matrox deserves a good pat on the back for adding another level of depth and realism to our everyday computing life with TripleHead and Surround Gaming. Of course, the folks from the monitor industry should give Matrox an even bigger pat on the hind since each PC will be potentially accompanied by three monitors.
---