Mysteries Of The CDRW and Back Ups Revealed

Article Info

Mysteries Of The CDRW and Back Ups Revealed

---

Created:
June 17, 2002

---

By:
David Stellmack

---

Category:
Storage Guide

---

Summary:
How easy (or difficult) is it to make a backup copy of some of the more typical PC game or audio titles that exist today? Theoretically, this should be possible using a typical CDRW drive. However, while everything works in theory, it may not always work in reality.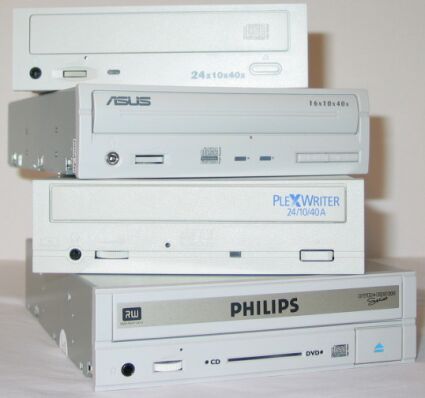 This is the story of our four CDRW drives. So, put on your detective hats and prepare to unlock the mysteries of CDRW back ups.
CDRW drive technology has been written about extensively elsewhere on the Internet. We decided to examine in more detail the process of making a back up copy of some of the more challenging current game and audio titles. Software publishers are supposed to follow published standards to which the data and audio CDs must adhere, given that it should be possible to back up almost any data CD using a typical CDRW drive, at least in theory. However, read on to find out what we discovered.
Some of the new, advanced protection schemes that commercial software products employ to protect their product rights fall outside of the established "Red Book" and "Orange Book" industry standards developed by Sony and Philips for data and audio CDs. Naturally, this can present quite a challenge for the typical CDRW drive user. The level of protection that these copy protections provide varies depending on the method and extent of protection that the software developer chooses. Some data CDs can be easily backed up using the most primitive of CDRW mastering software, while more advanced copy protections require more advanced and specialized back up software. Primitive copy protection schemes that do not employ sophisticated methods are based more on the theory of preventing casual unauthorized copying than anything else. On the other extreme, the "brute-force" methods employed by some software developers suggest a full throttle reaction to prevent all attempts at duplication.
This situation is a far cry from just a few years ago, when most commercial software CDs were unprotected and fairly simple to duplicate. Some companies have chosen an alternative approach, which is to use little or no protection, but to rely instead on the use of activation keys and serial numbers to provide the majority of the software protection. The requirements of activation keys and serial numbers, along with Internet-based activation and registration information provided by the licensed users to the software company, have met some resistance from the user community. This was never more apparent than with the recent release of Microsoft's Windows XP and Office XP. Microsoft is not the only company bombarded by user complaints, as some game developers have also met with complaints regarding their use of this type of protection approach.
If you have children in your household, being able to make back up copies of your data CDs can be essential, if not critical, to protect your original CDs from damage by little hands with sticky fingers. Although CDs are supposed to have a fairly indestructible quality, scratches and surface damage to a CD can cause read errors, resulting in skips of the disc. In some cases with audio CDs, for example, read errors can render discs essentially not worth listening to, and thus, unusable. Although the drive's error correction is supposed to address this issue, in reality this error correction function at best is somewhat of a crapshoot -- sometimes it works, and sometimes it doesn't. (Sometimes more expensive players and drives do provide more advanced error correction, which as a byproduct can mask more problems.) While some software companies will be happy to replace a damaged disc for a minor fee, this may or may not be an acceptable solution to the licensed user. Many folks feel that they have already paid to use and access the software, and thus have psychological difficulty parting with additional money to replace an already paid-for, damaged disc. There is still some software that uses no copy protection, but in the majority of new games, this is not the case.
The battles among the software companies and "software pirates" (those who are not authorized to copy software, but do so, then sell or redistribute it to other unlicensed users) have been well documented. It has often been described as a cat and mouse game, with many software developers enhancing the protection for each new release of the software to make the data more difficult to copy. The software pirates, on the other hand, then spend an equal amount of time "cracking" and disabling these copy protection schemes in order to allow for the easy redistribution of these titles. In many cases, these fixes to distribute or copy the CD are made within hours of the title's release.
What continues to amaze us is the extent to which each side will go to find new ways to defeat the other. One unintended result of these more advanced protection schemes is that they sometimes create compatibility problems for CD-ROM/ DVD-ROM drives that don't strictly adhere to the industry standards. In some cases, if your CD-ROM/ DVD-ROM drive is having difficulty reading a certain copy-protected title, you may have to go to the extreme of "flashing" the firmware in your reader to get that title to function correctly. (Provided, of course, that your drive manufacturer is aware of the compatibility problem and has addressed it through an available firmware upgrade, which isn't always the case.) Don't look for the software publishers to lend a sympathetic ear, either, as most of them believe that they have done as much as they can to make their title compatible with the widest variety of CD-ROM/ DVD-ROM drives.
With the discovery of Napster and Napster-like "peer-to-peer" file transferring programs, now even the audio CD companies are getting into the copy-protection act with the introduction of schemes that are making it more difficult to back up audio CDs. Again, these protection schemes have created compatibility problems for audio CD players that don't strictly adhere to the established standards. This has caused headaches for users wanting to make "mix" discs of their favorite songs, or back up copies of audio CDs they already own, to listen to in their car or portable player, for example. It is understandable that recording companies want to control audio CD copying to prevent illegal redistribution, but users are accustomed to fairly broad fair use rights for music that they have purchased. Many record companies felt "safe" when they only had to deal with copying to analog tapes, but the new technology which provides the ability to create perfect, bit-for-bit digital copies has frightened the bejeesus out of the recording companies. Recently released industry statistics indicate that the purchase of CD recordings has dramatically declined, while sales of blank CDRs and accompanying equipment have mushroomed.
Copy Protection...What Protection?
Currently, for data software, there are at least 25 different data CD protection schemes of which we are aware. For audio CDs, there are only about five different protection schemes. As mentioned earlier, the development of these protection formats effectively expands the current Orange Book and Red Book CD industry standards as broadly as possible (to the point of breaking these standards, at times) in order to achieve the level of protection the company is seeking.
Not following the data and audio CD standards can lead to compatibility problems that are difficult to solve. Usually, when a compatibility problem is reported to the software manufacturer, the software manufacturer will just suggest purchasing another CD-ROM/ DVD-ROM drive, or to check with the manufacturer of your drive. This "pass the buck" approach to customer service reiterates the idea that so-called 'protections' bend the standards to the point that the protections actually no longer conform to all of the standards.
Philips has rebelled against the recording labels as of late, warning them that many of their proposed implementations for copy protection schemes break the rules for audio CDs in such a way that they may just create new compatibility nightmares. Some recording companies have countered that they never offered a guarantee that their audio CDs would be playable on PCs. Much of this argument centers around the use of the Compact Disc Digital Audio logo that is on almost all CDs. The Compact Disc Digital Audio logo is a mark that is supposed to represent compatible operation in other devices that bear the same mark.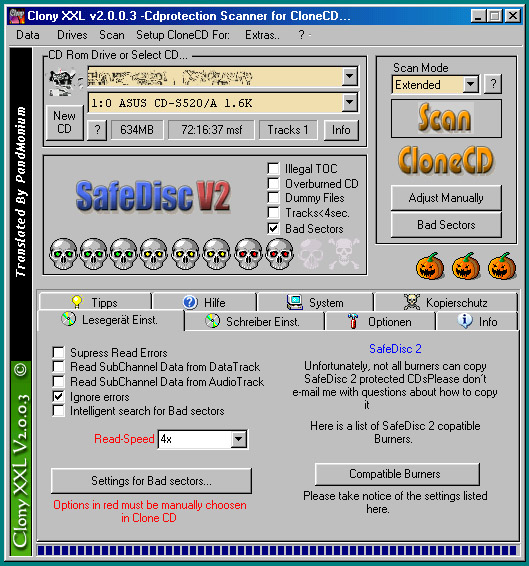 We used Clony XXL to find a disc that was protected with Safedisc 2.0 for use as test disc 1.
Macrovision's Safedisc is currently the most popular protection scheme used on commercial data CDs. The Safedisc technology is primarily a software-based solution that does not require any changes to standard PC or CD-ROM hardware. It has both an authenticating digital signature embedded on the disc, as well as a multi-layered, encrypted wrapper that secures the CD-ROM content. The digital signature, which cannot be copied by CD recorders or mastering equipment, is embedded by the laser beam recorder at the time the CD-ROM is mastered at the replication facility. However, many drives that support RAW reading and RAW writing can backup discs that use this protection scheme.
Safedisc 2.0 includes disc burning prevention technology that includes the introduction of additional digital signatures for improved resistance against copying. It also offers "fail-safe manufacturing" to ensure that Safedisc masters will be mastered only on Safedisc-enabled production lines, which should improve quality control and help reduce compatibility problems. Some drives that are able to do RAW reading and RAW writing can back up the CDs that use the 2.0 version of Safedisc. The newest 2.51 version of Safedisc, however, is a totally different story. The 2.51 version of Safedisc includes the use of a new "weak sector technology" that is very difficult to back up. These weak sectors cause synchronization problems with many CD-writers, which results in unusable back ups and the creation of CD "coasters" for your coffee table. Currently the number of CDRW drives that can successfully back up titles protected with Safedisc 2.51 is quite limited, and, due to this fact, the use of Safedisc 2.51 continues to gain popularity.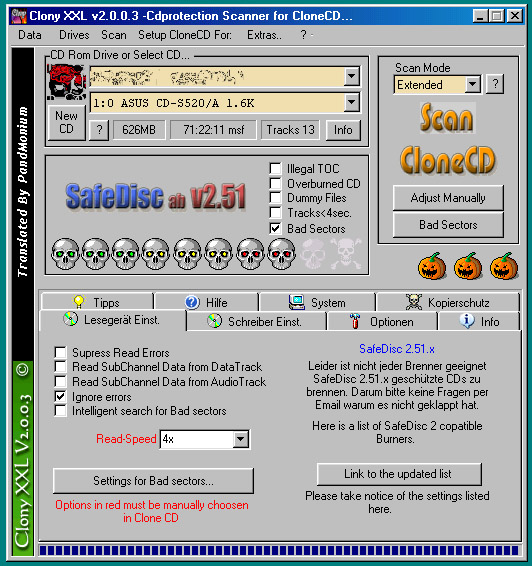 We used Clony XXL to locate a disc that was protected with Safedisc 2.51 for use as test disc 2.
TAGES can be implemented at various stages of software development, and its anti-copy functions can be customized to meet the specific needs of developers and publishers. It enables the publisher to choose how the protection affects unauthorized copies, from causing slight modifications to completely blocking the functioning of the software. TAGES is also completely transparent to the end user and does not require any specific set-up or online transaction prior to launching the software.
TAGES uses new encryption and authentication technologies that are compatible with standard multimedia PC computers and drives. To date, very little is known about this copy protection technology, and it has appeared on only one title of which we are aware. What we do know at the time of this article is that, to the best of our knowledge, no one has been able to figure out how to make a back up of a disc protected with TAGES. For users wanting to make a back up copy of a disc using the TAGES technology, this isn't welcome news.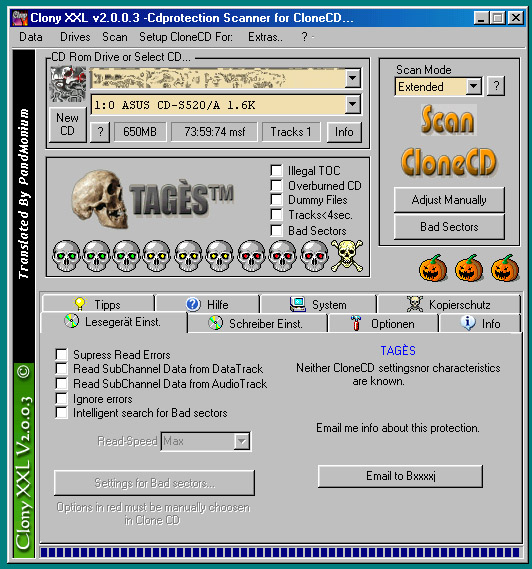 We used Clony XXL to locate a disc that was protected with TAGES for use as test disc 3.
Midbar's Cactus Data Shield is currently in use for audio CDs. Cactus Data Shield claims to offer the ability to prevent any type of unauthorized digital duplication of CDs, DVDs and proprietary formats (music, video or data). Cactus Data Shield does not rely on software keys, hardware dongles, plugs or other external equipment or processes. Cactus Data Shield is designed to fully protect CDs and DVDs, and to be fully compatible with existing commercial players and drives. Cactus Data Shield prohibits Internet piracy by preventing unauthorized transmission/ conversion of digital files (music/ MP3, software or video) over the Internet. There were some reports that this protection could cause damage to stereos and loudspeakers, but apparently these were just rumors. Cactus Data Shield works by inserting modifications into original CDs in such a way that it confuses CD-ROM devices during the copying process. Midbar assures us that it regards any technology that has the potential to damage any stereo and/ or loudspeaker equipment as totally unacceptable, and has asked us to make clear that there is nothing in its technology on the market (past, current or future) that could, or would, be potentially damaging to any equipment. Midbar claims that record labels have released more than one million CDs protected by its Cactus Data Shield system into the European market - with no complaints. In the U.S., the verdict is still out on how effective the protection actually is and how much it has actually reduced the duplication of the music on the titles that use it.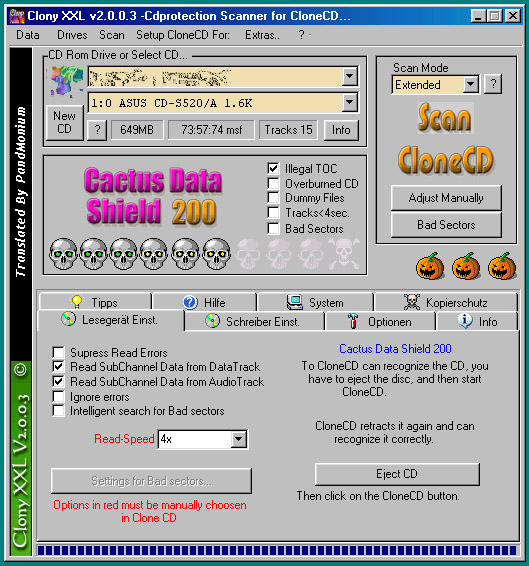 We used Clony XXL to locate an audio disc that was protected with Cactus Data Shield for use as test disc 4.
While there are many types of protection, we focused on these four main types of protection in our testing. If you are trying to determine the type of protection that is used on a specific title, a utility called Clony XXL can help identify it for you. Once you identify the protection scheme used, it is then easier to isolate the correct software and approach that needs to be used to back up the title in question. Of course, your favorite search engine and a little detective work on the Internet might still be required in order to make your back ups, but for the most part, the information is fairly easy to find.
As mentioned above, these are just a few of the protection schemes that are in use. As time goes by, you can rest assured that enhanced versions of the schemes we've mentioned will be made available, as well as new schemes that will challenge even the most capable of CDRW drives. This is important to note, as making a buying decision based solely on the new drive's ability to handle these four protection schemes could still leave you vulnerable in the event that new or improved schemes appear. However, these four schemes do provide a good indication of the overall capability of the drives we tested.
In order to make back ups of commercial CDs that incorporate copy protection, in most cases you will need special software to do the job. Of course, this is only part of the equation. Depending on which copy protection scheme you are attempting to back up, your CDRW drive will need the correct firmware revision that will support the software you are using.
Selecting the correct drive isn't as easy as you might think. Most of the software products that are required to make these back up discs have an extensive list of the drives that are compatible and the drives that won't cut it. Also important is the revision of the firmware within the drive, as some drives will only function with certain versions of the firmware. Many people have suspected that perhaps the drive manufacturers are being less than generous with the firmware used with their drives because they don't want to open the potential Pandora's box of problems that may arise if their drives are being used for back ups.
During our testing, we used two programs that seem to have a high success rate in making back ups. While each of these programs has its benefits and drawbacks, we found that in some cases, one program had a higher success rate in backing up the discs in our testing process better than the other one. The type of CDRW drive that you have, or elect to purchase, may also affect the software you select to perform your back ups.
The first step before trying either of these programs is to check the drive compatibility listing for each of these programs. If your CDRW drive is not listed in their compatibility list, you can still try to use your drive with the software, but your results may vary. Since both of these programs are available in limited trial versions, you'll want to download and test the software to make sure it fits your needs before registering it, as neither program may be warranted to be compatible or suitable for your purposes.
Blindread/ Blindwrite
Version - 4.0.4
VSO Software
Cost - $27 US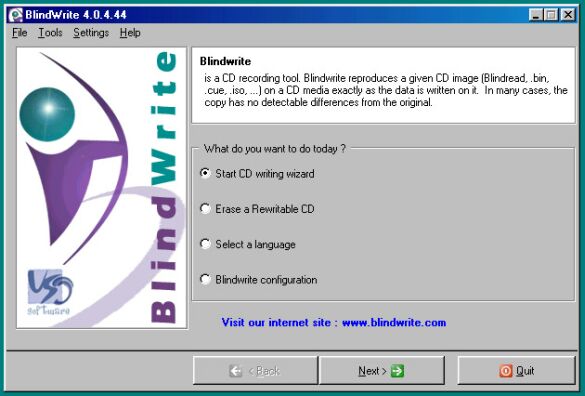 Blindwrite 4.0.3 offers a very easy to use and understand interface.
The Blindread/ Blindwrite combo package is actually two separate programs, each with a specific purpose. The Blindread program is used to extract the data from the CD, while the Blindwrite program is used to write the extracted CD data to the CDRW drive.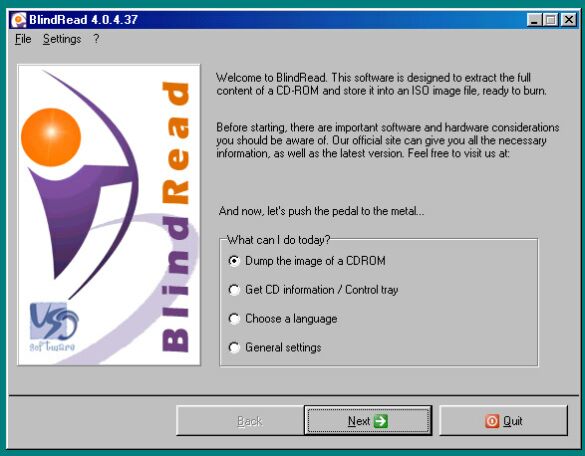 Blindread extracts the data off the disc. VSO has said at some point Blindwrite/ Blindread will be merged into one program.
Blindread/ Blindwrite can use its included Patin-Couffin IDE drivers to provide enhanced stability over the included Windows IDE drives. In our testing, we found that the Patin-Couffin drivers were stable under Windows XP, but according to feedback on the web, some users have experienced problems with the drives.
Blindread/ Blindwrite is able to handle a variety of protection schemes. We found that the documentation does little to explain what it can or can't do. However, the website does cover the process in a little more depth.
We have been using this program for some time now, and our experience with Blindread/ Blindwrite has been very positive. The addition of the enhance-weak sectors option during the write process was helpful in backing up some of the more difficult titles. Although it might be a bit inconvenient to have to use two programs to get the job done, we found that it still worked well and, because of the more simple interface, it might be a better starting place for beginning users.
CloneCD
Version - 4.0.1.3
Elby
Cost - $37.69 US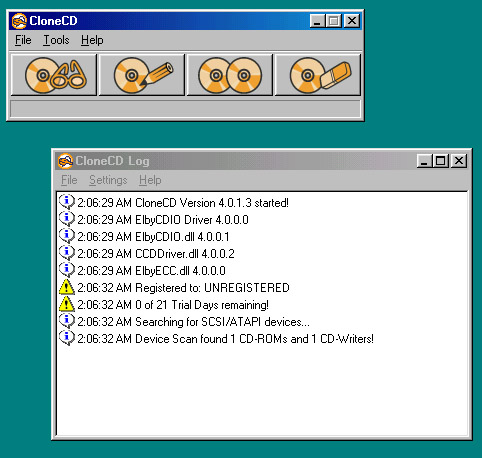 Elby's CloneCD is one of the most well-respected back up software programs that is available today. With CloneCD's new Version 4 makeover, the team at Elby has updated the look and feel of the software to be more like Windows XP.
CloneCD is able to use Windows's IDE drivers and that is perhaps one of its major advantages. It supports a variety of languages and is available (believe it or not) as a commercially boxed, off-the-shelf product. This lends considerable credibility to an already well-known product. CloneCD offers more options and more control over both the 'read' and the 'write' processes than Blindread/ Blindwrite does, and it offers them in an integrated, all-in-one package. The documentation included with the product is fairly thorough, and while it doesn't cover every possible scenario, it covers enough of the basics to get you started.
Another plus is CloneCD's large following on the web, and much of the information that is required regarding the proper settings for specific titles can be found there. The website does point out that, in order for CloneCD to be fully effective, the CDRW drive must be able to handle proper EMF encoding/ decoding. This is where the drive's firmware comes into play.
We consider CloneCD to be a great package with an incredible amount of features and options available to cover a variety of situations. However, due to varying country restrictions, the "Enhance Weak" sectors mode is not supported in every country, which can pose a problem with some titles. Nonetheless, it can be a very effective tool for backing up much of your software.
Does CDR/ CDRW Media or 'Write' Speed Make A Difference?
Many users are unaware that the choice of CDR/ CDRW media can affect the results of writing any disc. The reflectivity and quality of the disc can influence the end result, and the media selection can mean the difference between a disc being successfully written or not written at all. In particular, when handling some of the more error-dependent protection schemes with weak sectors, the choice of media can make the difference between the disc working or not working. Higher quality media has a lower error rate, in most cases. We define 'higher quality media' generally as branded media that comes from a reputable major manufacturer. This may be too broad a statement, however, since even some major branded media comes from OEM sources that do not necessarily use the highest quality standards.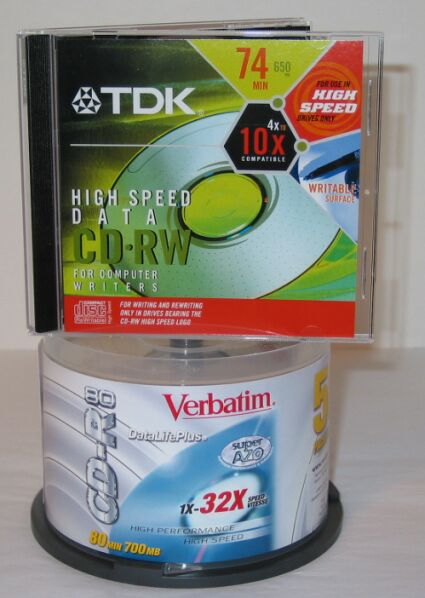 We chose Verbatim as our choice for all of the CDR test discs that we burned in our testing. Because we burned so many discs, we had to opt for the 50 pack spindle. Verbatim has been producing media that we have found to reliably give us great results in our testing. TDK was chosen to supply all of the High Speed CDRW discs that we used for testing in this article. We used one disc per drive and fully erased the disc between each test. CDRW media can be very useful for troubleshooting possible problems with your set up before committing the final back up to a CDR disc.
Additionally, media that works well on one CDRW drive may not work well on another. While experimentation will perhaps yield the best results for deciding which media to purchase, in our experience, the use of low-cost or generic media has been problematic and not worth the purported cost savings. We suggest using higher quality, brand name discs when attempting to make back ups, as overall this will yield better results. If you are unwilling to part with the cash for the higher priced media, then you should at least consider using media that is certified or specifically recommended for use in your CDRW drive.
Opinions seem to vary as to whether the speed at which the disc is written is a significant influence on the overall quality and usability of the back up disc. It has been our experience that discs written at slower speeds seem to be slightly more compatible with some CD/ DVD-ROM drives. According to one of the authors of Blindread/ Blindwrite, the speed at which the disc is written shouldn't really matter, provided that you are using quality media that is designated for use in your drive. Notwithstanding that, if your drive is 'temperamental,' as some are, your results may vary.
As we have pointed out previously on the topic of writing CDs, discs that are overburned should be burned at slower speeds. We see no reason to alter that suggestion.
While experimentation with different brands may be the best option for determining which media works best in your setup, it is advisable to take advantage of the fact that these back up programs support RW media and make a few test discs to first check for any compatibility problems. This will not tell you how using a particular CDR media affects the process, but it can provide some additional insight. A factor that can cause problems on some drives is the use of the buffer underrun technology (depending on the protections scheme), so you will want to experiment with this, as well.
Regular & Irregular Bit Patterns
Much of a drive's success, or lack thereof, in making back ups of copy-protected discs can be traced to the drive's ability to correctly handle the RAW-DAO 96 'write' mode. RAW-DAO 96 = 2352 bytes RAW Data + 96 Bytes P-W Subchannel Data is the best write mode for most programs that are used to make back ups. It allows writing of all subchannel information, including Digital Signatures, CD-Text, ISRC, Catalog Numbers, CD+G, CD+Midi, Gaps, Indices and Crazy TOCs. However, this is only part of the equation.
To make back ups of many CDs, the writer you choose will have to be able to write regular bit patterns, which means the writer has to produce the same patterns. It uses a so-called 'EFM Encoder' for this. Regular bit patterns go through the EFM Encoder and are converted to a smaller value by converting bits to bytes (8 bit = 1 byte) in a pre-determined way. Protection schemes such as Safedisc 2 operate by trying to overload the EFM Encoder of the writer using ten sector groups, which causes the CDRW drive to lose synch and write the wrong (irregular) bit patterns.
Even if the CDRW drive has robust and well-programmed firmware within it, this can still present a challenge for the drive. Although it can't be proven, there is a growing industry suspicion that numerous CDRW drive companies are working with copy protection providers to produce drives with firmware that are robust enough to handle most tasks, but not robust enough to handle these irregular bit patterns.
To further complicate matters, you must also have a drive that is able to extract (read) the CD in question correctly. In the read mode, you will need a drive that is able to read CDs in RAW+96 = 2352 bytes RAW Data + 96 Bytes P-W Subchannel Data. This is the best mode for reading copy-protected discs for back up. In this mode, the drive is able to read all subchannel information like ISRC, catalog numbers, CD+G, CD+MIDI, gaps, indices, and digital signatures, which can be important in making a back up that will work.
Finding a drive that is able to do all of the above can be difficult, but it is necessary if you want to make accurate back ups that work. As you can see from the above information, it takes a very specific CDRW drive to perform all of these functions correctly.
The Contenders - Four CDRW Drives With Different Results
We wanted to select a variety of drives that covered a variety of price and performance levels. We did not select the drives based on any specific criteria, but instead chose four drives with a variety of speeds and performance levels for the test. We had extensive experience with two of the drives we chose, and the other two drives were newer to us.
Before we show you the results, we wanted to give you some basic background on each of the drives. In addition, we wanted to include a read test using Nero's CD Speed test. This benchmark should be used as an indication of the overall extraction performance of the drive, not as a determining factor in choosing a drive to handle your back up chores. Since the data on the protected CD has to be extracted in a RAW-style read mode, this test does give you a clear indication of what kind of extraction performance you can expect from each drive.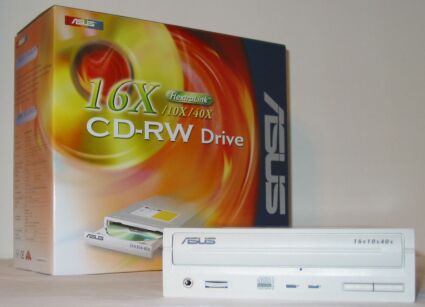 The Asus CRW-16010A is a very good-looking drive that comes in a colorful box. You will not miss it if it happens to be sitting on the shelf at your local dealer.
Asus has been dabbling in the optical storage market for some time now. Until last year, most of what they had been doing was centered around CD-ROM drives. Starting last year they have been making an all-out assault on the optical storage market with a variety of optical storage products in all of the latest speeds.

| | |
| --- | --- |
| Speed - CDR / CDRW / READ | 16X/10X/40X |
| Interface | ATAPI/IDE |
| Firmware Version | 1.20 |
| Best Write Mode | RAW-DAO 96 |
| Best Read Mode | RAW+96 |
| Best Audio Read Mode | RAW+96 |
| Buffer-Underrun Technology | Yes |
| Correct EMF-Encoding | Yes |
| Street Price (USD) | Under $75 |
We have been using the Asus CD-ROM drives for a long time now and have found them to be quiet and reliable. The new CDRW drives seem to be cut from the same cloth. The CRW-1610A was the first purely Asus-designed writer to enter the market. It would seem that they have really spent a lot of time looking at how other people have been doing optical storage and have learned a lot from it.
The CRW-1610A features the Asus-designed second generation double dynamic suspension system (DDSSII). This technology is designed to greatly reduce vibration caused by the spindle motor. Vibration can cause a lot of problems with CDRW drives, as we have all seen.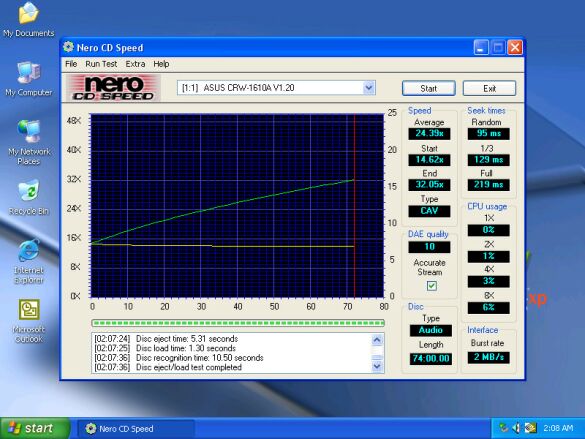 Nero CD Speed Test results for the CRW-1610A.
In our back up testing, the Asus is rated as excellent. The CDR-1610A was able to handle three out of our four test discs, which tied it for the lead. We didn't have any problem reading our test discs in other drives.
The performance of the CRW-1610A has been exceptional, and frankly, it is one of the best drives that we have ever used. It is very reliable, and offers exceptional quality from a manufacturer well known for its quality products and customer support. If you have not considered Asus as a potential optical storage provider, now might be the right time to look at the CRW-1610A, as its performance is exceptional for the money. One word of caution: we have been told that the ability to produce copy-protected back ups isn't something that is shared by all Asus CDRW drives, so you should refer to the compatibility information on the Blindwrite and CloneCD website if you plan to purchase a model other than the CRW-1610A.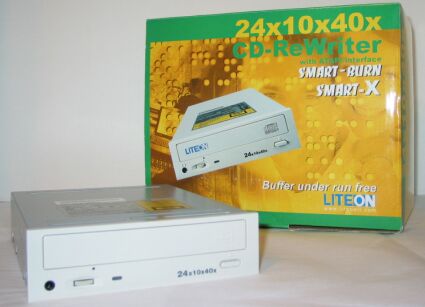 It might look a little plain on the front of the drive, but the LTR-24102B did well in our testing. Seemingly coming from out of nowhere, Lite On has started to produce some really great CDRW drives.
Lite On has been in the optical storage business for a long time. From personal experience, I can truthfully say that my experience with Lite On products in the past has been a mixed bag. Some products were very good, while others were not so good. However, it appears that Lite On has changed all of this with their release of the LTR-24102B, which was the first hit CDRW drive in what would appear to be a long list of CDRW success stories.

| | |
| --- | --- |
| Speed - CDR / CDRW / READ | 24X/10X/40X |
| Interface | ATAPI/IDE |
| Firmware Version | 5S59 |
| Best Write Mode | RAW-DAO 96 |
| Best Read Mode | RAW+96 |
| Best Audio Read Mode | RAW+96 |
| Buffer-Underrun Technology | Yes |
| Correct EMF-Encoding | Yes |
| Street Price (USD) | Under $100 |
Lite On has been racking up the awards as of late, and with the performance of the LTR-24102B, we can understand why. This drive does pretty much everything right. It is reliable and worked well in our testing.
We found the front face plate of the drive to be a little non descript, but that didn't dampen our experience with the LTR-24102B.
In our back up testing, the drive was able to handle three of our four test discs, which tied it with Asus for first place. We had no problems reading discs written with the Lite On in other drives.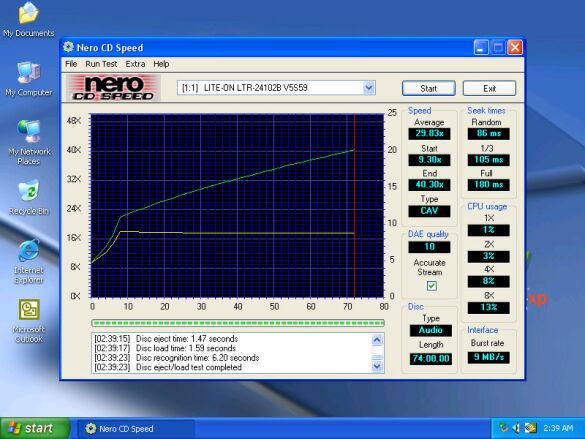 Nero CD Speed Test results for the LTR-24102B.
Lite On has produced a winning drive with excellent performance. The drive was solid, and performed above what we could have expected. It is available for a reasonable price, but, of course, you might be able to get some of the LTR-24102B's faster cousins that can do the same thing for just a tad more money. Again, you will want to keep your eye on these guys, as they are definetely on the right track in the customer satisfaction department.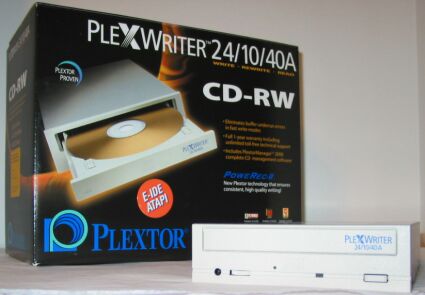 The PX-W2410A drive has won a lot of awards. What else can one say about a company that produces some of the best and most reliable products around?
No true computer enthusiast doesn't know about Plextor. Plextor is one company from what we might consider the "old guard" that is still around and still making incredible innovations. Plextor's name has always stood for quality and, as is to be expected, this quality has always come at a price that was above most of their adversaries in the optical storage business. Plextor is able to continue to charge a higher price for their products because they have an exceptional reputation for being the best.

| | |
| --- | --- |
| Speed - CDR / CDRW / READ | 24X/10X/40X |
| Interface | ATAPI/IDE |
| Firmware Version | 1.02 |
| Best Write Mode | RAW-DAO 96 |
| Best Read Mode | RAW+96 |
| Best Audio Read Mode | RAW+96 |
| Buffer-Underrun Technology | Yes |
| Correct EMF-Encoding | Yes |
| Street Price (USD) | Under $130 |
Reputation alone can't carry a company in the optical storage business. A loyal following of fans is also needed to spread the word about a company's products.
Plextor has always been an innovator, so you can understand why it was difficult to accept the fact that this exceptional drive didn't fare that well on our back up tests. The PX-W2410A was only able to handle two of our test discs successfully. This was a disappointment, to say the least.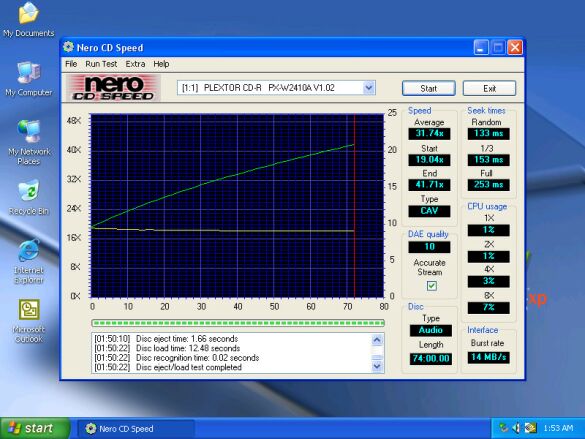 Nero CD Speed Test results for the PX-W2410A.
This drive has been reviewed ad nauseum, so we are not going to bore you with the details again. The performance of the drive in everyday use was exceptional, and its construction was second to none. However, if you are looking for a drive that can back up more than two of our four test discs, you will have to look elsewhere, we are sad to report. Other drives in the Plextor product family have fared better than the PX-W2410A did, so if you feel you must have the Plextor brand, you would be better off with one of those other Plextor drives. The performance and reliability reputation that Plextor products have in the industry continues to make Plextor products our drives of choice. That said, the PX-W2410A drive was just not suited for the tests in our review.
By including the DVDRW208 in this review, we were taking a chance as to what might happen. This Philips drive supports the ever-troubled DVD+RW format, but since this isn't the focus of this article, we will not dwell on the issues with the current DVD+RW format. However, that said, it does appear that as fast as this drive made its entrance, it will just as quickly make its exit, when it is replaced by a newer Philips DVD+RW drive that will finally deliver on its promise of DVD+R media.

| | |
| --- | --- |
| Speed - CDR / CDRW / READ | 12X/10X/32X |
| Interface | ATAPI/IDE |
| Firmware Version | 1.34 |
| Best Write Mode | RAW-DAO 96 |
| Best Read Mode | RAW+96 |
| Best Audio Read Mode | RAW+96 |
| Buffer-Underrun Technology | Yes |
| Correct EMF-Encoding | Yes |
| Street Price (USD) | Under $399 |
The DVDRW208 has spent a lot of time in our labs and overall, our impression of the product and the format have been positive (unlike a lot of other people who have looked at the DVDRW208 - or similar DVD+RW drives). We have not personally experienced the compatibility problems that many others have found with the equipment. With the exception of a few laptop DVD-ROM drives and desktop DVD-ROM drives that were older and not compatible with the DVD+RW format, we have not experienced any compatibility problems. (Yes, that is right... all of the set-top DVD players that we have have been able to play DVD+RW discs with no problem.)
As you can see from the Nero Speed Test Results, we had reason to be puzzled by the performance of the drive, but since it is primarily supposed to be a DVD writer, you will have to decide whether to look the other way. The CPU usage at 8X was also 39%, which may, or may not, be a cause for concern.


Nero CD Speed Test results for the DVDRW208.
The drive still managed to handle two out of our four test discs, which, for a DVD+RW drive, really isn't bad. We thought that the additional properties that a DVD+RW drive would bring to the table might make it a better choice for back ups, but from what we observed here, this just isn't the case.
Overall this is a good drive that has been dependable in our testing with its blazing 2.5X DVD+RW write speed, which we can say is truly exceptional. The DVDRW208 in CDRW mode was more of a mixed bag, with mixed and sometimes confusing performance results. Still, it does appear that Philips is doing something right, because even through all of this, the drive was still able to handle two of our four test discs, which was amazing considering that it is a DVD+RW drive, after all.
Test System
Mainboard
Asus P4T-E - Intel 850 Chipset
CPU
Pentium 4a 1.6GHz - Northwood Core - Retail Box
Memory
2 - 256MB PC800 Rambus - Samsung
Graphics Card
NVidia GeForce4 4600ti - 128MB
Hard Drives
IBM - IC35L040AVER07 - 41GB - ATA-100 - 7200 RPM
Western Digital - WD800JB - 80GB - ATA-100 - 7200 RPM
Sound Card
Turtle Beach Santa Cruz Sound Card
Network Card
3Com 3C905C-TX-M NIC
DVD Player
Asus DVD-616 - 16X DVD / 48X CD-ROM
Case
Antec SX-1000 Mid-Tower Case
Power Supply
Enermax EG365P-VE Power Supply
OS
Microsoft Windows XP Professional - All Patches & Updates Applied
Media
TDK High Speed CDRW Media Used For CDRW Tests
Verbatim Super AZO 24X CDR Media used for all CDR Tests
The Challenge Revealed More Than We Hoped For!
In order to challenge our four writers, we selected four original commercial CDs to use in our testing. As you can see in the picture below, we covered the titles on the discs. This was done to satisfy the software publishers, since we would have expected some of them to complain if we revealed the entire disc. This compromise should keep everyone happy. We will refer to the original test discs as disc 1, disc 2, disc 3, and disc 4. Here is a breakdown of the copy protection schemes used on each of our test discs.
Disc 1 - Safedisc 2 - Game
Disc 2 - Safedisc 2.51 - Game
Disc 3 - TAGES - Game
Disc 4 - Cactus Data Shield - Audio CD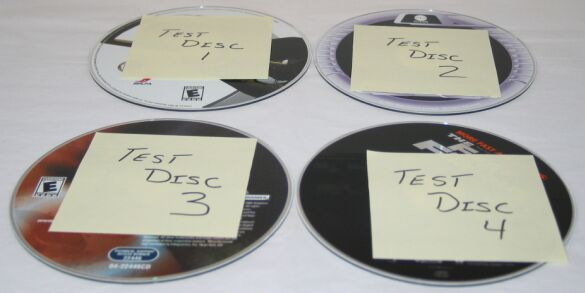 We used Post-It notes to indicate which disc was which. We also wanted to cover up the majority of the name on each disc. We did not show the full disc because some companies have lawyers who don't like such things. At any rate, by looking at the picture, we think that you'll get the idea.
To determine whether using CloneCD or Blindread/ Blindwrite would make a difference, we tested with each of them.
We extracted each test disc on the test drive. Once the disc was extracted, we burned the test disc to a CDRW to make sure there were no errors in the process. Once we determined that we were ready, we burned our final copy to CDR for testing. We wrote each disc at the CDRW drive's highest, or maximum, speed setting.
Once the CDR test disc was written, we reimaged our test system and then attempted to do a fresh install of each of our test discs. Once each install was complete, we attempted to execute the disc. If the disc functioned correctly, we graded the test as a "PASS." We used the Asus DVD-616 drive in our test system to read all of our test discs. We reimaged the test system between each testing of the discs made from each CDRW drive.
Although it could possibly be argued that Asus had an unfair advantage in having both a reader and writer in our testing, we did test with another DVD-ROM drive and found no evidence of any difference. In other words, we found that the copies that worked in the Asus DVD-ROM drive also worked in a Toshiba DVD-ROM drive.
Blindread/ Blindwrite - Back up Pass/ Fail Test

| | | | | |
| --- | --- | --- | --- | --- |
| | Test Disc 1 | Test Disc 2 | Test Disc 3 | Test Disc 4 |
| CRW-1610A | Pass | Pass | Fail | Pass |
| LTR-24102B | Pass | Pass | Fail | Pass |
| PX-W2410A | Pass | Fail | Fail | Pass |
| DVDRW208 | Pass | Fail | Fail | Pass |
Both the Asus and the Lite-On drives did seem to perform well on these tests, but it is obvious that disc 3, which uses TAGES, has a problem.
CloneCD - Back up Pass/ Fail Test

| | | | | |
| --- | --- | --- | --- | --- |
| | Test Disc 1 | Test Disc 2 | Test Disc 3 | Test Disc 4 |
| CRW-1610A | Pass | Fail | Fail | Pass |
| LTR-24102B | Pass | Fail | Fail | Pass |
| PX-W2410A | Pass | Fail | Fail | Pass |
| DVDRW208 | Pass | Fail | Fail | Pass |
Surprise! Our results were a little different using the CloneCD test, but this is due to the fact that CloneCD doesn't support the Amplify Weak Sectors on the U.S. release of the software. If this option were available, our results should be the same as those with Blindread/ Blindwrite (meaning that the CDW-1610A and the LTR-24102B should be able to copy our test disc 2 discs, which require use of the enhancement of weak sectors).
Conclusion - Don't be sad, 'cuz two out of three ain't bad...
The Asus and the Lite On are both good drives that can handle three out of the four test discs that we threw at them. None of the drives tested were able to handle test disc 3, which used the TAGES protection scheme.
We were somewhat surprised by the Plextor drive, since the Plextor name has always been advertised as "Capable of high speed Extraction with bit-by-bit accuracy." While we still like Plextor drives, it would appear that they are not appropriate for this application of making 1:1 back ups of copy-protected CDs. It should be noted, however, that some of Plextor's other drive models might perform better than our test drive, the PX-W2410R.
It would have been a big surprise if the Philips DVD+RW DVDRW208 drive had been able to match the Asus or the Lite On, but it did not. While we didn't know what to expect from the Philips drive, we felt it was a representative indicator of what we might be able to expect from the new crop of DVD writers that are just now starting to make their way onto retail store shelves. However, with the first generation DVD+RW drives already being pulled from store shelves and replaced with newer units that support the DVD+R format, it might not be such a bad deal to consider one of the first generation DVD+RW drives. You might be able to find them at bargin-basement prices, and, depending on your purpose, it might be worth it.
Both the Asus and the Lite On drives performed well. We encountered no problems with either of these drives during our testing. We feel these drives distinguish themselves by being able to handle three of the four test discs. Clearly, they handle making routine back ups of many discs that have copy protection well. The fact that the drives failed to handle test disc 3, however, did indicate that they might not be able to handle future protection schemes without updates to either the software or the drive's firmware.
As we have pointed out, and as our test data confirms, the ability to back up software that you have purchased takes the right combination of software and hardware. If you choose the right drive, there is no reason that you should not be able to back up the majority of your software. Of course, newer titles will likely have stronger and more advanced protection schemes, but the Asus and Lite On drives that we looked at in this review offer robust feature sets that should continue to produce working back ups for some time to come.