Justin Hayes
Godan
This is a picture of me practicing on my hand techniques

This is a picture taken right after my black belt test on Oct. 24, 1998.

Top Left to Right: Jim Waters, Doug Yates, Roy Thomason, Sonny Johnson, Craig Bailey, and Don Thomas.

Bottom Left to Right: Justin Hayes, John Paterson, and Gary Huff
Training: I have trained with Master Sonny Johnson for a little over 17 years. The majority of my martial arts training has been done under Sensei Johnson. I started at the age of nine, and was able to test for my shodan at the age of 16. I was the second youngest person that Sensei Johnson has tested for black belt. The youngest was Gary Huff, who tested with me. I started competing at the age of 11. I am a member of the competition team and the demonstration team. At first competitions were hard for me, but I was determined and through hard work, I was able to perform, and placed not only first in the state, but also first in the nation. I placed in the top ten in kata, self-defense, weapons, and kumite for 6 years in a row. I have competed in state, national, and international competition. I began training in full contact karate (kickboxing0 around the age of 15. This training was also done on Sensei Johnson.
I was the first student that Sensei Johnson awarded the physical fitness award too. This entailed 100 push-ups, 500 crunches, 25 side kicks each leg, 25 round house kicks each leg, 25 hook kicks each leg, all to be done in 30 minutes. I was awarded the Koala patch from Sensei Johnson in 1999. I was named "Outstanding Student of the Year", in 1997, 1999, and 2000. I have also had the opportunity to work with Mr. Doug Yates (who has trained personally with Master Kuda). With Master Yates I have learned several of the weapons kata that Master Kuda designed for his students. I have also had the opportunity to work on tournament sparring principles with Master Yates. This has taught me a new innovative way of fighting. In addition, Master Scott Vance, has shown me kobudo kata that he has been able to obtain over his numerous years of study in the martial arts. I have had the opportunity to work with Mr. Thomason (a direct student on Master Soken and Master Kise). Mr. Thomason has taught me the ways of the old, so to speak. I enjoy the physically drawling workouts with Mr. Thomason. It has been a great join to work with these instructors and I look forward to furthering my knowledge under them and others. I have also had the opportunity to here with the following instructors through seminars: Master Glenn Keeney, Master Eddie Bethea, Master Herb Johnson, Master Joe Cooley, Mr. Bill "Superfoot" Wallace, Rorion Gracie, Matt Hughes, and Bas Rutten..
While I have a great love for Shorin-Ryu and will always enjoy its training, I have recently started training in Brazilian Jiu-Jitsu under Don Thomas. So far I have loved every minute of this training. I am very excited to find a new area to improve my martial arts skills in.
In December 2008, I opened my first official dojo. I currently teach classes in Shorin-Ryu Karate, Brazilian Jiu-Jitsu, Kickboxing, and Mixed Martial Arts. Contact me at [email protected] if you are interested in starting classes!!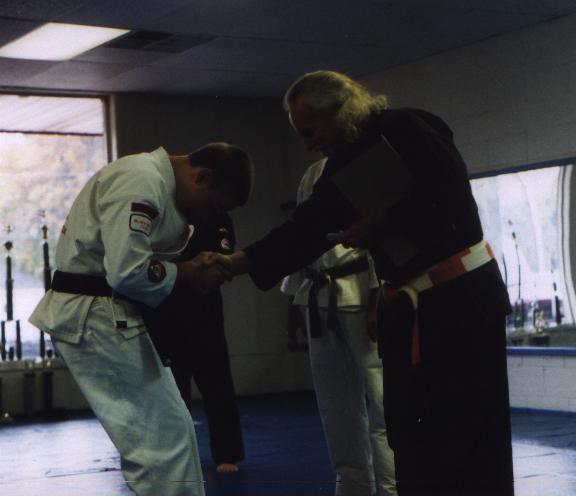 Receiving the Koala patch from Sensei
Awards:
| | |
| --- | --- |
| | Koala Patch: 1999 |
| | Outstanding Student of the Year: 1997, 1998, 1999, 2000 |
| | P.K.C Kata State Champion: 1997, 1998, 2000 |
| | P.K.C State Weapons Champion: 1997, 1998, 1999, 2000 |
| | P.K.C Self-Defense State Champion: 1999, 2000 |
| | P.K.C Sparring State Champion: 1998, 1999 |
| | P.K.C Self-Defense National Champion: 1999 |
| | P.K.C Sparring International (4th): 1997 |
| | P.K.C Self-Defense International (2nd): 1999 |
| | Physical Fitness Award: 1998 |
| | Co-Captain of Competition Team: 1998, 1999, 2000 |
Kata that I Run Taught To Me By Sensei Johnson: Wansu; Pinan Shodan, Nidan, Sandan, Yodan, & Godan; AnanKu; Seisan; Ichi Gina Passai; Passai Dai; Gojushiho; Kusanku; Naihanchi Shodan, Nidan, & Sandan; Chinto; Bassai Dai; Matsumura Hakutsuru Sho; Sun Form; Shorinji Sanchin; Flowing Seas; Seated Meditation; and Moving Meditation 1. While I love empty hand kata my true passion is in weapons. I love the Bo staff, and know the kata Bo Jits, Bo Basics, Bo Kumite 1 &2, Yanaguwa Nu Kun Gyaku. I also know Sai Jits, Yaka No Sai, Kama Jits, Bo Sai Kumite, and Nagamine Nunchuku Sho.
Kata That I Run Taught To Me By Master Yates and Master Vance: Rohai, Chikin Bo, Kuda Nu Bo Shodan, Kuda Nu Bo Nidan, Kuda Sai Sho, Kuda Tonfa Sho, and Kuda Kama Sho.
Promotion Dates (Shorin-Ryu):
White 8th Kyu (The Beginning)
10/21/94

Yellow 7th Kyu
6/15/95
Blue 6th Kyu
8/28/95
Green 5th Kyu
4/29/96
Purple 4th Kyu
7/10/96
Brown 3rd Kyu
2/26/97
Junior Black Belt 2nd Kyu
4/26/97
Junior Black Belt 1st Kyu
skipped
Black Shodan (learning to teach)
10/24/98
Black Nidan (learning to teach)
10/24/00
Black Sandan (instructor)
12/22/03
Black Yondan (instructor)
10/07/05
Black Godan (instructor)

12/01/06

Black/Red and White Rokyudan (master)
Black/Red and White Nanadan (master)
Black/Red and White Hachidan (master)
Black/Red Kudan (grand master)
Black/Red Judan (grand master)
Promotion Dates (Brazilian Jiu-Jitsu):
| | |
| --- | --- |
| White Belt (The Beginning) | 8/12/2009 |
| White Belt: One Stripe | 9/29/2009 |
| White Belt: Two Stripes | |
| White Belt: Three Stripes | |
| White Belt: Four Stripes | |
| Blue Belt | |
| Blue Belt: One Stripe | |
| Blue Belt: Two Stripes | |
| Blue Belt: Three Stripes | |
| Blue Belt: Four Stripes | |
| Purple Belt | |
| Purple Belt: One Stripe | |
| Purple Belt: Two Stripes | |
| Purple Belt: Three Stripes | |
| Purple Belt: Four Stripes | |
| Brown Belt | |
| Brown Belt: One Stripe | |
| Brown Belt: Two Stripes | |
| Brown Belt: Three Stripes | |
| Brown Belt: Four Stripes | |
| Black Belt | |

Kata History Masters Main Terminology Justin Hayes Sensei
Links Sensei Rankings Constants Sign Guestbook View Guestbook