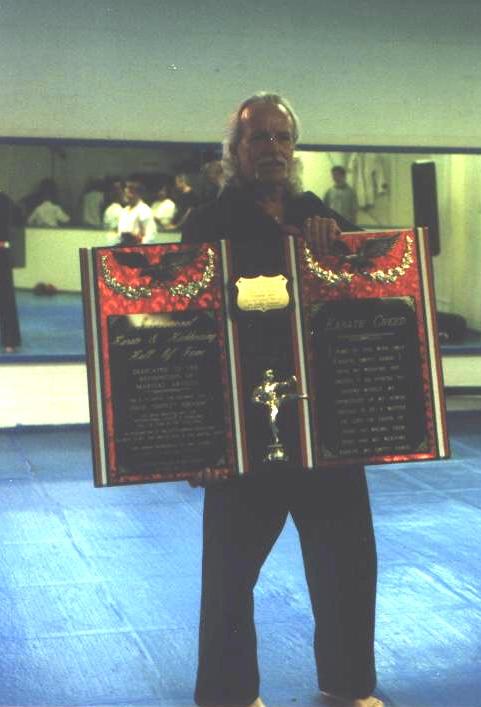 Master Johnson started training in the Martial Arts with boxing in the U.S. Navy in 1956. Mr. Johnson has stated that he started boxing in an attempt to find a source of identification. After much success in the boxing ring Mr. Johnson felt that he had found some more self-confidence, but still not an identity. After being discharged from the Navy he continued boxing only on an off again, on again basis. Still trying to find some identity Mr. Johnson decided to take up karate. Karate did something for him that he had never expected. It opened his eyes to the truth about being a human being and having compassion for others. Mr. Johnson truly found a source of identification from karate. He has spent his interior life since then studying, practicing, developing, and teaching the art that he came to love.
Mr. Johnson initially started in the Matsumura Orthodox Shorin-Ryu System under Roy Thomason (a personal student of Fusei Kisei and Hohan Soken for seven years). Since then Master Johnson has trained under very prominent names. He has studied Chinese Kenpo under Jim and Al Tracy, Japanese Gensi-Ryu under Robert Fryer, and Okinawan Goju-Ryu under Glenn Kenney. Mr. Johnson was able to study Kajukenbo with Al and Ben Dacascos, and full contact and tournament principles with Joe Lewis. Most recently Mr. Johnson was worked with Ronald Lindsey in the White Crane System and Matsumura Seito Shorin-Ryu under Master Phillip Koeppel.
Mr. Thomason awarded Mr. Johnson his shodan in Matsumura Orthodox Shorin Ryu. Shortly after being award his shodan, Mr. Johnson opened his first official dojo in Kettering, OH. Al Tracy, Jim Tracy, Joe Lewis, and Ray Kleinberg sat on the board and promoted Mr. Johnson to the rank of Nidan in 1972. He attained the rank of Sandan in the spring of 1974 in Matsumura Orthodox Shorin-Ryu under Master Koeppel and the United States Karate Association. Later that year, Master Johnson received his Sandan in the Tracy Organization. In 1975 he received his Sandan in the Okinawan Karate Federation under Hohan Soken, Fusei Kise, and Glenn Premru. After obtaining the rank of Sandan Master Johnson was asked to choice an animal that he felt reflected him, his choice was a koala bear. Sensei Johnson has used this animal on a patch to award to students the he feels reflect the true meaning or understand the true meaning of karate-do. Since his decision to use the koala patch, Mr. Johnson has only award five of his students with this prestigious award. In 1977 Master Johnson reviewed all the kata of Matsumura Orthodox Shorin Ryu with Master Glenn Premru (Head of the Okinawan Karate Federation (at that time)) and was promoted to Yondan that year in the Okinawan Karate Federation under Hohan Soken, Fusei Kise, and Glenn Premru. That same year Mr. Johnson was promoted to Yondan in the United States Karate Association under Master Koeppel. After numerous more years of teaching and studying Mr. Johnson was promoted to godan by Master Koeppel and Master Lindsey. At the promotion they also award Mr. Johnson the title of "Renshi". Mr. Johnson's promotion to godan was in 1984. Mr. Johnson continued to train and he continued to teach students at his Dojo. Master Koeppel and Master Lindsey continued to stay in contact with Mr. Johnson and promoted him to the rank of 6th degree and "Master" in the art of Matsumura Seito Shorin-Ryu. Master Johnson was promoted to 7th dan in March of 1997 by Mr. John Townsley and the title of "Koshi Sensei" in Matsumura Orthodox Shorin-Ryu. Master Johnson currently teaches at the local YWCA in Muncie, IN. On February 18th, 2006, Master Johnson was promoted to the rank of 8th dan and the title of "Hanshi" (see Sensei Ranking page). This promotion was performed at the 1st Indiana P.K.C tournament to the complete surprise of Master Johnson. Master Glenn Keeney, Master Phillip Koeppel, Master Eddie Bethea, and Master Ronald Lindsey were on the promotion board for Master Johnson's promotion!
Hanshi Johnson was inducted into the International Karate and Kickboxing Hall of Fame in December, 1997. Mr. Johnson is currently the style head of "Shorin Ryu Hayashi" for the United States Karate-do Kai. Mr. Johnson spent numerous years as the state direct of Indiana for the Professional Karate Commission. Mr. Johnson has trained numerous state and national karate champions that competed with the P.K.C. (including but not limited to Robin Kochell, Justin Hayes, Gary Huff, Chris Thurston, Justin Waters, Josh Waters, and numerous others). Master Johnson has trained numerous students in boxing and kickboxing throughout his career. He continues to teach what he sees as the four aspects of karate: traditional karate, tournament karate, full contact karate, and practical karate. Mr. Johnson teaches the differences and the interactions of these four aspects to his students. Hanshi Johnson continues to teach the system of Shorin-Ryu in its purest form, while still allowing it to grow and adapt to current times. Mr. Johnson maintains the traditional kata of the Shorin-Ryu system as close to the originals as he can.
Master Johnson is working on taping all the forms and basics of the system on video. This will be a comprehensive coverage of the system that Master Johnson has refined over the past 50 years of his training! Master Johnson is also working on the creation of the "National Akari-ki Karate Kobudo Association" which will be dedicated to the promotion and continuation of Akari-ki Shorin-Ryu!!!

| | |
| --- | --- |
| Black Belts Under Master Johnson | Dan Rank |
| Doug Yates | Hachidan (8th) |
| Justin Hayes | Rokudan (6th) |
| Craig Bailey | Rokudan (6th) |
| Don Thomas | Godan (5th) |
| John Patterson | Godan (5th) |
| Jeff Hinds | Sandan (3rd) |
| Dale Holzbauer | Sandan (3rd) |
| Tim Moore | Sandan (3rd) |
| Jim Waters | Nidan (2nd) |
| Gary Huff | Nidan (2nd) |
| Ken Ward | Nidan (2nd) |
| Mike Day (Deceased) | Nidan (2nd) |
| Bob Stegall | Nidan (2nd) ((4th)) |
| Mike Walker | Nidan (2nd) |
| Steve St. John | Nidan (2nd) |
| Mick Alexander | Nidan (2nd) |
| Rick Turnpaugh | Shodan (1st) ((5th)) |
| Chris Thurston | Shodan (1st) |
| Elmer "Buck" Louis | Shodan (1st) |
| Jim Angello | Shodan (1st) |
| Robin Kochell | Shodan (1st) |
| Trent Spangler | Shodan (1st) |
| Brain Bell | Shodan (1st) |
| Wayne Russell | Shodan (1st) |
Koala Patch Recipients
Craig Bailey
John Patterson
Gary Huff
Bob Stegall
Brian Bell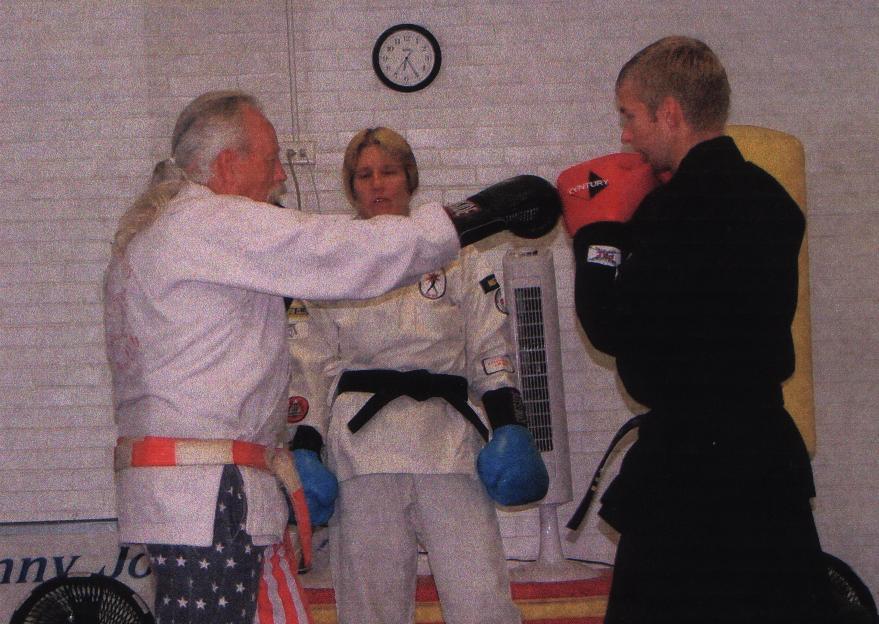 Sensei Johnson teaching Justin Hayes and Robin Kochell on the finer points of the jab.
*The Rankings shown on this page are the rank that the person has obtained under Master Johnson, if another rank is known for a person that came from another instructor than I have placed it in double parentheses.

Kata History Masters Main Terminology Sensei