Drivers Gallery
In de Drivers Gallery there will be published not only the welknown 50cc drivers from the past. But also enthousiastic drivers of to day. In Holland we know many of them from the 60 and 70 years. But when we get pictures and enough information of enthousiastic drivers we will make a page of them too.
Most material we have comes from talks and corresponding by e-mail, or from archives of old drivers, old motormagazines, some websites and from memories of my brother en me of the perod end sixteeth. Because we have much information, but also less time, this will written be bit by bit on this website.
In the Gallery of Engines we will showw some famous 50cc names as Honda, Suzuki, Kreidler, Derby an of course the Dutch Jamathi.

Ian Plumridge
Ian Plumridge is one of the famous drivers from the UK. And he is still active in the 50cc sport. Look to his beautyfull Honda CR115 replica.

Henk Put
After more than 10 years, stil the Dutch Record holder in 2 classes. The 50cc and the 250cc. The 50cc time is even far under the FIM WR. But the time of the 250cc is even more spectacular, because of the hightech which is used. During my visit I met a very kind and still very enthousiculaire sprintdriver.

Family van den Goorbergh
When we showed in 2001 a picture from 1966 of a soccergame of drivers at that time, we imediately got many e-mails. Also from Kees van den Goorbergh (old driver and uncle of Jurgen). We have got many nice pictures of a greatest racing fammely we ever had in Holland. On 50cc racing we would have made another choise to be the first in this Gallery but as a racing fammely I could not find a simmulair one. So the honor is well deserved by van den Goorbergh.

In this subject we mention some names we do have in mind:
Angel Nieto, Hans George Anscheidt, Rudolf Kunz, Ralf Brians, Ernst Degner, Luigi Taveri, Hugh Anderson, Eugenio Lazzarini, Ricardo Tormo, Kneubuhler, Athur Lawn, Martin Mijwaart, Paul Lodewijks, Jan Bruins, Jan Huberts, Cees van Dongen, Jan Thiel, Herman Meyer, Aalt Toersen, Henk van Kessel, Jan de Vries, Theo Timmer, Jan Bruins, Pierre Kemperman, Cees en Aad van Koeveringe, Jos Schurgers, Willem Groenewold, Jan van Leeuwen, Ton Daleman, Piet en Ferry Brouwer, Ruud en Ed Loers, Hans de Wit, Jan Zoombelt, Teunis Ramaker, Gerrit Strikker, Joop Stap, Gerard Mostert, Johan en Gerard van Schie, Jan Nyhuys, Piet Plompen, Henk Put, Gerard Willemse, Goos Letterman, Wim Struik, Rob Bron, Bob Pot, du Chaternier, Jan Kostwinder, Ricus and Luc Foekema and I'm sure to have forgotten someone, but no problem this list can be changed.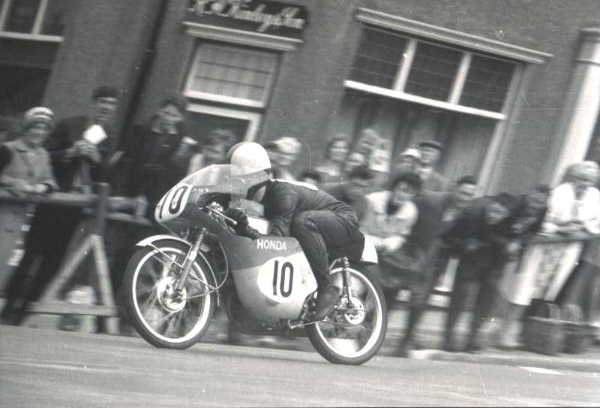 Ian Plumridge on his Honda CR110, in very high speed at the bottom of Bray-Hill in the Ilse of Man TT course in 1963.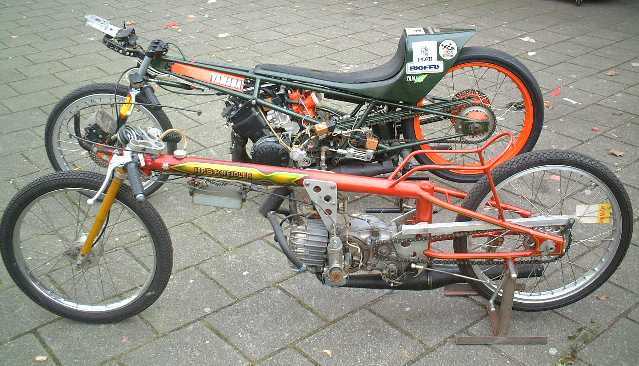 Henk Put Specials 50cc Kreidler and 250cc Yamaha both Dutch record holder in sprint, even under the FIM WR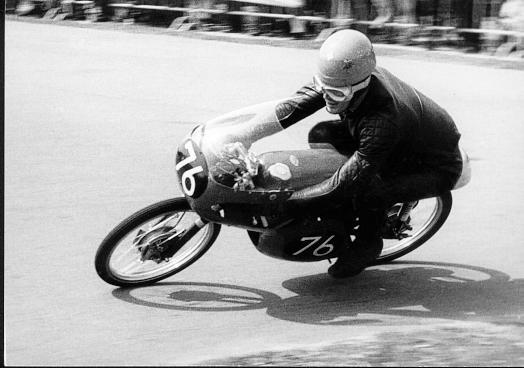 Piet van den Goorbergh, on his fast Tohatsu 50cc 2-cyl. factorybike at Rockanje 1965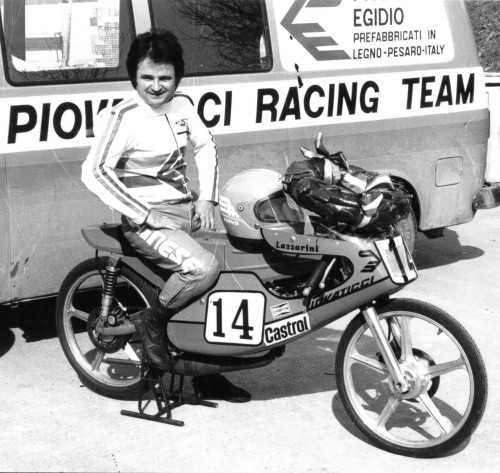 Eugenio Lazzarini on the Piovacitti 1975, see Jamathi page.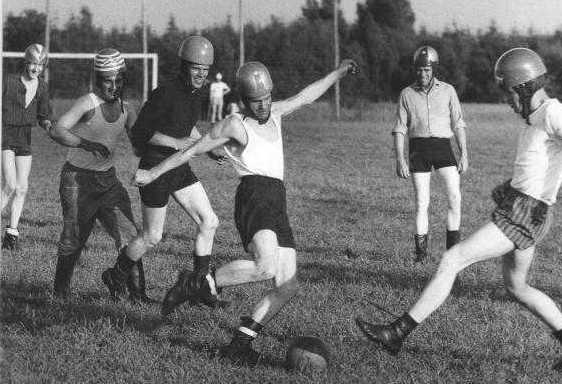 1966 Racing Team West against Racing Team Breda.
Cees van Dongen shows he is a good soccerplayer aswell. Left and right Piet en Kees van den Goorbergh waiting there chances.


Gallery of engines
In the Gallery of Engines we show you famous racingbikes from the past. There is much material, so it will last long before this page will be completed.

Jamathi
There are two 50cc engine names in Holland, who domminate several years in the GP period, between 1962-1982. That are the VanVeen Kreidlers and the Jamathi's.
Henk van Veen has made Kreidler in GP more wellkwon than the Factory ever did, with 5 World titels. an unbelevable succes.
But he had also the big successes of Kreidler sales at that time, which he needed to pay the high expenses.

The other wellknown Dutch name Jamathi did not have any money. The people behind this project did, what most people think of, that it is impossible. All energie you have, time you have, money you have will be spend in such a project and I know they did, because I was racing 50cc in the same time they did. All 50cc drivers at that time are looking at them, because what they are making we would like to do the same. But also which such an effort, many things go wrong. You have to find out every thing by yourself. In those days you could look at the factory engines when they are in Assen during the Dutch TT. All the factory engines where prepared not behind close doors, no, just like we did in the outside. But we could only look the factory engines from the outside ofcourse. Have a look in the inside was not possible. But also on the outside you can see many things which is important to know. In 1967 the Japaneese factories decided to stop GP racing, and that was the chance for small factories and private teams as Jamathi, VanVeen Kreidler and Derbi the start the competion on the GP level. After 6 years of developping Jamathi had his first big succes. They won in 1968 the Dutch GP. Paul Lodewijk defeated the WorldChampion Hans George Anscheidt on his Factory Suzuki twin.
The worldpress was excited, "Home-made 50 wins Dutch TT". Winning the worldtitel was the next. But that has never happened. In 1969 Nieto coursed a craish of Paul Lodewijk, otherwise he would be the 1969 World Champion. With Aalt Toersen as the new driver, they were two times very close to the title.
However I'm a Kreidler fanatic, the name for which I have the most admiration is Jamathi is.
Besides, also Jan Bruins has succeed to win a 50 GP on a home-made Kreidler.
But we will also pay attention to other famous 50cc names as: Honda, Yamaha, Derby, Suzuki, Thomos, Itom and Tohatsu.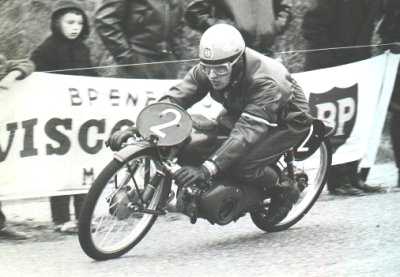 Very low builded quantity-produced Kreidler, as they were builded many in Germany. Cees van Koeveringe the first one in Holland who also had such an engine (Rockanje 1965).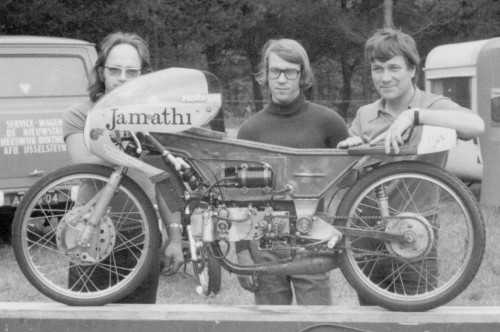 The Jamathi Team in 1972, left to right: Jan Thiel, Theo Timmer and Martin Mijwaart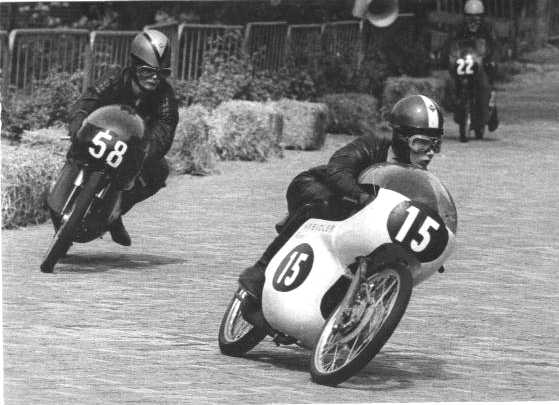 Rockanje 1966, 3 Kreidlers: 15 Jan de Vries on the 12V factory Kreidler of 1963, 58 Luc Foekema on a home-made 4V Kreidler and 22 Herman Meyer on the engine bought from Cees van Koeveringe (see above picture) but now with a streamline and with a homemade rotery disk valve.


If the English version is not ready, you will be automaticle passed to the Dutch version
Home News Events Sprinting Roadracing Records Classic-Racing Technical Sponsors Links