Subscriptions
About the magazine. Our magazine is published from November - April giving girls six monthly issues per subscription. We also run a farm with our family so we are not able to publish during the summer. We began this magazine in November of 2002.
Spread the word. Please let us know how you like the magazine and let your friends know about us. We can use your comments and ideas, too.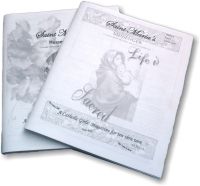 New Layout.
We began last December with a brand new layout of
Saint Maria's Messenger
. For now on we will have
only one version
of the magazine. A folded over stapled version (as shown at the side). The size is 7 x 8-1/2 with at least 24 pages per issue.
There will be no more Spiral Bound!
---
How to order
We accept

and checks
Checks. Please fill out the form below. We will then send an email to confirm order. Please print out confirmation email and send along with check. Pay to the order of Magicland Publications. Our mailing address can be found on our Contact Us page.
Paypal. Fill out the form below and we'll send you an invoice via Paypal. Remember, you don't have to be a Paypal member to purchase a subscription or back issue. Don't worry, everything is safe and secure with Paypal!
Prices
For one subscription which is 6 issues: $12.00 U.S. / $16.00 CAN / $20.00 Other countries
For a single issue: $2.50 U.S. / $3.50 CAN / $4.50 Other countries
If you prefer a specific single issue, please tell us which month and year you would like by checking them off in our order form, below. Please browse through our back issues for deciding which one(s) to order.
Ordering form
Note
: You must be 18 years or older to subscribe. All fields are required, except the ones marked "optional." Also, please specify what you would like to order by checking the boxes.