Trade with an Edge
Forex Signals and Trading Alerts
There are some useful online trading sites that specialize in providing forex signals and trading alerts for harmonics traders. These are the ones I use and can highly recommend them.
Chris Hall's FxGroundworks.com
Scott Carney'sHarmonicTrader
They save a lot of time identifying trading opportunities, and are very useful for discussions of the merits of the alerted patterns and trades with the mentors and other traders.
You can also download pdf's, training videos and watch recorded webinars related to harmonic trading.
Details on each one are below:
FxGroundworks is a real-time forex signal or pattern alert service. They provide forex signals for all major currency pairs and across all time frames, including gold, silver and S&P. Typically over 400 pattern alerts occur every day.
You can filter the alerts according to a range of criteria (e.g. currency pairs, timeframes, pattern types, and risk/reward ratio). So, if you want, you only get alerted on those opportunities you want to zero-in on.
And you can elect to receive your alerts by email - which can be routed to your mobile phone or PDA device.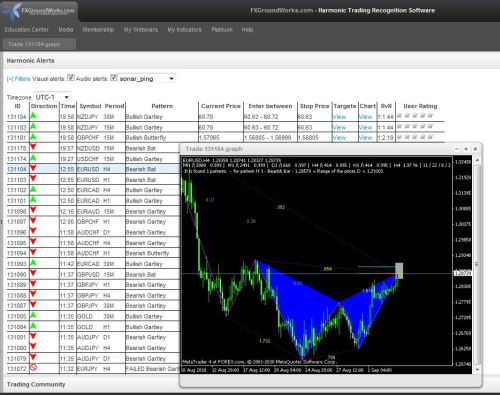 FX Harmonic Alerts - FxGroundworks
They also have a very active chat community, and great information and education services and support provided. Chris Hall is a superb mentor and runs a live trading room three times a week, as well as appearing in the chat room daily.
FxGroundworks also offer a range of services such as:
Workshops and Webinars
Video Education Center
Chat With Users & Mentors
Real-time Alerts for 24 currency pairs on multiple timeframes
Free Pattern Recognition Software download
Quizzes and Tests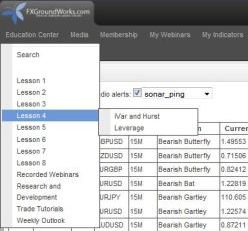 Education Center - FxGroundworks
Education Services
Education videos
Recorded Webinars
Weekly Outlook videos
Research Materials
Take the Forex Trading Guide Video Tour and check them out for yourself.
Scott Carney's HarmonicTrader members community provides a traders advisory service which also includes alerts for stocks and indices too. Scott's forex signals or alerts are provided on an ad hoc basis and holds webinars for paid-up members once per month.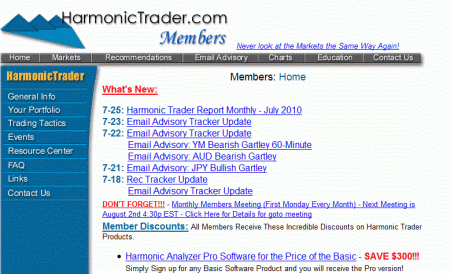 www.harmonictrader.com - members area
Scott Carney is one of the pioneers in the field of harmonic trading. He has devoted himself to measuring, quantifying and documenting the price-movements of the markets.
In particular he discovered the Bat Pattern and Crab Pattern, and was the first to precisely calibrate the other harmonic patterns using Fibonacci ratios.
His HarmonicTrader members site offers email advisory services on forex, indices and stocks trades - and an online webinar style monthly members trading community meeting, hosted by Scott himself.
Other resources are also available - including some free pdf and video downloads. You can also purchase Scott Carney' harmonic trading books Vol 1 & 2 - which I strongly recommend you read, if you are serious about trading harmonics.
Further reading on these pages about harmonics