Trade with an Edge
Trade Identification - Looking Ahead
Looking ahead is the best way I know of trading. I like this quotation....
"Chance favours the prepared mind."
(Louis Pasteur - Scientist)
And being in a mode of anticipation and independent of pattern software makes me more objective when it comes time to enter the trade.
I trade harmonics in conjunction with strong Supply/Demand zones and get confirmation signals from RSI reversal/divergence signals.
All can say is - it works for me. This is what I do.
Every Sunday evening I scan all the Daily and H4 charts of pairs I am happy to consider trading (about 20 of them ) and make a note of the key Supply and Demand areas. It doesn't take long - about 10-15 mins.
I also scan the H1 charts at the same time (but also during the week on an ad-hoc basis) - and make a note of any strong Supply /Demand zones that coincide with those on the higher TF's. Those are the Supply/Demand zones I am most interested in.
Next, on H1 and H4, I look for any emerging patterns. An emerging pattern is one that is not complete yet - it may have made a viable XAB or even a viable XABC - but not a D yet. When I have found one, I set alarms and track it's progress during the next hours and days.
By viable XAB, I mean a good X that was made as a result of a significant drive down or up - and which made a recognizable swing-point on a higher time-frame. Plus where the B complies with any of the valid B ratios on any harmonic pattern - eg 382xa-50xa for a bat, 382xa-618xa for a crab, 618xa for a Gartley, 786xa for a butterfly, 886xa for a deep crab etc).
Here's an example of one I was tracking for a few days.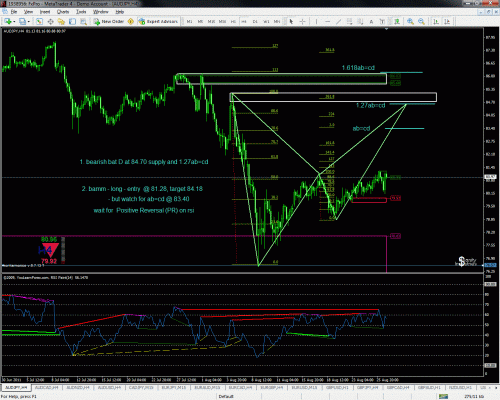 Click for larger picture
In particular, I am looking for emerging patterns where the D - the PRZ - is likely to complete at a daily or H4 supply or demand zone. The white rectangles are the daily or H4 Supply areas on this chart. You can see some important fib ratios for this possible Bat Pattern are close to a key Supply area.
Also the latest RSI dip indicated a Positive Reversal - which means we expect price to continue upwards (it did later), and so this Bat pattern scenario remains feasible, so far. If the RSI indicates a Negative Reversal - then I would start to doubt this pattern is going to work out.
I set an alarm at the 886xa and simply wait for it to be hit.
At this stage, these are just scenarios ( possibilities ) - but many of them turn out to be viable trades - although some don't of course.
It means I know about a possible trade many hours or days (sometimes weeks) in advance of the pattern actually completing - making pattern recognition software and real-time alerts somewhat irrelevant.
When price gets to the PRZ - I check RSI to see if there is a Positive Reversal or Negative Reversal signal.
If so, then I'm ok to place an order with a tight stop.
I usually post the possible scenario trades on twitter and also sometimes here on my blog on Scott Carney's site - http://www.harmonictrader.com/harmonictraderfx/