Trade with an Edge
Harmonic Trading Community Sites
I have been a member of most harmonic trading communities at one time or another, and have got to know which ones provide the best value - and which don't. This page provides information about harmonic trading community sites which I believe offer true value.
Chris Hall's FxGroundworks.com
Scott Carney's HarmonicTrader
Details below:-
I joined FxGroundworks when they first started up in mid-2009 when i was relatively new to harmonics. It's a real-time pattern alert service primarily, with some very good information and education services and support provided.
I would say it's very useful for their target audience - novice harmonic traders - because of the good basic educational webinar content and frequent (3-4 times a week) hourly mentoring webinars. Without a doubt you will learn a lot.
But if you already have a good knowledge and experience of harmonics, then it may not be so useful.
Their real-time pattern alerts are produced using modified "Zup" and "Search_patterns" indicators which you can download for free from their site (you have to enter a fxgroundworks licence key - available to subsribers only). However, zup and search_patterns finds as many invalid patterns as valid ones (see Limitations of pattern reognition softwares - and so you still have to verify the patterns for quality yourself using the fib tool.
(Note: Zup and Search_patterns are also free downloads from many other places on the internet, without the need to enter a licence key) - including from this website - see free pattern software downloads).
Chris Hall is a good mentor and runs a live trading room 3-4 times a week, as well as appearing in the chat room daily. These example screenshots give an idea what they provide.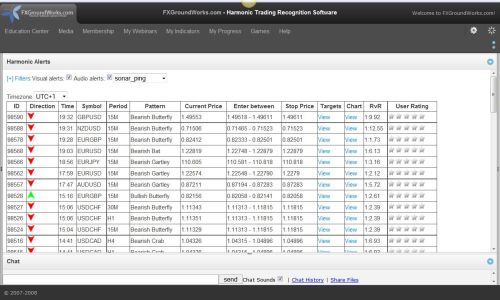 FX Harmonic Alerts - FxGroundworks
Take the Forex Trading Guide Video Tour and check them out for yourself.
fxgroundworks "HAT" - Harmonic Automatic Trader
The HAT service (they don't call it an Expert Advisor - but thats what it is essentially) allows users to trade harmonics "semi-automatically". It finds patterns and enters a trade, with a stop-loss, automatically based on over 50 checks and according to various user-defined parameters. Then, the rest is up to you - to manage and complete the trade yourself.
Currently (8/2011)- HAT costs $2388 per year, up-front fee or $1494 for 6-months.
At the time of writing (Aug 2011), I have not yet seen any objective, independently-reviewed, win/loss statistics - nor any positive testimonials from real-life users' experiences. So I cannot say how effective it is.
Fxgroundworks chat room is set up as a kind of 2-tier system. If you buy their HAT service then you have a special dedicated chat room which non-HAT users are unable to attend.
HarmonicTrader - (Scott Carney)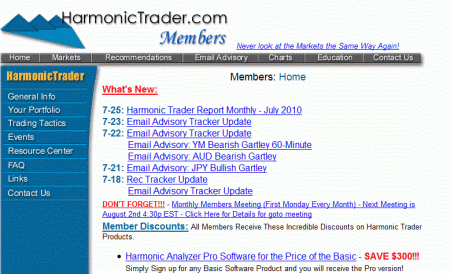 www.harmonictrader.com - members area
For me - if fxgroundworks is high school education - then HarmonicTrader is college education. This is the place to really understand the harmonic patterns, how to trade them and learn advanced trade management techniques.
Scott Carney is one of the pioneers in the field of harmonic trading. He has devoted himself to measuring, quantifying and documenting the price-movements of the markets.
In particular he discovered the Bat Pattern and Crab Pattern, and was the first to precisely calibrate the other harmonic patterns using Fibonacci ratios.
His HarmonicTrader members site offers email advisory services on forex, indices and stocks trades - and an online webinar style monthly members trading community meeting, hosted by Scott himself.
Other resources are also available - including his books on harmonic trading which are for sale and a variety of specialist harmonic trading courses.
Scott has developed a Certified Harmonic Trading Educational Webinar Series.
Over 15 hours of educational lessons narrated and presented by the original Harmonic Trader, Scott Carney!
Click here to learn Harmonic Trading from the creator of the entire approach.
Other harmonic trading sites
I am somewhat familiar with some of the other harmonic trading sites out there. Email me if you would like my personal opinion.