Trade with an Edge
Forex Trading Guide - Harmonic Pattern Software
This forex trading guide page describes where to get harmonics pattern software tools, and how to set them up on your pc. This will help you get started on your harmonics trading journey quickly.
You can download free tools from this page below, and many other places on the internet. But you have to be careful with the free pattern recognition tools - as they produce many invalid patterns that should not be traded, along with the valid ones.
There are also the "not free" tools - in other words you have to pay for them. They are far better quality. But - hey - quality always come with a price.
HarmonicAnalyzer (TM) - Pattern Recognition Tool
If you're looking for a quality harmonic tool that recognises only valid patterns (and, of course, if you are a serious professional trader, why would you not want one!) - the one I am familiar with, and so can recommend, is the HarmonicAnalyzer from Scott Carney's website HarmonicTrader.com.
You can try it out on trial for as little as $14.95.
At first, it is a little more complicated to use than the free stuff - but then it's doing a proper job of finding good patterns for you.
fxgroundworks "HAT(TM)" - Harmonic Automatic Trader
The fxgroundworks HAT service (they don't call it an Expert Advisor - but that's what it is essentially) - was released around May 2011 and allows users to trade harmonics semi-automatically. It finds harmonic patterns and enters a trade with a stop-loss automatically based on over 50 checks and according to your user-defined parameters. The rest is up to you - you then manage and exit the trade yourself.
Forex Trading Guide to the free tools
Only trade valid patterns.
Traders new to harmonics usually start off with a free pattern recognition indicator tool for use with with MetaTrader4 - such as one of those listed below.
Be careful - there are limitations. See here for more details...
Poor quality or invalid patterns are often "recognised" by the free pattern recognition softwares (doesn't matter which one).
The fibonacci ratios of all patterns produced by these tools always need to be validated with your fib tool. It's best not to trade any patterns that don't comply with the pattern specifications.
The free harmonic software tools you need to get started can all be downloaded free of charge, and without any need to sign-in or register, here.
Ready to Download?
Click on these links to download. When prompted, Save the file(s) to your desktop or another folder of your choice.
Acknowledgement: Zup was developed by Nen, a developer from Russia.
Note: This software only runs with the MetaTrader 4 software.
If your broker supports the MT4 platform, you should be able to download it from there. Else, you can download an indefinite (no time limit) demo version and/or live account version from a number of brokers - such as www.FxPro.com which is the one I use.
Instructions for installation for the free harmonic software tools:
Close down the Metatrader program
Disable any antivirus programs as they might stop your Metatrader program from adding in these indicators.
Copy the file to your metatraders "indicator" folder, for example: c:\program files\metatrader\experts\indicators
Open metatrader and you'll see the file name (eg ZUP_v82, Search_patterns_v6b and so on) in MT4's Navigator under "Custom Indicators"
Edit each indicator (Ctl-I, select indicator and then choose Edit). Check the "Allow DLL imports" parameter on the Common tab, as in the picture below.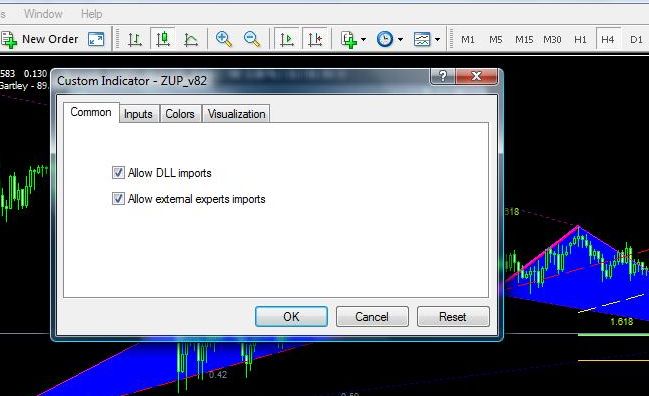 -------Forex Trading Guide - for Harmonic Traders-------