Trade with an Edge
Scaling In
Scaling in is a way to enter a trade after a harmonic pattern has been identified.
Let's say you are prepared to trade 2 lots on the trade - there are two things you can do:
Open a position with all lots at once.
Scale-in. Open 2 different positions at different levels inside the PRZ
The disadvantage with the first way is - because the PRZ is a zone, not an exact point, there's no way of knowing exactly where the reversal in the PRZ will happen.
A better way of entering a trade is known as scaling-in.
For example. by opening 2 positions, 1 lot each, on the trade, at different levels in the PRZ - so that the average entry price is about 50% of the PRZ - we have a better chance of "catching" the trade with at least one of the lots.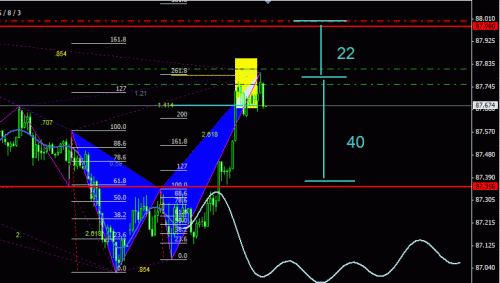 In this example, I entered two limit orders of 1 lot each, and placed them at different levels in the PRZ - so my average entry price is about 50% into the PRZ. The target is the B point of the pattern - and, in this case, the Risk/Reward ratio was just under 1:2.
The good thing about having multiple positions in a trade like this, is that when your first target is met, you can set stops to breakeven, close out one of the lots and, and let the other ride. Effectively giving you a free trade.
Sometimes only 1 lot gets triggered - as in this example. It happens. Don't forget to delete the remaining limit orders when price exits the PRZ.
Of course you can always open more positions by setting limit orders at different levels in the PRZ. It's the same principle as for 2 positions - and increases the chance of multiple lots being triggered. As before spread them over the PRZ so the average entry price is about 50% of the PRZ.
See Trade Management for managing the trade once it has been entered.
I recommend the following pages for further reading on harmonic methods.
Harmonics Basics