Trade with an Edge
Finding good trade entry opportunities
As a harmonics trader I particularly look for trade entry opportunities that offer a high probability of a reversal occurring.
Statistics show that most markets are actually in a trend only about 30% of the time. Which means markets must be in a range about 70% of the time.

It makes sense, then, to look for patterns with a PRZ at the top or bottom of a range. In particular, I look for Bat Patterns, Crab Patterns and Butterfly Patterns in horizontal ranges.
The following chart (AUD-CAD Daily) is an example of a possible bearish pattern forming, with the CD leg in the process of being formed.
If the AB=CD completes at the 0.886 Fibonacci retracement of the XA leg, the resulting Bat Pattern will be a possible trade. (I drew on the yellow lines and the pale blue rectangle, just to show what the Bat pattern could look like. )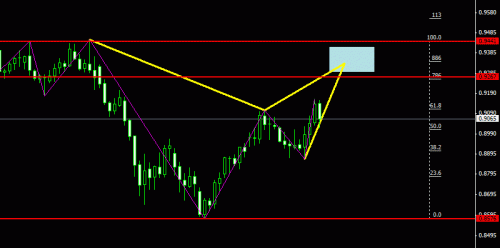 Being a daily chart - this pattern will take a few days to form, if in fact it makes a pattern at all. But that's ok, I would just wait to see how it works out. Meanwhile, there'll be plenty of other harmonic trade-entry opportunities to think about.
Channels are a kind of range too. And that's where I would look for Gartley Patterns to form. In fact, I don't trade Gartley patterns unless they are in a channel.
Gartley pattern territory
When entering the trade, stop-losses ideally need to be positioned the other side of the Support/Resistance line. However, bear in mind that orders tend to group around obvious Support/Resistance and popular Fibonacci levels. So it's best to place stops a bit wider - away from "the crowd".
Other recommended pages in this series on Harmonics Basics are: