---
ABC Middle East Brief facts prior current conflict
"palestinians", History
ISRAEL or "palestine" Which is it?
History & Meaning palestine, "palestinians"
---


OPSICK - Trouble in the Holy Land: Palestinian in Jerusalem cleric praises child 'sacrifices'

Jerusalem cleric praises child 'sacrifices'
Jihad for kids (<this one is about Arab-Palestinian children TV programming -- their version of Sesame Street ... very disturbing and sick)!
Palestinian kids raised for war
Palestinian TV urging children to kill

Pedagogy Of Hate

Presentations:
Seeds of Hate/ Jihad for kids

This is a 30 minute video about arab terrorism. Some of the reports are taken from the BBC and CNN, but others are from the PA's official television station, and show mullahs and PA officials inciting the people (incuding children, at "summer camp") to commit murder.
Untitled
Incitement, Clip Anti Western Incitement

More on this:
Arabic kids -- actors in Arafat's theater of war

Kids "Playing War" - the pictures

Palestinian authority preacher praises suicide bombing

Palestinian authority condemns parents who forbid their children to join the riots

The MAKING of a suicide bomber (nothing "random desperate", but led in coordination)

http://members.tripod.com/~YotamB/childrenseducation.pps (Caution)

Exposing Palestinian-Arab twisted textbooks for their kids
www.edume.org

Pictures - Palestinian Education

TARGET: ISRAELI CHILDREN

A Palestinian Education



Palestinian child has handgun in his lap, imitation rifle at side--Ananova

---
The "unique" teaching to dance & cheer for the murder of innocent civilians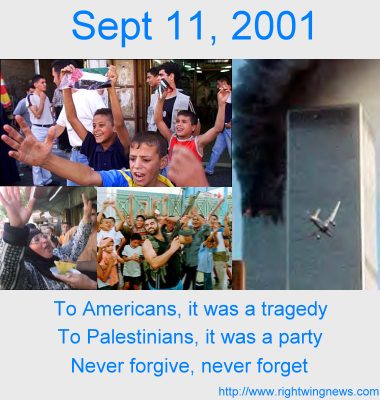 FACTS: Photos of Palestinians Dancing and Cheering Sep. 11 2001

Article & photos

Palestinians surpressing it & threatening the journalists reporting it

http://www.itn.co.uk/news/20010911/video/me_reaction17.ram

A link of a BBC audio report on the celebrations

And the attempts to lie about it Urban Legends Reference


Palestinians celebrate the Sbarro Pizza restaurant bombing of innocent civilians

11/15/2002: Palestinians Celebrate Cold-Blooded Murder

The terrorist atrocity perpetrated by Islamic Jihad in Hebron has claimed 12 lives. It was deliberate cold-blooded murder; after the initial attack, the Palestinian terrorist waited for the ambulances and rescue personnel to arrive, and ambushed them.
Then they had a big party.



The Palestinian incitement
More in this:
Palestinian incitement

---
International human rights lawyer researches the status of human rights in the wake of the Israeli-Palestinian peace process.
The Use of Palestinian Children in the Al-Aqsa Intifada


Human Rights Violations under Arab Palestinians

---
Palestinian Terrible Terrorist MOM

---
Mother Promotes Killing and Death- New PA TV Clip

---
Documantaion on Palestinian-Arabs leadership & officials:
PA, it's all here in black & white
Palestinian Minister of Justice incites to murder Israelis and to hate Americans - Nov-2003

---
The Education of (Israeli) Meira and (Vs.) Muhammed
Kids: the main force of the Palestinian Front - Israel's War Against Terror - The Education for Terror
---

The Infamous 'palestinian' Terrible School Books
---

...and someone there still tries to "tell" us that they bomb CIVILIANS out of "desperation"???
Don't we all know that these sophisticated bombs need careful ADULT PLANNING?
Don't we all know by now the Arab 'palestinian' SCHOOL of DEATHS there?
Don't we all know their HATE & CALL TO BOMB CIVILIANS SINCE THEIR KINDERGARTEN & MAINSTREAM TV etc.?
They're 'desperate' for what?
For what they've BEEN TAUGHT by ADULT "parents/teachers" to do... DYING VIA KILLING, The ultimate EVIL.

---
"PALESTINIAN" CHILD ABUSE!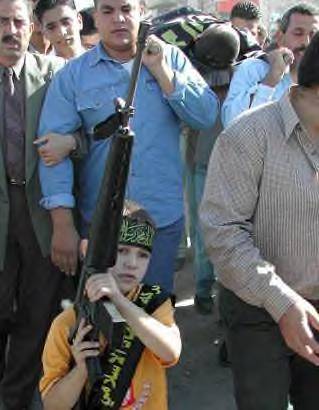 top