Paul Temple and the Geneva Mystery
First Broadcast on the Light Programme from 11 April 1965 - 16 May 1965.
Produced with Peter Coke and Marjorie Westbury.
| | | |
| --- | --- | --- |
| 1/ Too Young To Die | 2/ Concerning Mrs. Milbourne | 3/ A Note For Danny |
| 4/ A Change Of Mind | 5/ A Surprise For Mrs. Milbourne | 6/ See You In London |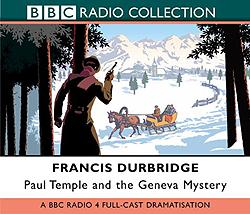 Karl Milbourne, a London publisher, is killed in a road accident while in Geneva. Paul is contacted by Maurice Lonsdale who wants him to investigate his brother-in-law's death. Lonsdale's sister, the widow Margaret Milbourne is convinced that her husband is not dead. Milbourne was planning to publish a novel titled "Too Young to Die", and the phrase keeps appearing at each turn. Who is the mysterious author - Richard Randolph? And how does the Hollywood star, Julia Carrington and her confidential private secretary - Danny Clayton fit in to the wide picture? Just some of the riddle's Temple must solve in the Geneva Mystery.
---
An article from the Radio Times promoting the broadcast of the first episode on 11 April 1965.
Francis Durbridge the author of tonight's new adventure writes about the return of radio's famous investigator Paul Temple.
After the broadcast of Send for Paul Temple - the very first serial play I wrote for the BBC - the producer Martyn C. Webster, telephoned me and said: `I think you've created two interesting characters in Paul Temple and Steve, and it's my bet they'll become established favourites.'
Many years later, when the Paul Temple adventures were being broadcast and published in numerous languages and in over twenty countries, I recalled Martyn Webster's words. At the time I felt sure he was just trying to encourage a young and very ambitious writer. But he was right!
Although Paul Temple and Steve are essentially English in outlook and background they have become firm favourites in many countries, and I am constantly receiving letters from Paul Temple fans in such faraway places as Australia, New Zealand, Canada, Fiji, and Hong Kong.
When this new serial Paul Temple and the Geneva Mystery starts, I know that I shall receive many letters asking me the inevitable question: `How did you think of the name "Paul Temple"?' Frankly, I find this a very difficult question to answer. I remember I wrote down dozens of names before that one flashed into my mind. In Send for Paul Temple the leading girl was called `Louise Harvey.' She was a journalist and she wrote under the name of `Steve Trent.' It wasn't long before Temple, and millions of listeners, started calling her `Steve' and - except in Holland where she is known as `Ina' - she's been Steve in many languages ever since.

---
Cast
| | |
| --- | --- |
| Paul Temple | Peter Coke |
| Steve | Marjorie Westbury |
| Maurice Lonsdale | Patrick Barr |
| Margaret Milbourne | Isabel Dean |
| Julia Carrington | Polly Murch |
| Danny Clayton | Nigel Graham |
| Vince Langham | Simon Lack |
| Insp. Lloyd | Wilfrid Carter |
| Charlie | John Baddeley |
| Lucas | Pat Connell |
| Den Roberts | Alan Haines |
| Dolly Brazer | Isabel Rennie |
| Stone | Frederick Treves |
| Green | Anthony Hall |
| Doctor | James Thomason |
Prepared by Greg Marshall. 24 May 2003.
Thanks to Ian Beard.