Paul Temple and the Alex Affair
First broadcast from 26 February to 21 March 1968.
Radio 1 & 2 - Mondays & Thursdays
Produced with Peter Coke and Marjorie Westbury.
| | | | |
| --- | --- | --- | --- |
| 1/ Mrs. Trevelyan | 2/ Dr. Kohima | 3/ Mr. Carl Lathom | 4/ Mr. ' Spider' Williams |
| 5/ Mr. Wilfred Davies | 6/ Mr. Leo Brent | 7/ The Girl In Brown | 8/ Introducing Alex |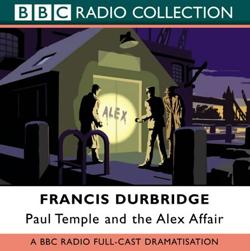 Paul Temple is busily at work on a new novel as the newspapers cry out "Scotland Yard Sends for Paul Temple". He is visited by Sir Graham Forbes & Inspector Crane, who outline their concerns over the "Alex" murders. So far Richard East and Norma Rice have been the victims, and on each occasion the word "Alex" was left scrawled at the scene. Temple tells them he is too busy on his new novel to be involved in the mystery, but his interested is captured as he is about to appear on the BBC panel show "Question Time", when one of the other guests, Sir Ernest, collapses and says to Temple "there's something I want you to know, I want to tell you about Alex..." before he expires. On the way home from the broadcast, someone tries to run the Temple's car off the road. Is this a warning to stay out of the "Alex Affair"?

---
Radio Times February 22, 1968
`An' it don't seem a day too much!'
Martyn C. Webster writes about Francis Durbridge's new Paul Temple story.
More than thirty years ago, as a young man - Francis Durbridge had already written several musical comedies for radio, and dozens of sketches and and lyrics for topical revenues - all of them written with his characterristic competence and zest. But although his name was well known and his work was already being broadcast in many countries, he was hankering after something else. And eventually I found out what it was.
As an avid reader of just about every play ever published he had become something of a stage encyclopaedia, but there was one author for whom he had the greatest admiration. One day he said to me, `If only I could be half as good as Edgar Wallace.' I was surprised as I thought Wallace rather dated. Durbridge would not agree; he considered him the best craftsman in his class. (A million copies of his books were re-issued shortly afterwards!)
`So that's what you have been hankering after; you want to write detective stories?' I asked. `I'm afraid I do,' he replied. `Well, I have hankering in the same direction: I've always wanted to produce a serial with an original radio detective. I'm tired of adaptations of Sherlock Holmes and so on. So why not have a shot at creating an original radio sleuth?"
He just smiled. But next morning he rang me. `I've been thinking it over and I'd like to have a shot. In fact I've already thought of a name - Paul Temple - how does it sound to you? It sounded just right to me, and must have sounded `just right' to listeners too, for on the morning after the broadcast of our first episode we had over seven thousand letters asking for more.
And so Francis Durbridge realised his ambition, and became a writer of detective stories whose hero was to become known all over the world. And I have been lucky enough to be producer of all the Paul Temple serials. But in recent years, with Durbridge so busy on his television and film work, it has been almost impossible to get a new Temple serial.
Last October I was due to retire and was sad at the thought that I would never produce another `Temple.' But the week before I actually did retire, Durbridge came into my office carrying a parcel. `A little present for you.' he said. I opened it and found the scripts of a new Temple serial.
Cast
| | |
| --- | --- |
| Paul Temple | Peter Coke |
| Steve | Marjorie Westbury |
| Sir Graham Forbes | James Thomason |
| Mrs Trevelyan | Barbara Mitchell |
| Dr Kohima | Rolf Lefebvre |
| Carl Lathom | Simon Lack |
| Wilfred Davies | Basil Jones |
| Leo Brent | Denys Hawthorne |
| Inspector Crane | Haydn Jones |
| Ricky | Frank Henderson |
Prepared. 20 September 2003.
Thanks to Ian Beard