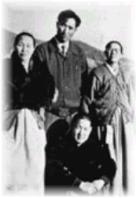 ~Sun Myung Moon has spanned the gamut of lifes peaks and valleys. Originally welcomed as an enthusiastic Christian Minister from Korea, and even given the "Keys To The City" at various functions by Mayors and other elected officials, Sun Myung Moon quickly lost his initial acceptance as charges of "brainwashing" and "separating young people from their families" began to fill News Headlines nationwide. Assisted by the moral depravity of the 60's generation, and appealing to a disenfranchised youth, searching for "something" even "anything" to give them direction, meaning and purpose. Moon's message appealed to a rebellious generation, rejecting the spiritual traditions of their parents and grandparents.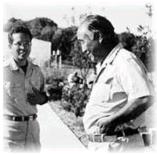 ~The Mass Suicide of Jim Jones and his followers did nothing to repair Moon's broken image in the public's mind. The headlines continued. Moon went to prison, convicted of conspiracy and tax evasion, and from the bowels of a prison cell, Sun Myung Moon renewed himself yet again. He began a major secular newspaper The Washington Times and started many other organizations to establish himself as a permanent fixture on the American Landscape. He positioned himself as a Power Broker in The Nation's Capital through the use of the newspaper, political lobbying groups and what appeared to be endlessly deep pockets that he opened up to the many politicians, celebrities, religious leaders, and all other unscrupulous people who were in positions to aid Moon's bid for power and legitimacy while quietly winking at the sleazy benefactor they opened their wallets up to.
~It appeared that Moon would indeed become that "Permanent Fixture" to the American Landscape that he desired to be, but what the Media, and Congress, and American Prisons could not accomplish, Sun Myung Moon did to himself. His church is now in disarray in America, he has been forced to move the nerve center of his movement to Uruguay, and abandon the country he so desired to control. The sordid details are no longer hidden, of Moon's lurid lifestyle (Read The Article). A daughter in law, Nan Sook Hong has written a scathing account of the disgusting lifestyles of this "False" Family as only an insider could, in addition to all this, a natural daughter has gone public on 60 Minutes to state that the accounts in Nan Sook's Book "In The Shadow Of The Moons" is in accordance with what she witnessed and heard as Moon's own daughter. Former high-level leaders are leaving the movement in droves, and some have even sued it's founder, Sun Myung Moon, for financial support and retirement benefits, for what they see as a lifetime of service without compensation.
~Moon's alleged affairs and children produced from adulterous relations, seem to add important evidence to the accusations of infidelity and sexual promiscuity that have plagued Moon throughout his life. No longer can they flippantly claim that the accusations are simply "tired rumors" from jealous Christian Ministers in Korea. Now there are names and faces and detailed accounts from his own family members. As award winning journalist Robert Perry confided to me "I suppose that it is possible that everyone else is lying, and Sun Myung Moon alone, telling the truth, but that is highly unlikely." Indeed. When evidence and testimonies are consistently provided, time and time again, it becomes obvious that it is Moon who is lying.
~Here in this section, you will find a biography of Sun Myung Moon, former member's comments on Moon's Lurid Lifestyle, what Moon is up to now, details of his Wealth and Power, and why I claim that Moon Cannot Be The Messiah.
---

TOPICS FOR THIS SECTION
---
| | |
| --- | --- |
| Moon Biography | Moon's Unforgivable Sin |
| Moon's Lurid Lifestyle | Must Read News Articles |
| What Is Moon Doing Now? | Moon Can't Be A Messiah |
| Moon's Wealth and Power | "Inchon" Moon's Movie Flop |

HOME