Participant Registration
Crescent Alliance Self Help
For Sickle Cell
---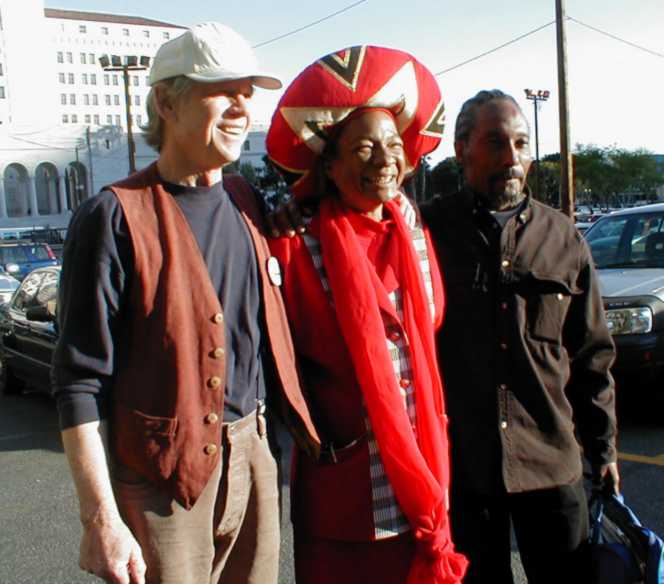 WE WELCOME ALL
Weekday March

Monday, April 28 - Friday, May 2nd
9 a.m. till 5 p.m. p.m.


At the Farmer's Insurance building.
the corner of Wilshire and Rimpau

Hemp Marketplace & Rally
Saturday & Sunday
May 3 & 4, 2003
Doing this RAVE style -

Check back with this page on Friday for the location of Saturday and Sunday.

Or send an e-mail to [email protected] and we'll let you know the final location via e-mail.

Special 4:20 ceremony

"We want to be free to smoke a joint when we went to"

SISTER
SOMAYAH
KAMBUI


EVENT
PRODUCER

Monday- Friday join Sister Somayah in her march against corporate interests benefiting from drug policy.

Farmers Insurance has refused to pay for her seized hemp plants They say they keep money because the Feds, not the State, says so.
If you would like to inform the community
about hemp related issues and conditions
let us know so we can help you .
If you have something to say about legalization,
we have 15 minutes per hour of
3-5 minute speakers slots.
If you are an artist
who does legalization music,
and can donate your services
performing for between 10-20 minutes,
let us know.

We'll need an audition tape (CD, video)
or live performance
before the event to get you on stage.
If you have a hemp or ibogaine related
item (book, fashion, political prisoner,
medical marijuana patient, medical professional
government official, etc.)
and need more than five minutes,
give us an outline of your speech or presentation.

During the speech time, you can show products of interest on stage
as in a short fashion show, i.e. hemp fashions.

We will try to accommodate by giving
you the time you need
to convey your enriching information.
Let's talk about hemp and the law,
the people, raves, music, healing notes,
food, art, fashion, building materials,
spiritual growth, etc.
Begin to create an awareness of the path from "drug dealer" to "hemp merchant". From a lifestyle plagued with arrests and fear to legally making a profit on a business transaction.

Hemp is a very large marketplace.
Share ideas on the best way to
Free The Holy Herb
and help people break
their addictions to
crack/cocaine with Ibogaine.
---
For More Information Contact: Sister Somayah:
323-232-0935
Sister Somayah Kambui
Copyright © 1999, 2000, 2001, 2002
by HempIsHep
All rights reserved.
Revised: 28 Apr 2003 16:43:34 -0700 .